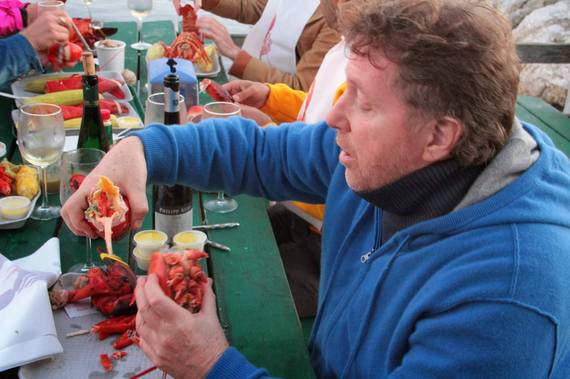 When one hears "Northeast Corridor of the U.S.," one starts thinking about the D.C.-Philadelphia-NY-Boston metroplex, about government, history, American literature, and a thousand other lofty things.

I don't. I start thinking about food.

For along that corridor... what a treasure we have! I'm often asked to lead gastronomic visitors on excursions to America's dining shrines. I never take 'em to three-star restaurants and the lot. I take 'em instead to the real food of the land, harvested out of local waters and fields, if possible.
This fall, I had the most exuberant Northeast "barnstorm" of all: 8 of us in a private plane, lifting off from a small airport in New Jersey on a Saturday morning, hitting four lower-gastro meccas, and returning to New Jersey by Sunday night.
I was also lucky enough to have a videographer along -- which is why I can show you the following record. In case you want to follow up on my journey, here are our key stops:
Costa's Inn
Rittenhouse Hotel
Pat's King of Steaks
Mama's Pizzeria
Barclay Prime
Clam Box
Five Islands Lobster Co.
For more stories like these, go to www.dRosengarten.com