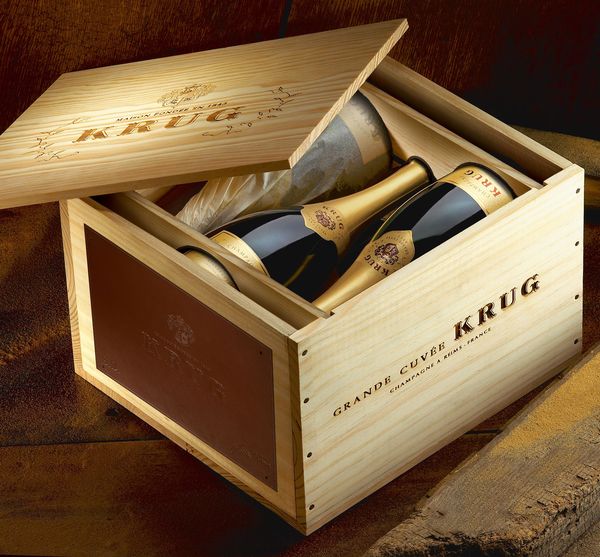 One of the most innovative and spectacular of Champagne houses is innovating again -- spectacularly! And the rest of the Champagne world, as usual, is watching.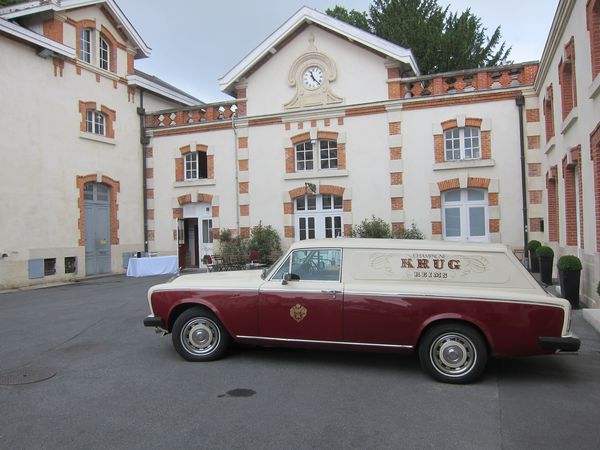 The courtyard of the historic Krug facility in Reims.
Since its founding in 1843, Krug Champagne has been blazing a trail in the world's most glamorous wine region, 90 miles east of Paris. For example, the concept of each small plot in the region having its own character was a 19th-century Krug innovation.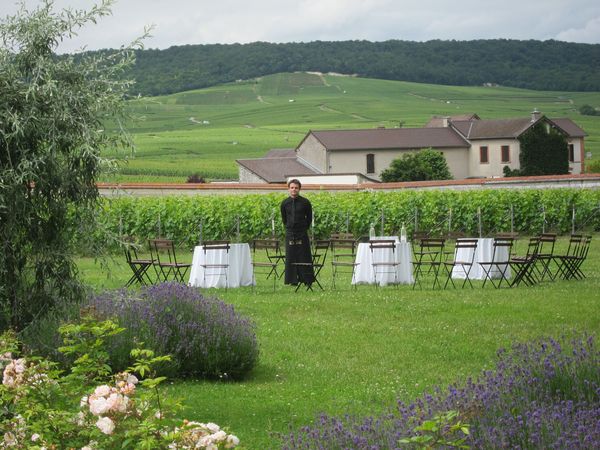 A tasting at one of Krug's prestigious small vineyards, growing only Pinot Noir.
Another bold move, the 1950 retention of small oak barrels in the winemaking process (when the rest of the industry was switching to stainless steel) has led to many retro-changes in the region today, 60 years later.
About 20 years ago, the Krug notion that a "non-vintage" wine is actually a "multi-vintage" wine brought the right attention to the premium blends at the heart of every Champagne house's product line.
And now, Krug's director, Olivier Krug, a descendant of the historic Krug family, has masterminded a new revolutionary concept.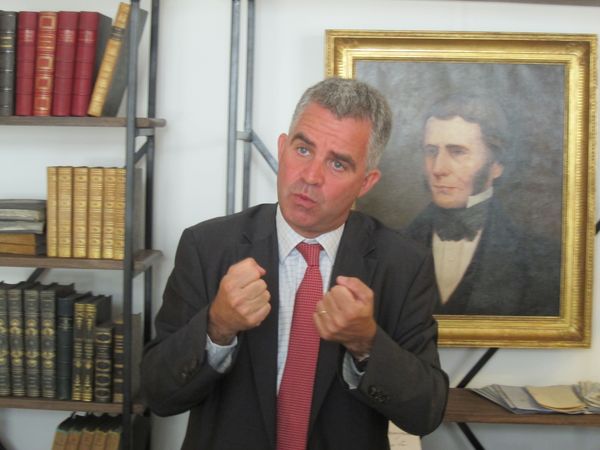 Olivier Krug, Director of Krug, next to a portrait of Krug's founder, Joseph Krug.
Krug has implemented the "ID Code," which is an exhilarating, ground-breaking change intended to send the message that even Brut Champagne, lacking a vintage on the label, can and should be expected to age beautifully. And that Krug-lovers should monitor those changes in their collected wines.
The switch in perspective is important because the traditional French view of good Brut is that it should be consumed right away, upon release. Here's one case where the English got it right and the French didn't, until now: It is more traditional in England to age non-vintage Champagne in one's cellar (or closet) than in France. However, English wine-lovers never had any indication on the label of when their good, basic Brut Champagnes were made -- which turned the aging game into a guess.
To understand fully this revolutionary Krug concept, one needs a little basic background in Champagne making.
Most of the Champagne houses (Krug, Bollinger, Moet & Chandon, Taittinger, etc.) do produce wines with dating criteria: rare, expensive, special wines from single vineyards and single vintages. Almost always, those labels show you when the Champagne was made. If you're in a wine shop or restaurant, and see a bottle of 1990 Krug, you know the grapes were grown in 1990, and the wine made in subsequent years.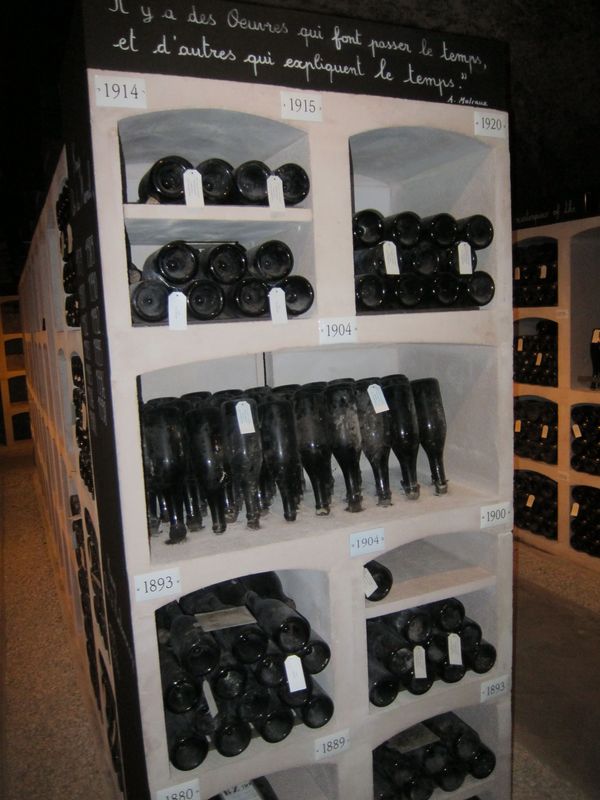 Old bottles of vintage Krug aging in the Krug caves.
However, most of the Champagne houses make a wine that does not have a single vintage date on it -- often the least expensive, most-sold wine of any house. These wines are often referred to as "basic Brut."
They do it by blending different vintages of what's called "claire," or base wine, or still wine, wine not yet turned into bubbly (every Champagne starts with a still wine, which gets turned into bubbly later). The company's master blenders, working hard at a tasting table, always rely heavily on the most recent vintage of still wines in their blends, but blend in lots of older wines that have been quietly resting in the cellars, waiting for their chance to be part of a Brut blend.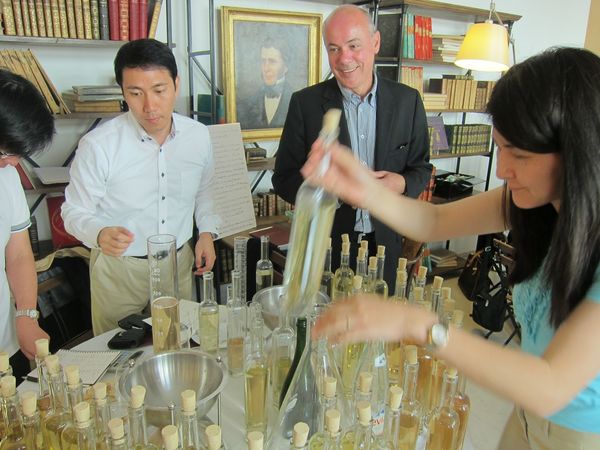 A training session in Champagne blending, with Krug's Cellarmaster, Eric Lebel (second from right)
Not all houses, of course, produce basic Brut of astonishing quality. Krug's philosophy is that all their wines are "prestige" wines, even the one without a vintage on the label: Krug Grande Cuvée -- which is usually the most expensive Brut blend in the market (averaging about $175 for a 750 millilitre bottle, compared to $35 for the cheapest basic Bruts from other houses).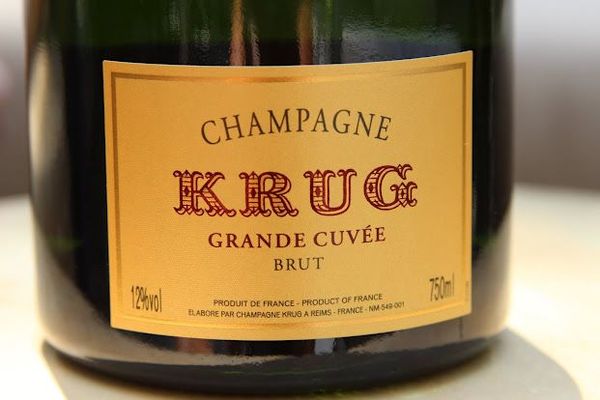 When Krug's masters blended the most recent Grande Cuvée in the spring of 2012, they blended a total of 191 different wines (from 191 different small vineyards), from 13 different vintages, the oldest one going back to 1995.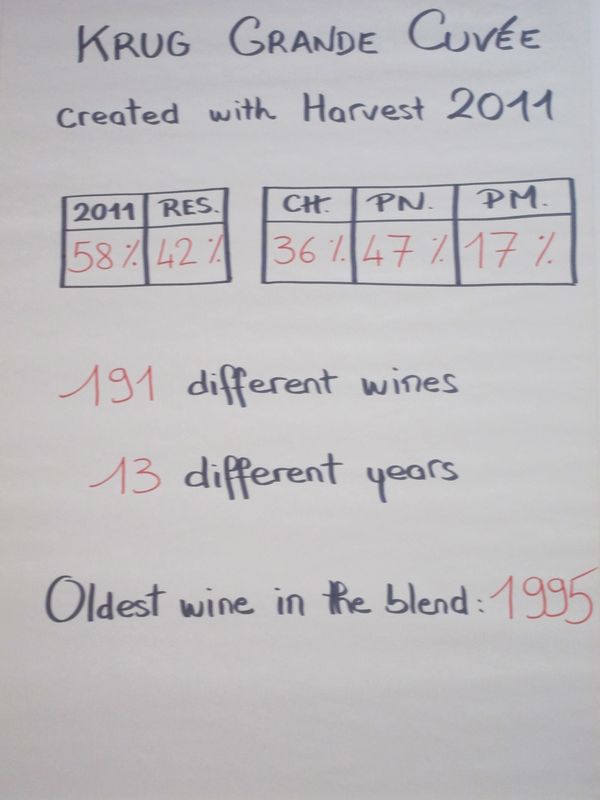 In Krug's blending room, a chart showing the percentage of 2011 wines used in the new Grande Cuvée, and a breakdown of grape varieties used (Chardonnay, Pinot Noir and Pinot Meunier).
Now, that brand-new Grande Cuvée blend has just gone into single Champagne bottles, with a little extra yeast, so the wines can ferment a second time in the bottles, which is what creates the bubbles. Six years from now, the bottles will be disgorged -- a key process in which the capsule sealing the bottle is removed, dead yeast cells are extracted, and the bottle is cleaned up and sold as Krug Grande Cuvée. It will not have a vintage date on the label.
Until now, if you saw Krug Grande Cuvée in a wine shop or on a restaurant list, you had no idea when it was made. Do you have a wine in front of you made 20 years ago? Do you have a wine made six years ago? You couldn't know, thereby impairing your ability to make a purchase judgment. For make no mistake about it: though Grande Cuvée is not a vintage wine, it is a major wine that clearly deserves understanding from the consumer! Young Champagne is fruitier; old Champagne has more of a toasty character. As with other wines, young or old makes a big difference!
This is exactly what Krug has fixed. Beginning in 2011, Krug is now placing a small "ID Code" on the back label of every bottle of Krug Grande Cuvée, toward the left, about mid-label. In all new Grande Cuvées you will see a number like this: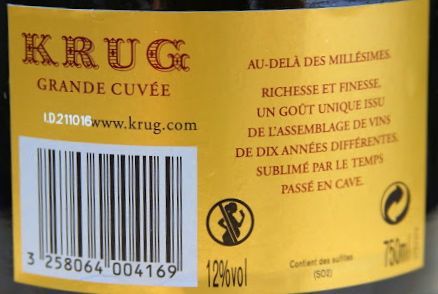 A Krug Grande Cuvée back label -- with an ID Code of ID 211016, showing a wine disgorged in Spring, 2011.
What matters are the first three numbers right after "ID." The "2" that you see here indicates that the wine was disgorged -- prepared for the market -- in spring, or the second quarter. The "11" that you see here indicates that the wine was disgorged in 2011. So, the ID Code above means:
"This Champagne was disgorged and prepared for market in April, May or June 2011."
Now, if you're at home, you can go to the Krug website, enter the full ID Code (including the last three digits), and get all the details about the bottle you're considering. Or, if you're simply in a wine shop or restaurant, without cyber access, you can pretty much infer everything from the ID Code on the bottle. We can guess, knowing how Krug works, that the wine was probably blended six years before the disgorgement date (spring 2011) from a large percentage of grapes grown in the 2004 harvest! If you wanted to think of this as a kind of 2004 Champagne, you wouldn't be too far off.
Et puis, voila! The wine without a vintage on the label has, in fact, picked up a kind of vintage indication! Other houses may or may not follow suit now that Krug has broken through -- but, at the very least, by allowing the consumer to easily calculate the age of a Brut without a vintage, Krug has fired the first volley in an historic movement toward greater consumer understanding.
Once again, however, they have done more than that. Krug is making a very non-French statement that your bottle of Krug Champagne, though it has no vintage, is age-worthy, is worthy of lining up against other Krug Grande Cuvées and making comparisons. It is an article of faith in the Champagne industry that their non-vintage Bruts, year in and year out, are the same, consistent, that the blenders have maintained the house style. Well, yes, styles may be similar, but the wines cannot be the same. "Our Grande Cuvées," says Margareth Henriquez, President and CEO of Krug, "are like opera productions. Yes, every year, the opera house may present the same opera. But if you sit in the house one year, then again the next year. You know the two performances cannot be the same."
I'll drink to that, ami -- right out of my opera glasses.