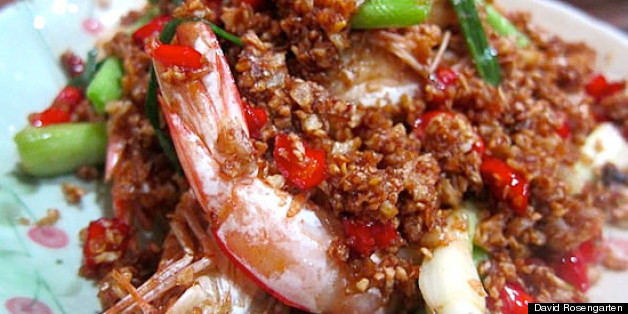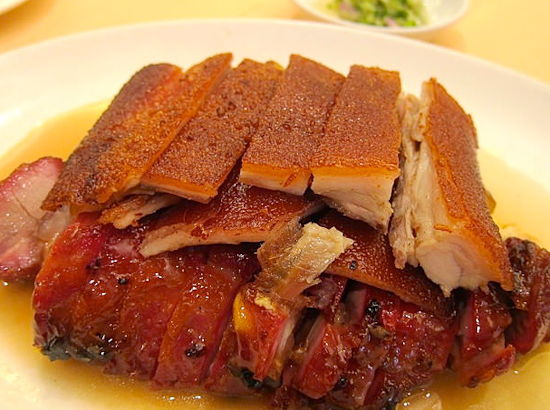 Listen carefully: despite what you may hear, the very best eats in this food-obsessed city are not in the magnificent Cantonese "palaces," recently transmogrified into eager star-seekers by the debut of the Hong Kong Michelin Guide...those restaurants that sparkle in the best hotels at approximately 70 floors high in the collective air across exhilarating Hong Kong Harbor, all jade and silver and vertiginous water views and creativity.
Sure, on my first trip to Hong Kong, about 20 years ago, I had done my pre-research among the fooderati in New York, and had been instructed by one insistent (and cogent) fellow to visit only these fancy Cantonese restaurants in hotels. He was plausible. It sounded plausible. He had a Cantonese wife. And so I followed through...finding some delicious, elegantly served food. But I was nagged by a rogue thought the whole time: maybe all those places on the street with hanging poultry in the window had something to say as well to the curious, free-range mouth?
So on my recent trip to Hong Kong (last month), I flipped the equation. Oh, sure I scheduled in a few two-stars, a one-star... and I always have with me the memory of Hong Kong's only three-star Cantonese restaurant (at the Four Seasons Hotel), which I visited a few years back. But on this trip I mostly visited the places with little glamor.
After the experience, back home, in the judgment chamber, amassing all the photos on my desk, and conflating all the memories of the myriad tastes, aromas, and textures that assaulted me over the years in Hong Kong... I reached my ineluctable conclusion.
Down and dirty has the sex, the edge, the roadie thrills for which one hits the road in the first place.
Here are the top 10 funky bites of my Hong Kong visit, arranged in a likely order of attack:
1) Chiu Chow-Style Pan-Fried Baby Oyster with Egg at Chan Kan Kee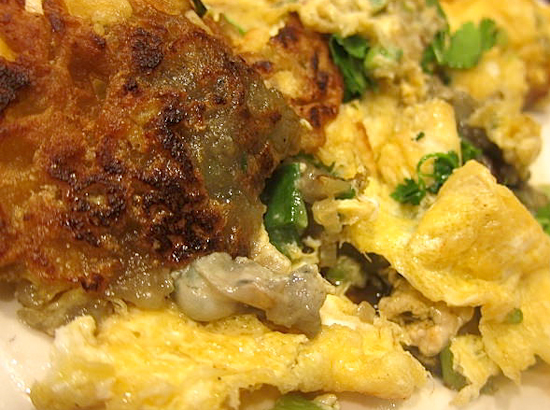 Note the crispy bottom in this great egg-and-oyster dish from Chan Kan Kee
The Chiu Chow people -- who are well represented in Hong Kong's restaurants--live on the coast of the South China Sea, opposite Taiwan. Though most Westerners think first of roasted goose when they think of Chiu Chow cuisine (since lots of Hong Kong Chiu Chow restaurants feature goose in the window) -- the Chiu Chow's region is actually a fisherman's heaven, and sea critters of all kinds are prepared by Chiu Chow chefs.
At Chan Kan Kee, after sampling lots of Chiu Chow seafood dishes -- I gave my award to the Pan-Fried Baby Oyster with Egg, one of my favorite dishes in Hong Kong. This a wonderful omelet, tossed with tiny oysters, sprinkled with yu luo (Chiu Chow fish sauce). It is reminiscent of the Singaporean oyster omelet -- but this one is much crispier.
2) Typhoon-Shelter-Style Fried Prawns at Kwan Kee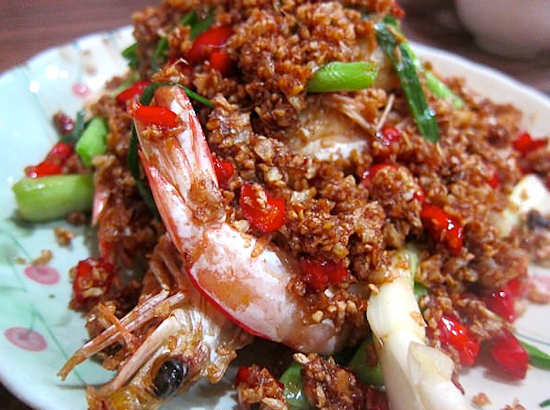 A ton of browned garlic on shrimps at Kwan Kee
Everything at crowded, tough-to-get-into Kwan Kee is delicious. The restaurant is best known for clay pot dishes -- either with rice at the bottom, or without. But my Kwan Kee suggestion for Top 10 in Hong Kong is an amazing stir-fried shrimp dish, with large, juicy, shell-on crustaceans, tossed with red chili and scallions, smothered in an avalanche of crispy brown garlic.
3) Egg noodles in broth with wontons, fish ball, and fresh-sliced brisket at Tsim Chai Kee Noodle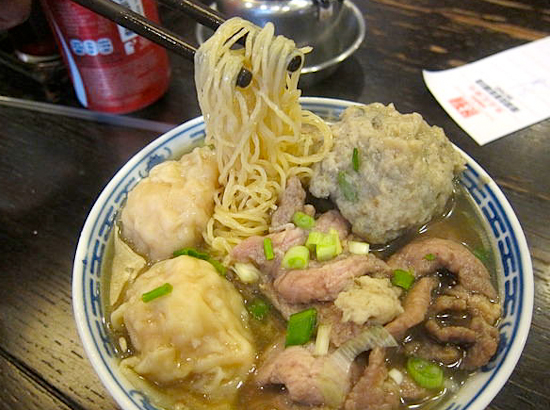 Other-worldly dumplings and noodles in broth at Tsim Chai Kee Noodle
OK...this was the real U.S. vs. Hong Kong showdown...for I am as well-versed as one can get in the steaming bowls of broth, egg noodles, wontons and meats that are so standard in all of America's Chinatowns. If you lavish care on the creation, it ain't hard to make a great one. But I've never seen as much care in the U.S. as I saw at Tsim Chai Kee Noodle, a quick stop near Hong King Island's premier wet market district. The broth is umami haven. The noodles are duly wiry and eggy-tasting. The ruffled wontons contain a marvelous shrimp-sesame filling. There is a big, fluffy fish ball flavored with lemon, and the beef slices that come with it all are tender, light in texture and color. This was the best bowl of wonton/noodles/meat I've ever had.
4) Chicken Wings Stuffed with Birds' Nest at Celebrity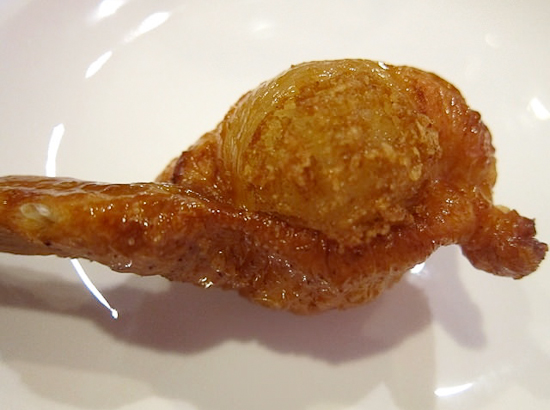 The famous bird-nest-stuffed chicken wing at Celebrity, before the bite
All right, I confess...I did have one of my best Hong Kong meals at Celebrity...which Michelin had the wisdom to award two stars, even though it's in a hotel in a fairly funky area, near Wellington St. What I love about Chef Cheng Kam Fu's gastronomic work is that, despite its elegant veneer, it has some of the best real-food Cantonese tastes you'll ever experience. The dish that cannot be missed is this one. Now bird's nests (a non-metaphoric name) are usually gathered in Thailand, shipped to China, and turned into high-priced, big-deal soups for banquets. But more than one foreign visitor has called them bland. Cheng Kam Fu has brought out their flavor, and their texture, by turning them into a stuffing for chicken wings. He first made this dish twenty years ago, and it is still a Hong Kong must.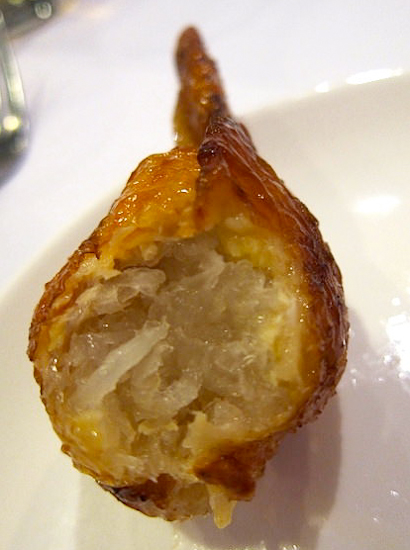 Post-bite, obviously...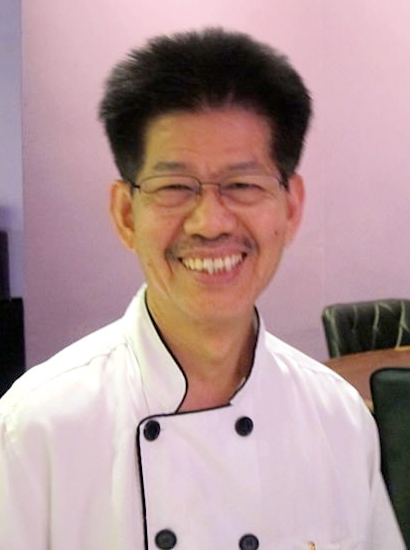 Cheng Kam Fu
5) BBQ Suckling Pig at Yung Kee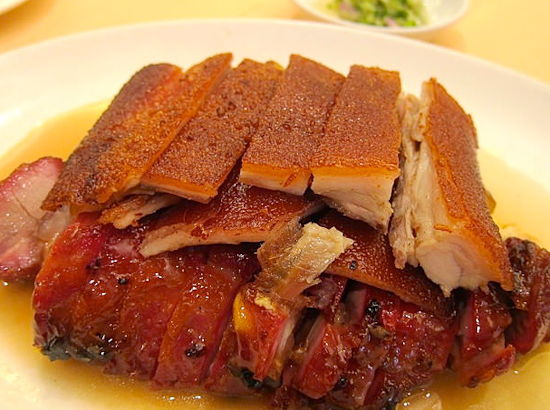 Hong Kong's best? Suckling pig in glorious strips on top of merely excellent roast pork at Yung Kee
You would expect Hong Kong to offer wonderful roast meats, just as they do in the Chinatowns of America... but even better. Yung Kee is the place to seek it out, a temple of ducks, chickens, pigs. After an assiduous tasting of all, I decided that the profoundly porky suckling pig -- with crackling skin outside, melting meat below -- is one of the best bites in Hong Kong.
6) Hot Pot with Everything at Woo Cow Hot Pot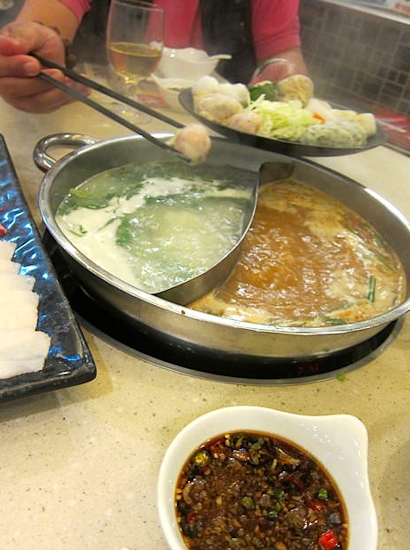 A dumpling going into the hot pot at Woo Cow
There is a street in Kowloon called Nam Kok Road; familiarize yourself with it, because it is the epicenter of Cantonese hot pot restaurants in Hong Kong. And you want a Cantonese hot pot. You're given a choice of broths, as at all hot pot restaurants across China, in which you will dip your plattered ingredients. But here in the big city of Hong Kong, quality is insanely high. I made a deal with the owner (about 40 bucks), asking him to bring me dipping items until I cry uncle. Seafood, dumplings, exotics... all fabulous. And, best of all -- and therefore the name of this place -- the platters of exquisite, velvety raw beef to quickly dip and eat with the marvelous array of condiments.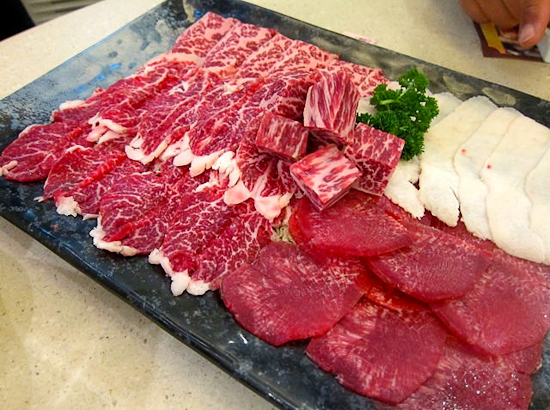 The justly-famous raw beef selection at Woo Cow
7) Curry Beef at Kan Kee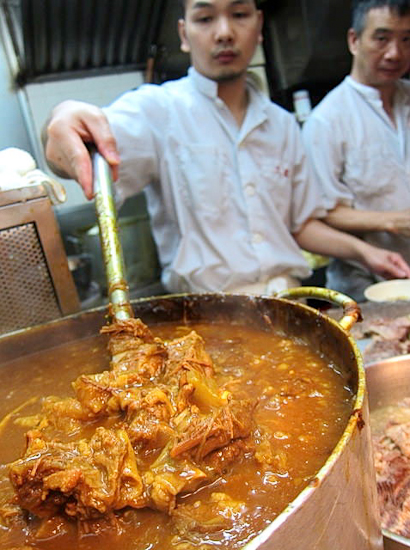 Curry beef at Kan Kee
I'd never have guessed that beef was going to figure so high in my Hong Kong 10. Or something flavored with curry powder. But a Hong Kong guide took me to this crazy-busy, wait-in-line little shop, famous as a noodle place. I had the beef with curry noodles. It was excellent. Then I had the beef curry, hold the noodles... ladled out of an oversized pot right into your bowl. It was so deep and beefy, such a perfect integration of spice and beef, so much improved with no noodle intervention...it may have been my favorite bite of the week. Do not miss!!!
8) Big Bun at Lin Heung Tea House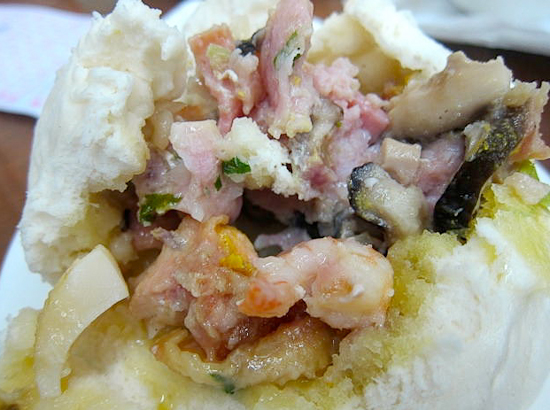 Big bun filled with everything imaginable at Lin Heung
There is a dim sum crisis in Hong Kong: many old-fashioned places are giving up the cart, and switching over to dim sum orders from the kitchen. Horrifying!!! Half the fun of dim sum is watching the carts swirl by, and pointing at what looks good. I'm happy to report that my favorite dim sum house -- the Lin Heung Tea House -- is sticking with the cart tradition. But get there early! By 10 a.m. you'll be standing in the madhouse for 30 minutes or more, scanning the room for a freshly vacated table. If you get through it all, do not fail to have this amazing cousin of the pork bun. Oh, it has pork, all right... along with shrimp, sausage, egg, duck, mushrooms, eggs and more in delicious combination. An old-timer next to me said, "this is the way buns used to be in Hong Kong!"
9) Malai Ko at Tim Ho Wan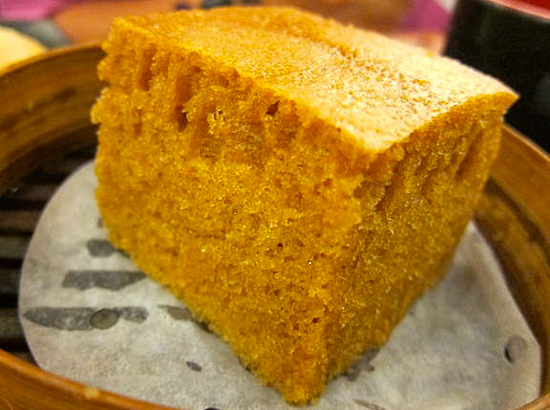 The impossibly high, light, fragrant Malai Ko at Tim Ho Wan
And my second favorite dim sum place... is Tim Ho Wan, a little roomier, a little more comfortable than Lin Heung. But the carts and the clatter are still part of it! One irresistible part of Tim Ho Wan is a light, spongy, warm cake, of Malay origin, called Malai Ko. Made from rice flour, heated sugar, yeast and egg, it tastes something like an airy version of sticky toffee pudding. But it's not particularly sweet, and is served off the rolling carts along with the savory dishes. One of the most astonishing and unexpected bites of my Hong Kong visit!
10) Sago Pearls with Mango Custard and Pomelo at Summer Palace, Island Shangri-La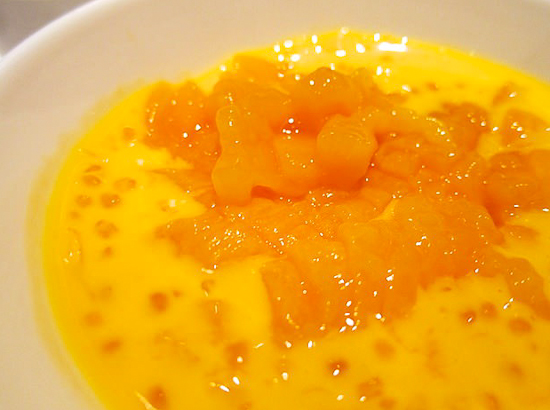 Can stickly little orbs in fruit get any better than the Sago Pearls with Mango Custard and Pomelo at the Summer Palace?
Alright... I snuck into one more two-star Michelin that insures comfort and the true flavors of Hong Kong (nothing fancy and creative!) It is the beautiful Summer Palace, at one of Hong Kong's best hotels, the Island Shangri-La. I enjoyed many things here, but none so much as the Sago Pearls with Mango Custard and Pomelo, an only slightly gussied-up version of a Chinatown specialty, and unquestionably the best dessert of my trip. Sago pearls, reminiscent of tapioca, are formed from a powdery starch that's gathered from the trunks of sago palms. They are combined, in this seductive dessert, with velvety mango custard, and several types of fruit... including the exotic grapefruit variant pomelo.
Well, the Best 10, I'm afraid, only scratches the surface. I would say: get thee to Hong Kong soon and find your best hundred!
For more stories like these, sign-up for my free weekly updates at dRosengarten.com and "like" me on Facebook here.