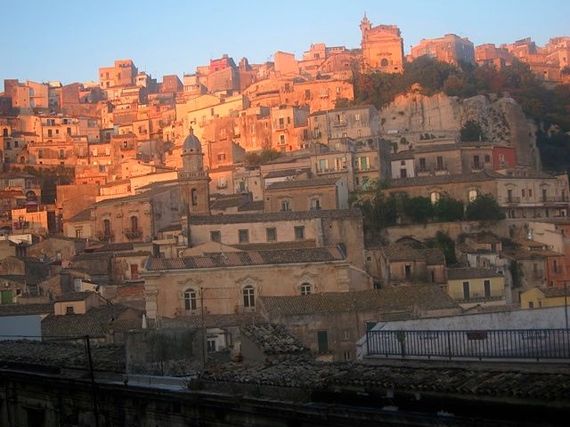 On my trip to glorious Sicily two weeks ago, in late October, I found bands of roving Americans devoting days, even weeks, to the exploration of this mesmerizing island. Bravo! It is time we held off on one more Milan/Venice/Florence tour, and looked into other parts of Italy!
However, the fly in this particular ointment was the typical Sicilian itinerary I heard from these folks. Palermo, of course. Down to the Valley of the Temples in Agrigento, to be sure. Over to the east coast, every one, with visits to the ancient Greek city of Siracusa, and, without doubt, to the most glamorous town in Sicily, Taormina (where you can still feel the Liz-and-Dick ghosts).
I was on a different track -- for I was on a mission to explore some of Sicily's best wine-growing regions. After tasting wine all day, one has gotta sleep, no? And thus it was that I discovered three hotels in slightly out-of-the-way places...that I would recommend highly as the backbone of any trip you're taking to Sicily! They are of their places, very local...but they've had the good sense to build in plenty of comfort for the international traveler.
They add up to a thrilling Sicily itinerary that most Americans don't follow.
#1: Una Hotel Palace in Catania
Americans usually ignore Catania, Sicily's second largest city (and second largest airport), a bustling town set in the northeast corner of the island (Italians sometimes refer to it today as the "European Silicon Valley"). There are wonderful things to do in gritty-feeling Catania. Do not miss the Mercato della Pescheria, or fish market, held every morning except Sunday, down by the docks.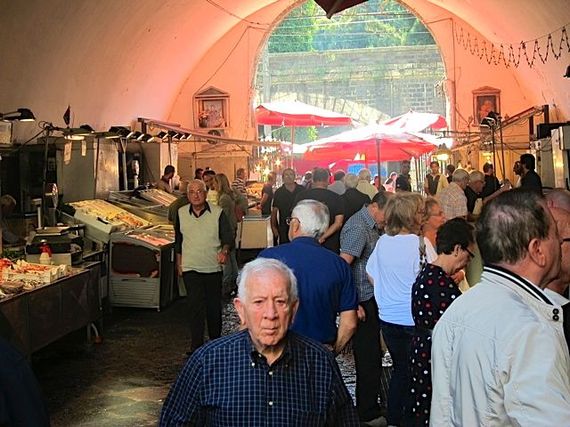 The market on a Thursday morning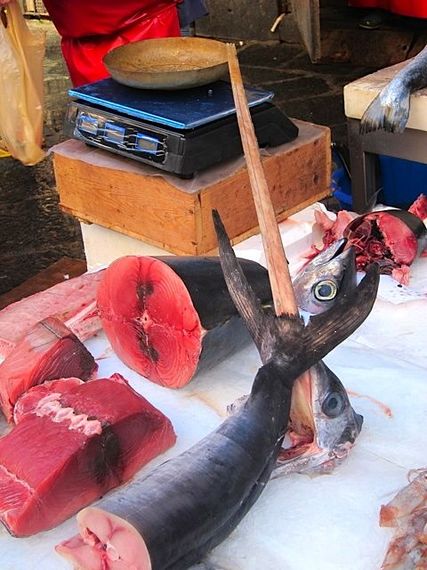 Swordfish is the star of the market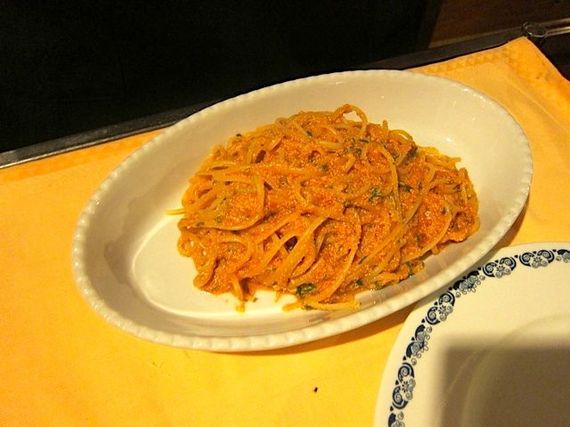 Spaghetti with swordfish roe at a Catania restaurant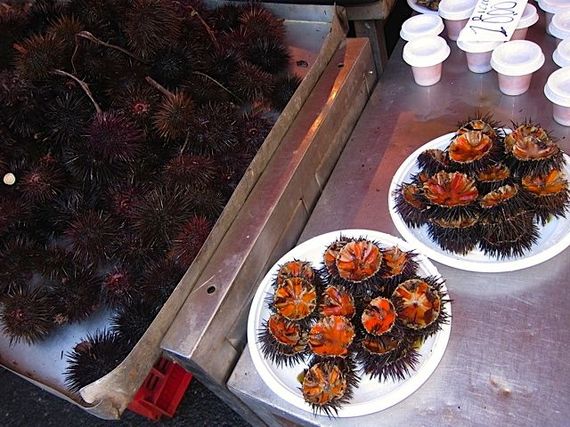 Ricci, or sea urchin, a big local favorite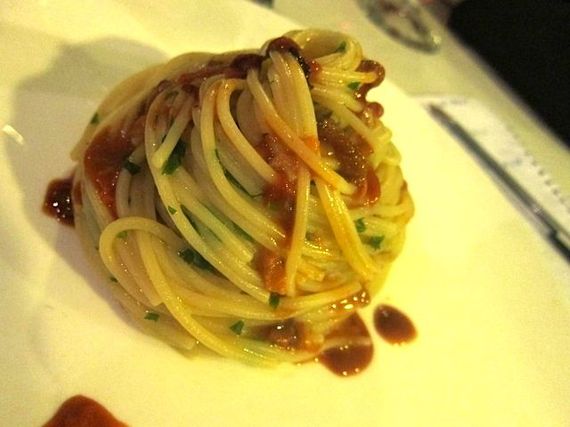 Spaghetti con ricci at a Catania dockside restaurant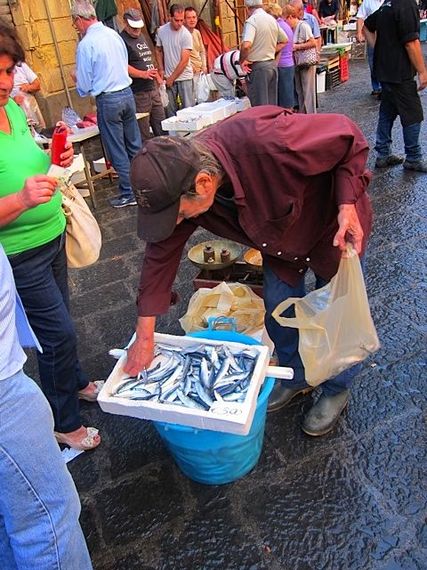 Sardines everywhere...including this man whose only "stand" is a small tub of fresh sardines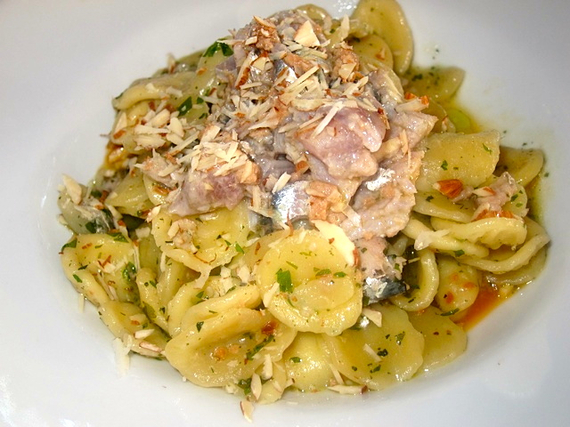 Marinated fresh sardines with home-made orecchiette and carrot-olive oil emulsion at a local seaside restaurant
Additionally, the Fratelli Napoli is a four-generation-old theatre run by the Napoli family -- where spectators can view traditional southern Italian puppet shows! And the Teatro Romano is a great window into ancient Rome; it is a ruined Roman amphitheatre, a time-machine with open-air seats.
But I wouldn't tell you to hie thee hence unless I had a great hotel for you...and I do.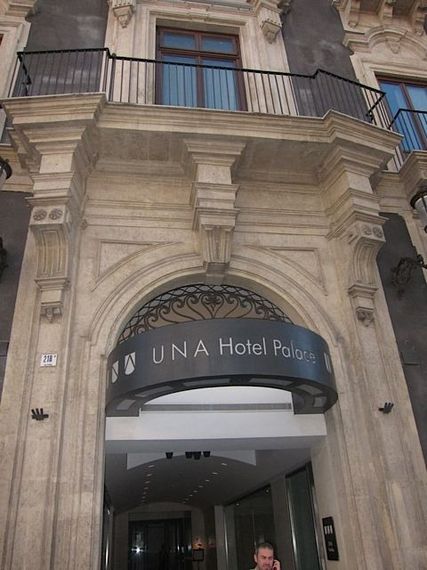 The exterior of the Una Palace Hotel in Catania
A new Italian chain of fine hotels was founded in 2000; among their 31 establishments today (only in Italy) are places for tourists and business travelers (like the Una in Catania); there are also resorts, and there are convenient lodgings located along main roads in Italy. Standards are high; look for this name throughout the boot. They always work with distinguished Italian architects and designers, and you can clearly feel that in Catania.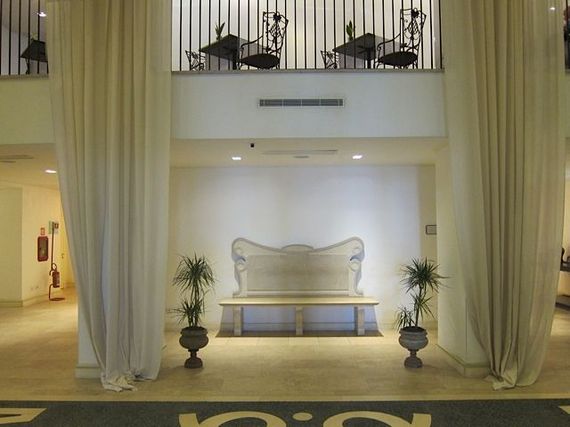 Walking into the South-Beach-esque lobby at the Una Palace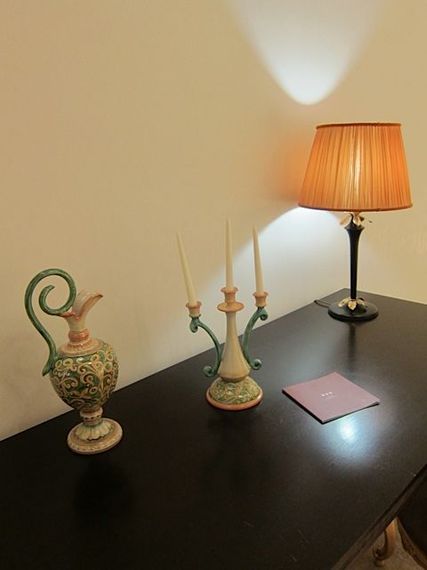 Nice attention to Sicilian detail in the lobby
The building that the Una is in dates back to 1900, set in the artistic and commercial center of Catania; lively street scenes at night are steps away...such as the marvelous chiosco open-air stands, or kiosks, that offer fresh-squeezed fruit juices late at night...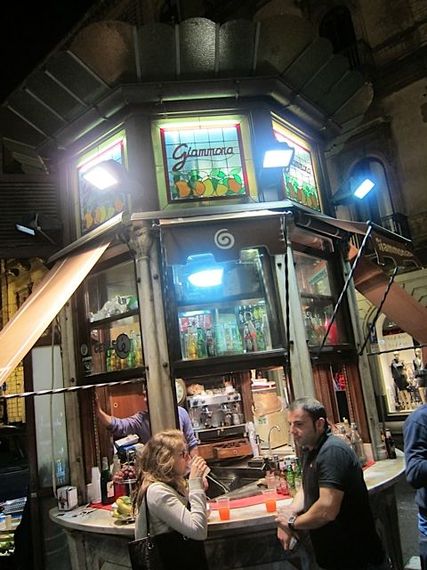 Sicilians drinking their lemon with mandarin at about 1AM
One of the things I loved in my beautiful room was the arrangement regarding the small balcony. It lay just beyond the tall, billowing white curtains...and you have to go down a few steps to get to it...an obvious retention of a 1900 structural detail...that sends you back 100 years every time you watch your step!
#2 Shalai Resort, Linguaglossa
If you've ever dreamed of getting down and dirty with a volcano...this is the place to do it! About 30 minutes north of Catania you hit the slopes of Mt. Etna, Sicily's geologic jewel, one of the most active volcanoes in the world. Do not fear; a major eruption and lava flow down to the towns below Etna's crater is a very rare occurrence. But we can still get plenty of thrills from Etna's ever-present hot cloud emanating from its cone, from the brave and atmospheric little traditional towns that live in the shadow of this spume...and from the great wine that is grown all over Mt. Etna's slopes.
I was there principally to explore the denominazione Etna Rosso...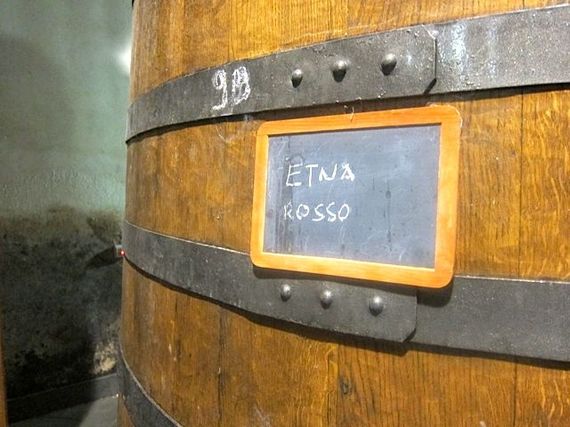 A big barrel of the local red-wine specialty
...the delicious red that's conquering many export markets right now. Made principally from two Etna varieties -- Nerello Mascalese, and Nerello Cappuccio -- Etna Rosso features mineral-metal flavors along with yummy fruit, and good capacity for aging.
There are dozens of wineries around Linguaglossa, making it a great exploration base. I loved my visit especially to an old winery, now named Patria, which sits just below the crater of the volcano. I was there the day before a major eruption (no one hurt, thankfully), and got to see the vapors gathering from my vantage point at Patria...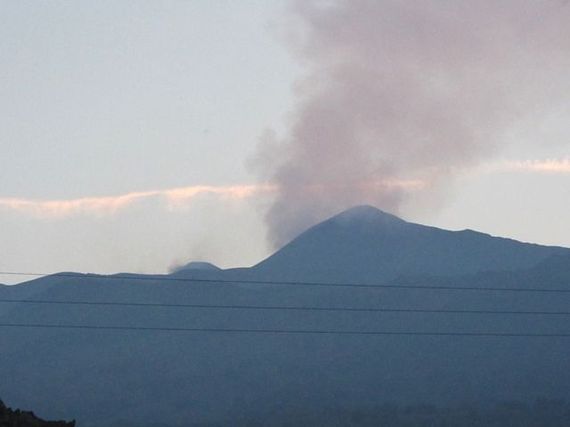 Etna as seen from a nearby winery, one day before an eruption
At Patria you can also taste some smokin' older Etna wines...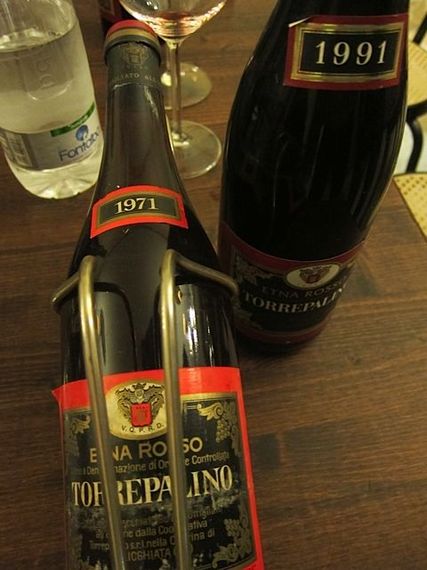 Treasures, from when Patria was called Torrepalino
...or you can pop some very good Etna sparkling wine...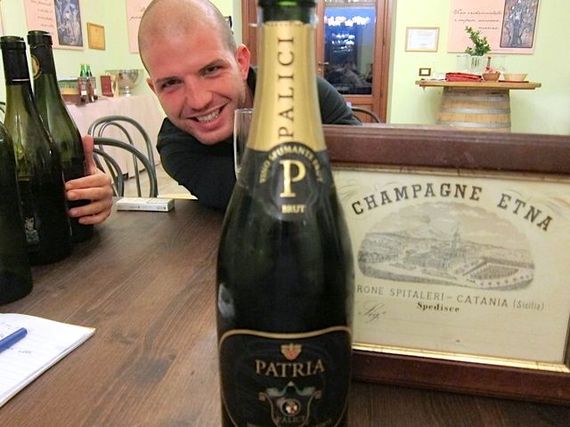 Tasting with Bernardo, the scion of the Patria family
Another winery I love visiting is Gambino -- home to beautifully crafted wines, and gorgeous terraced vineyards on Etna's slopes.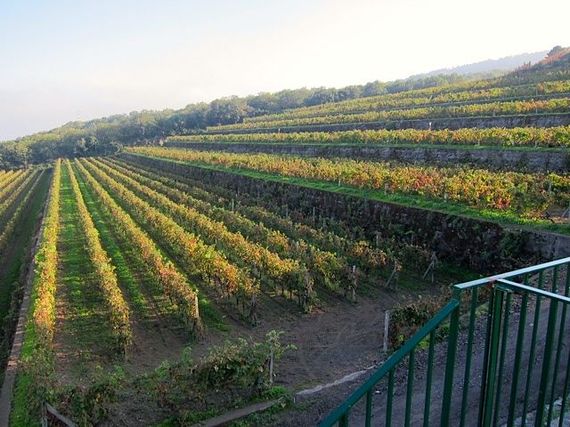 Gambino's vineyards late in the afternoon
There is some excellent eating in this area, too; just a few miles away is the marvelous San Giorgio Il Drago (in Randazzo), a rollicking local trattoria with great grilled meats...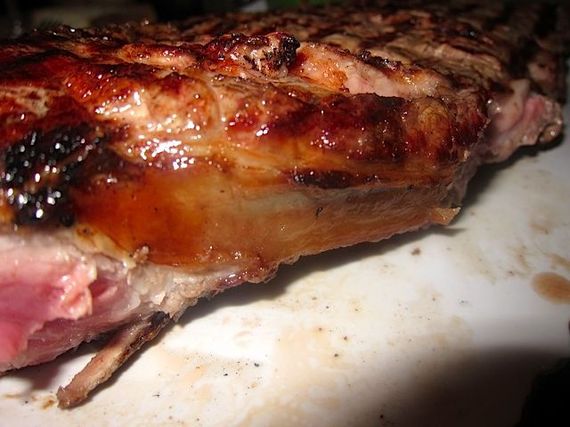 Perfect grilled veal chop at San Giorgio Il Drago
Back at your base, Linguglossa, you will sleep beautifully in a former family mansion from the 19th century that was so revered by locals it once housed important governmental functions.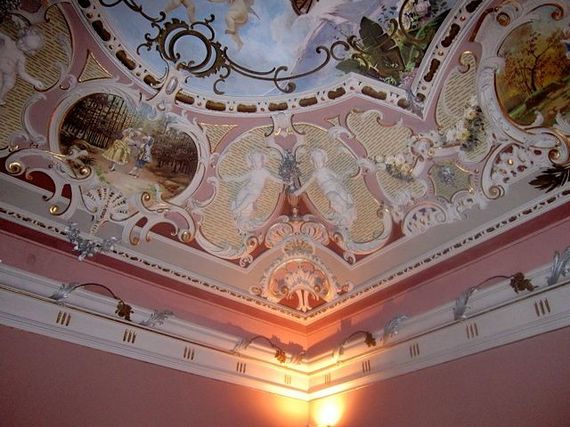 Ceiling of one of the function rooms at Shalia Resort; some of the guest rooms have similar ceilings!
The building was abandoned, finally, and fell into disrepair -- until the current owners, the aristocratic Pennisi family, bought the building, renovated it and turned it into a luxury hotel with 13 rooms (opened in 2009). In Sicilian, "shalia" means joy, satisfaction...which is exactly what you'll find in these airy, ultra-comfortable rooms, each with a balcony; some rooms even have frescoed walls. The owners ain't kidding about this "base" aspect; when you stay there, they can arrange your tours of Etna with jeeps, quads, mountain bikes and, of course, donkeys.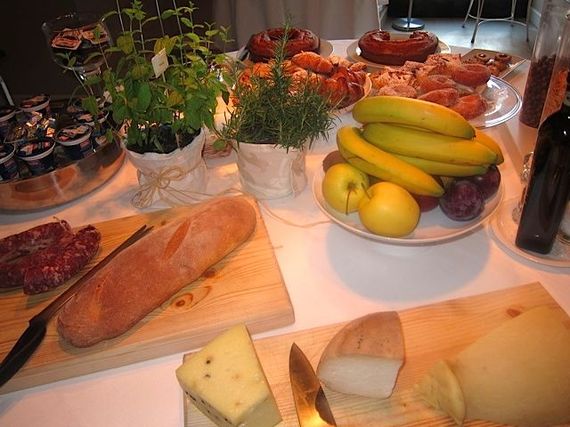 A restful breakfast at Shalia Resort
Of course, you must be wondering how this town got its somewhat unusual name. No one is really sure, and theories abound. My favorite theories start with the town's original name, "Linguarossa," which means "red tongue." Some say that in old Sicilian dialect "rossa" meant "big." Big tongue? Why? I prefer to believe it meant "red tongue"...and referred to the streams of lava that came by every hundred years or so. And why did "Linguarossa" get changed to "Linguaglossa?" Bip. Ya got me.
#3 Locanda Don Serafino, in Ragusa Ibla
None of these three Sicilian hotels knocked me out more than this one...which I guess is appropriate, since none of the Sicilian towns I visited knocked me out more than this one!
Somehow, over the years, I'd missed Ragusa Ibla -- as I'm sure many Americans have. It is the old part of Ragusa -- there's a non-descript modern town too, Ragusa, just next to Ragusa Ibla -- but Ragusa Ibla's three dwelling-spattered hills are so spectacular to behold, the town is a Unesco World Heritage Site.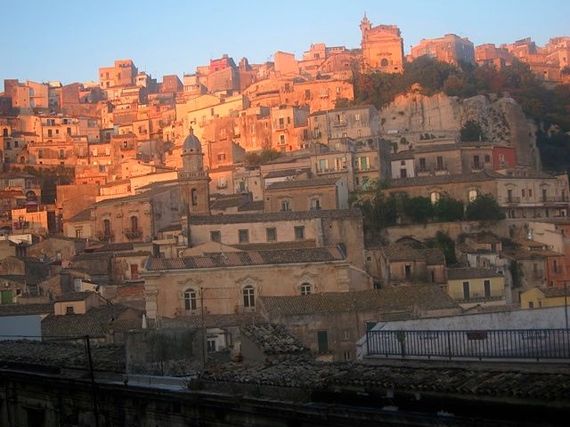 Ragusa Ibla at dawn, from my hotel room
Walking up and down these hills is a pure joy, a jaunt into Mediterranean history. But Ragusa's also in a great part of Sicily for other visits...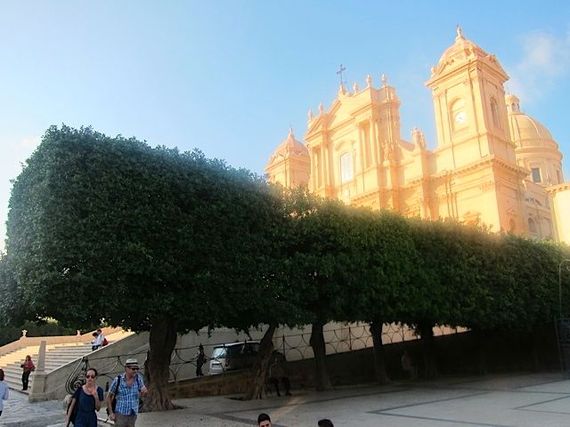 Monumental Noto
...such as the city of Noto, destroyed by an earthquake in 1693, rebuilt almost immediately in a grand Baroque style (Ragusa Ibla also got a necessary face lift in 1693). But Noto has something Ragusa Ibla has not: possibly the greatest gelato in Sicily, at Café Sicilia!
I was in Ragusa Ibla very briefly, so I didn't get to dine much there...but did discover that, although it's no Naples, it is a pizza hot spot...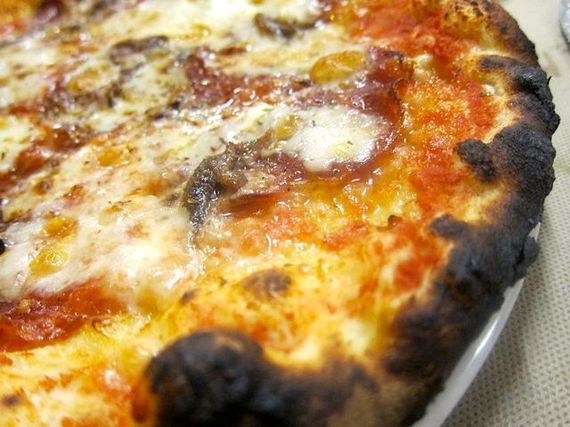 Pizza in Ragusa
And the wine to go with that pizza? Ragusa is close to one of my favorite red wine areas in Sicily, right near the neighboring town of Vittoria. This is the home of Cerasuoila di Vittoria, a delicious, light-hearted blend of the more structured Nero d'Avola grape, and the frillier Frappato grape.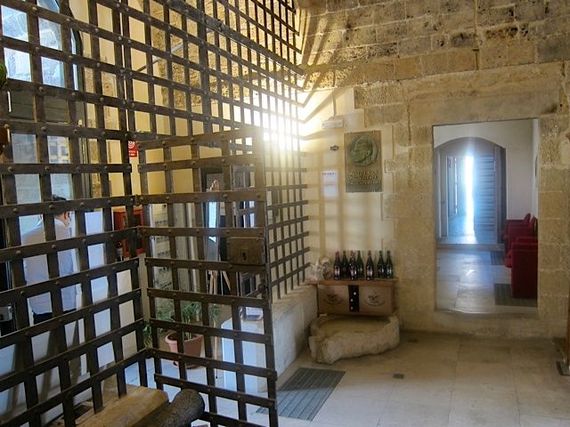 The consorzio of Cerasuola di Vittoria...set in a former prison!
Driving from Ragusa to Vittoria you are bound to see wonderful rustic sights...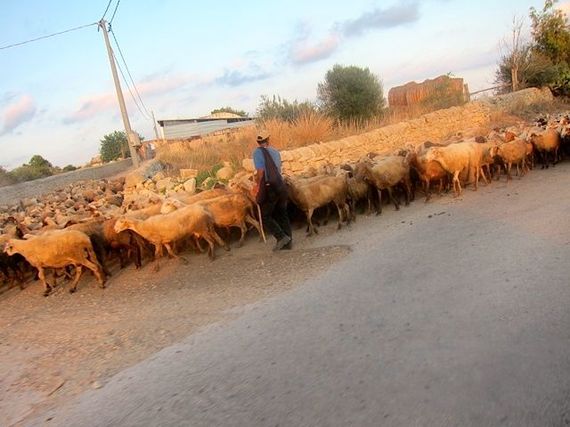 In the company of hundreds of sheep on the road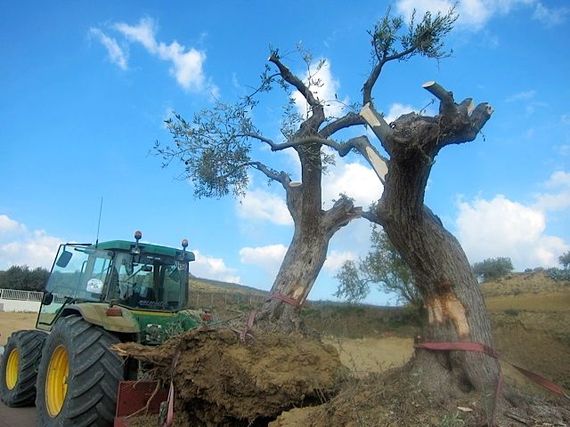 A local winery moving 200-hundred-year-old olive trees from one part of the property to the next
But when all the touring is done, your reward will be a retreat into a cool stone wall dating back to the 9th century BCE. The LaRosa family has done a staggering job in carving a hotel out of this rock, in the Baroque center of Ragusa Ibla, finished in 2004...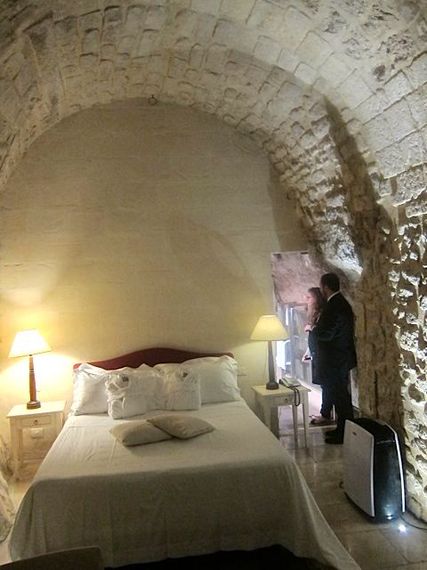 A bedroom at Don Serafino, surrounded by stone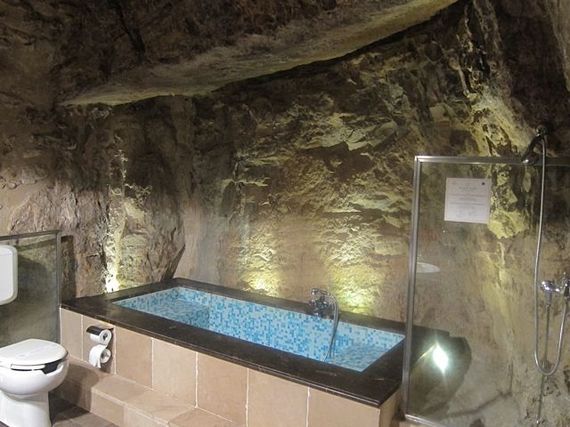 The "bath-cave" at Don Serafino
And if you're so relaxed that you'd prefer for dinner some sophisticated cooking to the raucous trattorie of Ragusa Ibla...Don Serafino is also the home of Locanda Don Serafino Ristorante, a fine-dining establishment with a big reputation, and a big Michelin star.
I swear...I will never overlook Ragusa again!!! Nor Catania...nor Languaglossa!
For more stories like these, visit dRosengarten.com