I feel like Hunter S. Thompson in my Honda Accord, but without all the drugs and annoying Libertarian-type pothead obsessives. I'm in the middle of the Arizonan desert with Londoner Travis Elborough, who is writing a book about the London Bridge, which wound up spanning a purpose-built gap shaved between the shore and a short peninsula -- now island -- on the man-made dam reservoir-turned-recreational paradise of Lake Havasu. Beyond its toppling nursery rhyme fame, the bridge was also the subject of a complicated transatlantic barter and migration, a case-study in making something from nothing, and then, as our journey reveals, letting it fade back to nothing again. For this excursion into the Arizonan wilderness Elborough has contracted me, a poet, as his chauffeur and American cultural liaison. I'm an OK driver, so long as it's not dark, and I can understand Arizonans unless they're talking about guns.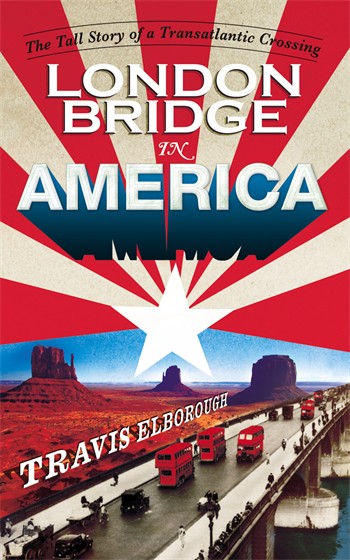 Elborough's The London Bridge in America: The Tall Tale of a Transatlantic Crossing (Jonathan Cape) begins with the bridge's complicated first life in London, from its 10th Century Roman predecessor to George Rennie's 1831 construction, shrouded in London's industrial architects' battles for political clout, and ends with a wildly American pioneer story protagonized by a chili cook-off winning chainsaw baron that dreamed of flying cars.
Present day Lake Havasu City is basically a desert retirement community that plays host to an annual spring break drinking marathon. We arrive in the late afternoon, and decide to explore the city's themed English Village, part of the kitsch development built to accompany the London Bridge. The English-style pub -- generally an overwrought American invention -- is closed, for good. It's so hot that the building's mock-Stratford facade seems for a moment like a mirage, but the setting sun casts long shadows that climb its hidden, very American industrial restaurant backside. A circle of silver dragon-topped posts pronounce a small patch of asphalt to be the official property of the City of London, though rumor has it that the city officially returned its enclave territory to Lake Havasu City sometime in the 1980s. The lakeside promenade is empty. The ice cream and snow-cone stalls are closed. The quick-beer bars with their PVC misters, closed. A theme is emerging. And behind everything we see, the London Bridge stretches across the horizon.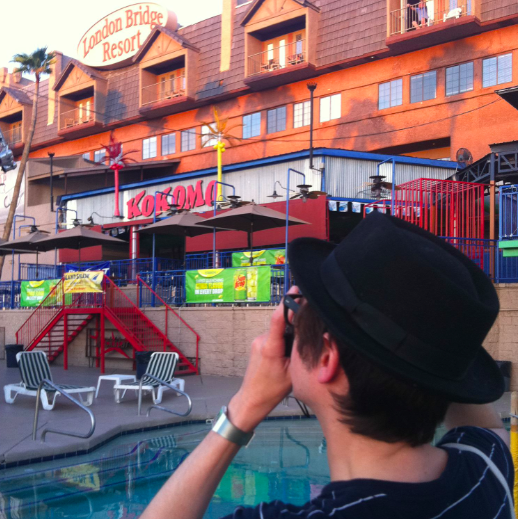 The biggest spring break hotel, just a three minute walk under and past the London Bridge and fittingly called London Bridge Resort, is eerily quiet. With its massive castle-themed outdoor pools, dance-floors, and DJ booths it looks like a fraternity reinterpretation of the Waterworld set. Or the scene for a Girls Gone Wild at Medieval Times. Jet skis and flat-bottomed party boats are moored to the docks in long lines. Lake Havasu City in late September is post-apocalyptic.
Elborough is undeterred. We visit the local history museum, staffed by retiree volunteers. Lake Havasu City has seen brighter days. We learn that bridge buyer Robert McCulloch, whose ghost we've been chasing through abandoned lots and boarded storefronts, invented an underwater chainsaw for removing the lake's underwater trees. Travis buys a chip of the London Bridge in the gift shop; we both buy postcards printed in the late '70s. The research continues. We drag beach chairs into the lake to drink cheap beer. We spit sunflower seeds toward the shore. We visit the thrift shops to see what the old people are getting rid of, whether by choice or fate; we visit the bookstores to see what they're reading. Elborough interviews journalists and tourism boosters. Nonfiction is hard work.
Throughout the trip, Travis scribbles notes on a reporter's pad, and snaps photos with a rotating cast of analogue cameras.
PHOTO GALLERY
Travis Elborough's Lake Havasu Snapshots
Toward the end of our trip, we visit the Desert Rose, a bar in central Lake Havasu City, where we try their signature cocktail, the Desert Martini. It didn't take much investigation to discover the beer-based desert thirst quencher's secret ingredient: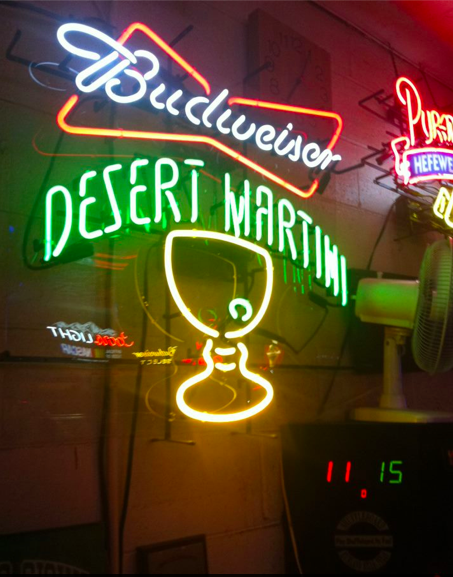 Desert Martini

1 pint cheap lager beer (I prefer Coors Light.)
1 pimento-stuffed green olive

Serve in a chilled chalice. Additional olives may be added to taste.
The Desert Martini is the perfect companion beverage to The London Bridge in America, and Elborough has also put together a soundtrack of Tall Tunes to accompany the book, featuring related music from both sides of the pond. Recently dubbed "the hipster Bill Bryson" by the Guardian, because of his book-length explorations of beloved cultural detritus like London's Routemaster buses and the LP record, I hereby declare Bill Bryson to be the more rotund, more bearded, less hip Travis Elborough. Perhaps it's a classic case of chauffeur's bias, or perhaps the lingering effects of the Lake Havasu City heat I endured on our adventure. Whatever the case, Travis Elborough proves in The London Bridge in America that he is as adventurous a writer as Robert McCulloch was a desert pioneer. His portrait of the London Bridge is a portrait of human creativity, ingenuity, and politics on both sides of the Atlantic: a desert toast to us all.
Hear Melodical's audio trailer for The London Bridge in America: The Tall Tale of a Transatlantic Crossing here.