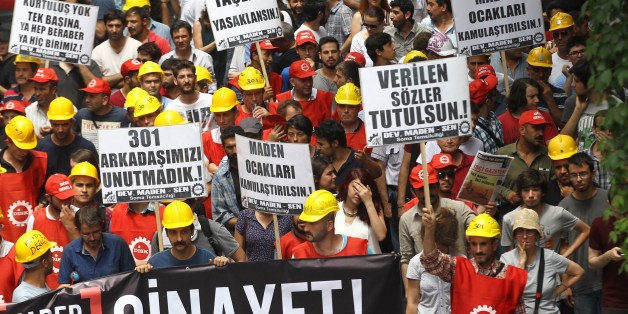 The unassuming town of Soma, in Turkey's western Aegean region, was suddenly catapulted into the world's media in May, with a shocking mining disaster.
Fire raged unstoppably through Soma's aging coalmine after an electrical explosion. Rescuers made frantic efforts for four days to save hundreds of miners feared trapped underground. In the end, a total of 301 people lay dead, and many more were injured.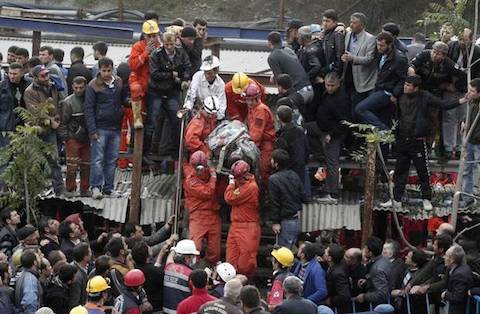 Rescuers carry out a survivor, May 14th. - Osman Orsal/REUTERS
Soma's 100,000-strong, close-knit community was stunned by its losses, and grief still weighs heavily on many families. Levent Ozturk, coordinator of the emergency's Rapid Response Team, and himself a former journalist, says: "The media have mostly left now, and though much attention was paid to Soma's victims at the height of the crisis, at times since then people have felt left alone and helpless."
A great many of the families have been left with no regular income. The area's other main source of livelihood, farming, has in recent years seen many of its workers leave and go into mining work - and now the mine has closed down completely, as investigations continue into what originally caused the disaster.
The average pay for mineworkers was about $600 US per month. It is estimated that three-quarters of the families are now in serious debt to local banks -- indebtedness that inevitably increases with every week of reduced family income.
Among international aid organizations quick to step in with help was America's United Methodist Committee on Relief (UMCOR), working through its local partner, the Turkish charity International Blue Crescent (IBC). UMCOR is funding IBC's provision of essential food packages that are being distributed by Ozturk's rapid response team.
Each one of the packages contains three liters of vegetable oil; about a pound of margarine; four pounds each of rice, beans, lentils and chickpeas; two pounds of sugar; six pounds of pasta and two pounds of tomato paste.
The town's Sports Complex has become a Disaster Relief Center, operated by IBC's volunteer staff of about fifty people. In addition to the food packages, there are also clothes available for those who need them, as well as children's toys. And even two months after the catastrophe, every day there is a steady stream of families who need assistance.
Volunteer Mihriban Vatansever, a 25-year-old schoolteacher, said, "They wait on a long line in front of the center and we can give them what they need -- food, clothes, toys -- which they can pick themselves."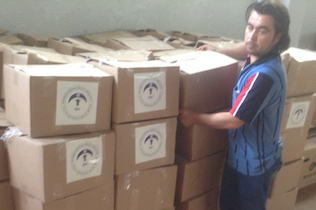 A second big consignment of the food packages is being prepared for distribution in time for the Eid-ul-Fitr feast that concludes the fasting month of Ramadan in late July.
One of the volunteers at the Relief Center is İsa Sakin (pictured left) himself a Soma miner. He carries powerful memories from the day of the fire, which happened when he was off work, having finished his night shift. "I will never forget what I saw," he says. He offered to work with the search and rescue team because, he recalls, "the only ones who knew that hole in the ground were myself and my fellow miners."
"I saw my dead friends' bodies -- it was sudden death for most of them," he says. "It is all in my head still. I do this work now in the Relief Center -- I find it is one way that I can perhaps help myself recover."
UMCOR's assistant general secretary for International Disaster Response, Jack Amick, notes that one definition of a disaster is an event that overwhelms the ability of an affected community to respond. "Such was the case for the people of Soma," Amick says. "Providing some short-term food and other support to these families is UMCOR's way of saying: 'You are not alone.'"
***
Read more of David Tereshchuk's media industry insights at his regular online column, The Media Beat (temporarily unavailable, due to server problems). Listen also to The Media Beat podcasts on demand from Connecticut's NPR station WHDD, and at iTunes.