The world's newest country, South Sudan, still struggles to end the internal conflicts that have marred its early life. This week, for instance, a deadline to reach agreement passed without success in peace talks between the warring factions. But nevertheless the country is still managing to make progress in the vital field of educating its young people.
And remarkably, one the world's leading broadcasters, the BBC, is playing a role in that effort.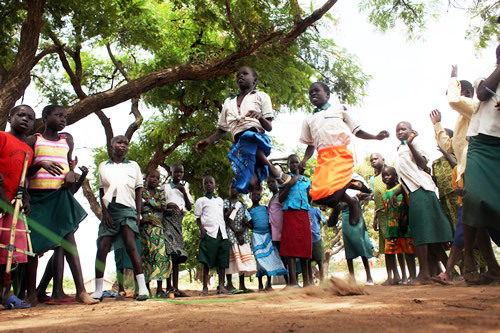 Crucial to the country's new educational drive is GESS (Girls Education South Sudan) -- a program aimed at transforming the lives of an entire South Sudanese generation, and generations to come. (Pictured above: a South Sudan school with girl students participating in the GESS program.) The concentration on girls comes in recognition of now well-documented evidence that educating young women is one of the most effective ways to lift families and communities out of poverty.
Until now the odds have been stacked locally against such progress, not least by cultural values that downgrade the idea of girls' schooling. Traditionally only one girl in ten has completed primary education in South Sudan, and girls comprise just one-third of the secondary school population.
GESS is largely funded by the British government's overseas aid ministry, and the US-based charity UMCOR (United Methodist Committee on Relief) is co-managing the program in the state of Northern Bahr el Ghazai. They work alongside the deep-rooted local agency, HARD (the Hope Agency for Relief and Development) which was formed in 1995 at the height of the civil war that eventually led to South Sudan's creation as an independent nation.
In practicalities and logistics, resources available to local schools are being seriously ramped up -- everything from computer equipment to solar electricity systems to classroom chalk. There's been a boost, too, in recruiting and specialized training of appropriately skilled staff. "Sending women for teacher training clearly increases the number of teachers," says UMCOR's GESS Team leader Christine Meling, "and they in turn mentor and motivate girls to complete their education and achieve similar goals".
But perhaps the most creative hallmark of the program is the use of radio broadcasting to aid the overall effort. As in many other African countries, radio is for the vast majority of South Sudanese people the most accessible source of information, according to the country's first national media survey, conducted last year.
For the GESS program, 15-minute radio presentations (with production aided by the the BBC's international development charity, BBC Media Action, a group that's not exactly secret, but not exactly widely-publicized either) explore real-life village situations and dilemmas. They are used by a network of "listening groups" as a spur for discussion and mobilization of local communities who might not otherwise appreciate the value of girls' schooling.
Since March this year, the popular series Our School has been airing in five languages, portraying the lives of girls and their families as they struggle with, and resolve, the challenges of going to school.
In one episode 17-year old Stella Nyoka, who wants to earn a living as an engineer, says she appreciates school because:
"I need to help my family, my community and especially fellow-girls like me, and to see that girls go to school and learn -- instead of 'whoosh', straight into marriage".
And in an accompanying public service announcement, the availability of GESS funding is made clear ... but only after an everyday problem with school uniforms is addressed by two schoolgirl characters, Paite and Keji:
Paite: Oh, Keji. Today is only Monday, and already your school uniform is so very dirty.

Keji: Paite, don't give me a hard time about my dirty uniform. In our school, we have to sit on the floor as there are no benches. Our books are also very dirty like this. I am even starting to lose interest in school.

Paite: Oh, in our school, we have benches to sit on. Our school applied for a grant from the government. And it is our right as students to tell our teachers how to use this money.
The broadcast explains just how to apply for the funding, giving a toll-free phone number to call.
The GESS organizers are at pains to ensure an ongoing process of monitoring and evaluation for their program. As part of this UMCOR has helped to develop a comprehensive school-attendance recording system and encouraged its widespread adoption. Daily attendance is recorded and collated electronically in real time.
This monitoring innovation is already enabling the state education authorities to accurately assess the impact of the new effort. The GESS finance, in the form of what are known as "capitation grants", is made available to schools that report encouraging attendance records. The grants aim, says UMCOR's Christine Meling, "to improve the learning environment that will attract more girls in school and retain them".
Cash is also available to individual students, especially those from the poorest homes, to enable them to meet their essential needs like uniforms and shoes. As Meling also points out, "Girl children will also be motivated to attend classes since they will have the money to procure basic, yet so vital items such as comfort-kits, without which they can miss classes. Teenage girls have often missed classes for up to 5 days in a month because of their menstrual cycle. With the cash grants, this could be made a thing of the past."