Once in a great while, an individual will cross the media landscape, maybe not leaving scorching headlines in his wake, but certainly making an indelible mark on our consciousness.
One such remarkable if understated individual was the dogged and sharp sportswriter Linton Baldwin (1926-2012) -- pictured here in a recent caricature -- whose life was celebrated this week at a New York memorial service.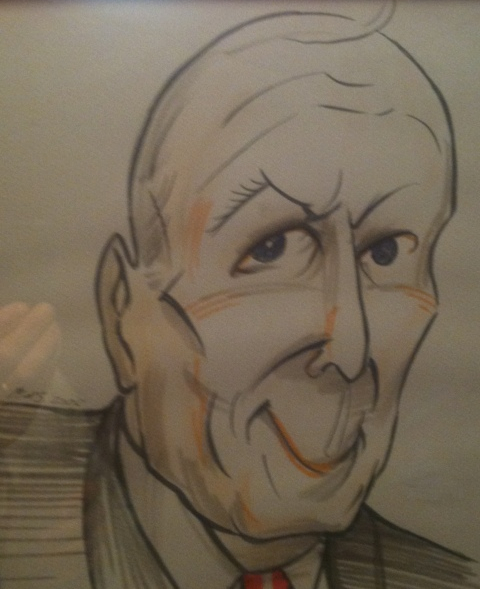 "Sportswriter", or even "sportswriter and sportsman", are terms far from adequate to describe him, which can be true of really good practitioners of that journalistic form. Lint was a truly rounded man, and for me - who knew him for over twenty years - he represented the best of Old New York. It's an Old New York I never knew, of course, but like many a Big Apple immigrant I cherish its legendary qualities. And Lint himself certainly had a legendary quality.
The memorial took place at that quintessential venue for moneyed WASPS on Manhattan's Upper East Side, the Episcopal Church of The Heavenly Rest (known unkindly to some as "The Church of the Overly Dressed"), although tellingly and aptly it wasn't in the nave, but in the church's gymnasium. And an ebullient party followed at the traditional dining resort of theaterland, Sardi's.
From a text-book start at Brooklyn's "Poly" (the Brooklyn Collegiate and Polytechnic Institute, established 1854), Lint attended Yale, and served in the US Marines during World War Two. Then started the multifaceted part - or dilettante part, if he himself were to tell it.
He spent time employed by the Pinkerton Detective Agency, the New York Daily News and Daily Mirror (as a copy boy), and he won a coveted copywriter position at the Benton & Bowles advertising agency, against 500 other contenders, by submitting - instead of a plain old résumé - a dramatized script that involved a lightly fictionalized self and the company's own chairman, Bill Benton, who later became a US Senator for Connecticut.
(Such background detail I gratefully owe to his somewhat later fellow-member of the real-life "Mad Men" tribe, Kurt Brokaw, who's nowadays Culture Editor of the Madison Avenue Journal and a fervent analyst of movies, especially in the noir tradition.)
But Lint's true niche came as a boxing and tennis specialist for an early Sports' Illustrated incarnation in the 1950s.
His fascination and often chameleon-like affinity with New York's ... um, less exalted side ... were certainly assets to his journalism. He discovered the boxing great Jack Johnson, former world heavyweight champion, after he had hit hard times and working in a flea-circus on 42nd Street. Linton wrote a touching article on Johnson for Boxing and Wrestling magazine in 1954.
The New Yorker registered and celebrated some of these Baldwin qualities. The magazine's seemingly everlasting Lillian Ross - said to be the same age as Lint - included him among her belt-notches of writerly profiles (along with Ernest Hemingway, Otto Preminger, Marlene Dieitrich, Sidney Poitier, and Frederico Fellini). She seemed especially taken with his generosity (as many were), singling out his habit of always dispensing US Open seats in his Box 143 at Flushing Meadows.
(Full disclosure ... that same box is where I experienced some of my own best international tennis moments, thanks to Lint.)
Oh - and did I mention the pulp paperback? I should - and more fairly, I should call it a classic noir novel of boxing and crime.
It was Sinners' Game, first published by Lion Books in 1954 and reprinted in the 1990s, for its many cult followers - and at the urging of novelist, essayist and memoirist Michael Stephens who added a preface in tribute. It was given a new title, The Big Round, but it was rightly still emblazoned with the same compelling period artwork, matching its priceless tagline, "A tough kid ... a conman ... and a TNT blonde". The said explosive femme fatale naturally appears in obliging décolletage.
And yet another thing. Lint produced theater. Among other coups he helped to launch a very youthful Bernadette Peters' Broadway career, in a musical "Dames at Sea" that he first spotted in sketch form well off-Broadway in 1966.
Altogether, this intriguing man of many parts ultimately defies encapsulating. He was a delight to read - and more, a delight to know.
Lint's wife, the wonderfully caring Karen Lane, has lost the best imaginable companion.
Actually ... we all have.
* * * *
Read more of David Tereshchuk's media industry insights at his weekly column, The Media Beat, with accompanying video and audio. Listen also to The Media Beat podcasts on demand from Connecticut's NPR station WHDD, and at iTunes.