"South By," to use that rather flat, familial nickname habitués have given their annual festival here, South by Southwest, contrived to be in itself a somewhat flat event this year.
I'm thinking of the Interactive (with all things geeky being considered) and the film parts of the festival, and not the music part -- which seemed as it started up later in the week every bit as wild and crazy as usual.
That's not to say there weren't some very welcome high points, probably the best of them being a decidedly festive induction ceremony into the brand newly-created SXSW Interactive "Hall of Fame" for the ubiquitous and prodigiously creative (high profile but always lower-cased) danah boyd, whom Fortune magazine called the smartest academic in tech.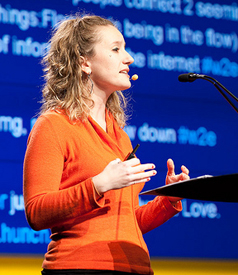 Readers of THE MEDIA BEAT will know I've long been an admirer of boyd (and not just because we are related, if a little abstrusely) and I certainly welcome the special, not to say unique, recognition bestowed on her by the 25,000-strong Interactive crowd. It rightly acknowledges her consistently valuable contributions to the past dynamic decade of Interactive's existence.
Boyd's words in her brief acceptance speech came as a clarion call in strong contrast to the crass commercialism that pulsed through much of the festival. She reminded the attendees of their primary purpose to "build technologies and experiences that make people's lives better." And that, of course, doesn't (necessarily) include making ambitious software developers very rich very quickly.
As just one effort aimed toward improving people's lives, especially young people's, boyd had previously joined a panel made up of Bill Keller, formerly executive Eeitor and now opinion columnist for the New York Times, Emily Bazelon of Slate and Jason Rzepka of MTV, who together all explored the widely perturbing question of teenage behavior online -- not least what the mainstream media, and sometimes now the courts as well, have been calling "cyber-bullying."
Boyd was, as often, the most incisive panelist. She steered a careful path that sharply berated press hysteria about the perceived "epidemic," cautioned parents against seeing their children as simply victims and never agents or actors in the teen drama that plays out online, emphasized how impossible it would be to monitor or regulate teen online activity, especially trying to employ technology to do so (especially in view of young people's infinite and constantly-shifting capacities for cryptically encoding their conversations), and the need to appreciate the highly complex nature of status-signifiers in teen culture that adults -- be they parents, teachers or journalists -- can barely imagine let alone understand.
Outside of "Digital Drama: Growing Up in the Age of Facebook," as this helpful session was named, the overall flatness I sensed in SXSW (to use its written shorthand) was, I'm pretty sure, directly connected to the disproportionate way way in which its proceedings were shot through with the entrepreneurial imperative (boosted as it was by more commercial sponsorship than ever, from companies eager to farm new talent and new products).
South By has always attracted waves of wannabe digital startup billionaires, but this year that element seemed to have reached a tipping point and become a climatic determinant for the whole shebang -- a bit like the Lake Effect in a Cleveland winter. It had a strangely introverted feel, navel-gazing and self-searching in an cloyingly obsessive fashion, with sessions boasting titles like "CEO at 21: Avoiding the Pitfalls of Young Founders," and many variously-labeled discussions but all in effect aimed at developing in those who want them the personal qualities apparently needed in a successful entrepreneur.

One much more pragmatic approach to entrepreneurial possibilities, and therefore much more appealing, came with a solidly engaging panel talk on the Web and Africa (and again, regular readers of THE MEDIA BEAT won't be surprised that I veered toward it).
The panel was led by Ngozi Odita from Nigeria (who founded Society HAE, a production collective), and it included Fadzai Makanda, originally from Zimbabwe (representing iROKO Partners, an online movies and music distributor), Nadeem Juma from Tanzania (Chairman of the AIM digital agency) and Matthew Davies from the UK (whose company All Amber is supported by the British government in mounting conferences in Africa -- no shades of neo-colonialism here, we must hope).
The discussants were provided a great springboard for their message by a quickly-cited Special Report published in The Economist and written by Oliver August, the magazine's Africa Editor. This thirteen-page review entitled "A Hopeful Continent" worked (maybe a bit too self-consciously) at painting in the author's own words "a picture at odds with Western images of Africa," while at the same time avoiding the often mindless hype of over-eager Afro-enthusiasts who talk of the African market as "the China of tomorrow," and of our current time as "The African Century."
Just numerically, here's no denying that Africa represents much promise -- as it already has enjoyed a decade in which, taking the continent overall, life expectancy has increased by 10 percent, real income per person has shot up by more than 30 percent, while familiar scourges continent-wide have been beaten into some retreat, malaria by almost a third, and HIV/AIDS by a remarkable three-fourths.

There are reservations to be made, to be sure. A little naively the SXSW panel hardly mentioned the huge variations between countries -- didn't even point out the all-too-often forgotten number of fifty-three entirely separate nation-states -- let alone the obscene disparities of wealth and opportunity within just about every one of those countries. But as my former boss at the UN, the Ghanaian Kofi Annan, has frequently said of Africa's economy in general, "Its success is one of the world's best-kept secrets." Africa's internet economy is undoubtedly poised for an extraordinary leap forward.
I was happy to see a lot of otherwise navel-gazing heads (or were they just iPhone tweeting?) suddenly snap up to attention when Ngozi Odita laid out some striking stats. "Africa now has 140 million internet users," she said, wisely emphasizing the specifically African market characteristic that these are predominantly phone-users, not desktop or even laptop owners.
"And that represents only thirteen percent of the continent's population," Odita went on. "The potential is already huge right now, and current rates indicate that this penetration will have doubled before the end of this decade. There are infinite possibilities!"
* * * *
Read more of David Tereshchuk's media industry insights at his weekly column, The Media Beat, with accompanying video and audio. Listen also to The Media Beat podcasts on demand from Connecticut's NPR station WHDD, and at iTunes.