According to media lore, thanks principally to the vintage series The Naked City on ABC television, "there are eight million stories" in New York.
But one of the great untold stories of this metropolis is the high-quality art on its walls. Not just hanging on them, but literally on them; and therefore a very part of those walls themselves.
But now the story can be told, as headline writers still love to say, even if only under their breadth.
And only rightly it's being told with due fanfare among our cosmopolitan media elite. Vanity Fair's editor Graydon Carter has taken some time off from the demanding daily tasks of editing his magazine of mores in order to write an aptly fulsome introduction to the hefty new book, Murals of New York City: The Best of New York's Public Paintings. (Published this week by Rizzoli)
The book's erudite and assiduously research-minded author is Glenn Palmer-Smith, himself no slouch at making eye-catching murals, often working with his son Austin. His extraordinary achievement here is to have built upon a visual framework of strikingly evocative photography, by Joshua McHugh, to produce writing that evokes the best kind of arts journalism combined with a profound appreciation of New York social history.
In consequence we get memorable insights into city life that we could so easily, without the advantage of this book, have dismissed as incidental background -- and walked on unthinkingly... as city-folk, in this city especially, generally do.
It's powerful, for instance, to take in Palmer-Smith's gripping account of Diego Rivera's fight with Nelson Rockefeller over the artist's avowed intention in 1933 to have his murals for the new Rockefeller Center show "the Workers arriving at a true understanding of their rights regarding the means of production... [and] show the Workers of the Cities and the Country inheriting the Earth" -- plus perhaps even more contentiously his insistence on heroically portraying Vladimir Ilyich Lenin in the lobby of his patron's temple of capitalism.
We know who won that struggle. And there have been many losers, since the whole work was smashed to pieces with sledgehammers and picks.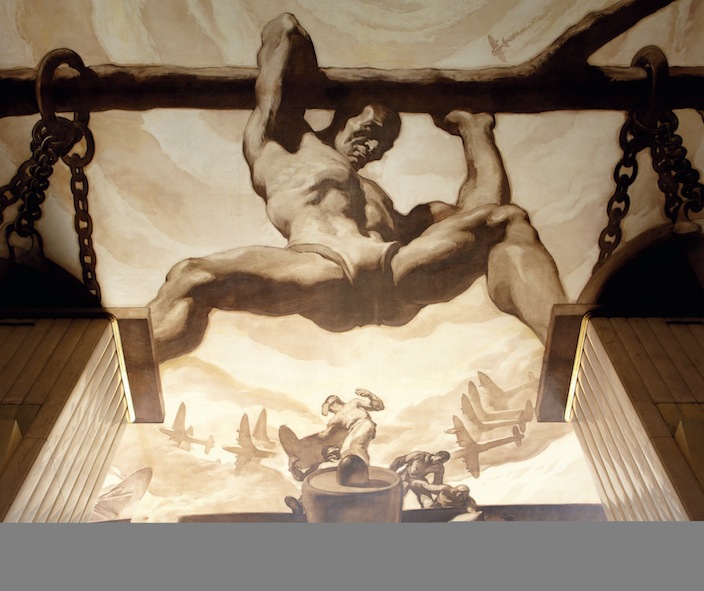 A creative winner was José María Sert, the muralist who then replaced Rivera and produced "American Progress" -- the 1,000 square feet of painting (above) that contrived to represent "a fusion of ideals and industry" ... very different ideals from Rivera's of course, and much more to Rockefeller's liking.
Equally, it's rewarding to have to have the full story of the great vaulted ceiling in Grand Central Terminal. Among the 750,000 passengers and more casual visitors who daily mill about beneath this heavenly creation conceived by the French artist Paul César Helleu -- featuring astrological constellations, of course -- there will be a few who appreciate that there is something distinctly odd about it. Some will even know that it is, in a sense, "inside out". It represents the way the universe, in zodiacal terms at least, would look if we were outside it -- not looking out at it from our own little planet.
But how many would know about the flipping back and forth that had contributed to this "mistake", if that's what it is, instigated first by German astrologist Johann Bayer whose 1603 atlas Uranometria inspired Helleu, and then by Helleu's chosen executor of the work, the Australian muralist Charles Basing. Or about the constellation of Orion being somehow an exception to the rest, in that it stands the "correct" way around, because of a singular choice, originally made by Bayer, to have Orion the Hunter viewed differently.
Gratifyingly, Palmer-Smith can't resist telling us that when the "mistake" was first noticed -- a month after the terminal was opened in February 1913 -- railroad owner Cornelius Vanderbilt (whose statute stands outside the Terminal staring grandly down Park Avenue) insisted that the 'beyond the universe' point-of-view was quite deliberate, and reflected nothing less than God's own standpoint. We can suppose, I guess, that the parallel came easily to the mind of that super-rich industrial magnate.
The much-loved mural by Marcel Vertes in the Upper East Side's venerable Café Carlyle is celebrated in the book -- something for which we all owe Palmer-Smith quite a debt. Not just for writing about it here, but for his own restoration of the paintwork in 2007 while the whole room was being reconstructed. His book covers more than thirty extraordinary murals around the city, from the neoclassical friezes of the NY State Supreme Court, to what the author calls "the doomed search for beauty" of suicidal painter Ezra Winter overlooking Radio City Music Hall's lobby and staircase, through to the 1970s realism of Peck Slip Arcade by the East River.
Altogether, Murals of New York, in both its transfixing pictures and its fluent text, decisively captures the vibrancy of this still-wondrous city's under-acknowledged public art.