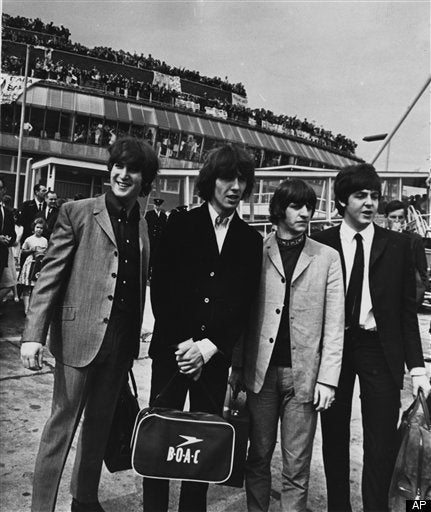 This Thanksgiving I want to give thanks and send all my loving to two people -- no, not my kids, or even my wife, though they're pretty fab too -- but rather two men who I think we should all be thankful to still have in our lives, Ringo Starr and Paul McCartney.
The other day it struck me that I feel deeply thankful to have been alive in the time of the Beatles, and that two of the members of this ultimate band of brothers are still very much with us and continue bringing fab music to our lives. It doesn't take an aging rock critic like me to tell you that The Beatles continue to stand as a singularly shining example of just how powerful a force popular culture can be in our world -- even before you could purchase their legacy on iTunes.
Though I may possibly be the only living rock critic who hasn't written a Beatles book -- YET -- John Lennon, Paul McCartney, George Harrison and Ringo Starr have separately and collectively had a tremendous impact in my life. That's even more remarkable considering that like some of you, I was too young to really appreciate The Beatles in the Sixties. Yet growing up as a kid in the Seventies and buying brilliant albums like John's Plastic Ono Band, Paul's Band On The Run, Ringo's Ringo and George's All Things Must Pass, I felt something fabulous take hold in my heart and mind. Gradually that tremendous tug led me to my own very personal lifetime of Beatlemania -- just as it has done for every generation since and as it will for many generations to come.
As a Rock Critic of a Certain Age, I have had the further extraordinary good fortune of actually getting to know both Ringo and Paul over the years. At the risk of overstating things, Ringo Starr has become a friend over the past two decades. We first met back in 1989 not long after Ringo had cleaned up his act and was rediscovering his own muse as a musician and recording artist in a wonderful, life-affirming way. Because of my dual life as a journalist of sorts and as a writer of television shows, I have had the honor of meeting virtually all of my youthful heroes over the years -- rock stars, movie stars, author and even the occasional president. But I've never met a funnier, sweeter, smarter, more charming icon than the Artist Formerly Known as Richard Starkey. And as far as I'm concerned, to know Ringo is to love him, and the same goes for his wife Barbara, a woman who's always been lovely in every way too.
I think back to a time around the turn of the century when Ringo invited me to bring my own wife and two sons to one of his fun-for-the-rock-family All Starr tours. I was pleasantly surprised when we were all ushered backstage for a quick "Hello Goodbye" before the show. Back then, my younger son -- now a guitar god in training -- was too young to really grasp too much about The Beatles. Curiously, though, my boys had recently watched my treasured copy of that brilliant Beatles parody All You Need Is Cash about the semi-legendary Rutles. So when Ringo asked my younger boy, "How you doing, son? Do you even know who I am?" My kid innocently answered, "Sure, you're a Rutle, right? Ringo just smiled at him sweetly and said, "Sadly, I wasn't that lucky, son."
This year, Ringo invited me to be there when he was presented with his star -- with one r -- on the Hollywood Walk of Fame. I brought my younger son as my date that night, and Ringo rushed us right over to former Rutle Eric Idle to introduce him to this boy who had once mistaken Ringo for a Rutle. Someday perhaps my son will understand just how culturally privileged he is to have a Beatle telling a Rutle a story about him, or how thankful we all should be to have the work of musical and comedic giants like the Beatles and Monty Python to treasure year after year, decade after decade.
Spending your life in the company of the famous is not always this fabulous. I remember once being left to stand outside on a cold night waiting to interview the Backstreet Boys for a Rolling Stone cover story. Finally, I decided to knock on the Boys' bus door and explain to their publicist that if The Beatles could treat people nicely, perhaps the Backstreet Boys could find it in their hearts to a little be more considerate, too. They let me inside the bus to wait right away after that.
As far as I'm concerned, even if he never left Rory Storm and The Hurricanes, Ringo Starr would still be a great man and a great rock & roll drummer too. If you somehow don't yet know how fantastic and thrilling a drummer Ringo Starr is, check out the footage of the Beatles at Washington Coliseum in 1964 that's up on iTunes, and put it all together now.
I don't know Paul McCartney quite as well as I do Ringo, but I will always love him too for everything he does, yesterday and today. Paul was the first Beatle I ever met, and you never forget your first time. I still remember being nervous as I was brought over to meet Paul and the Lovely Linda McCartney at a release party for his album Press To Play back in 1986, weeks after I had started working for Rolling Stone. Instantly, they put me at ease, just as I would see them do many times with countless others in the years to come.
The highlight for me was spending a few weeks with Paul and Linda in America and South America as they were touring on their The New World Tour in 1993. They could not have been any nicer to me, especially Linda who it must be said had an extraordinarily generous heart, and a way of trying to mother just about everyone she ever met. One day, I mentioned that a woman I had just started dating was in the same city we were. Linda immediately insisted that I invite her along to soundcheck and a vegetarian lunch that next day. Though Linda didn't even know me all that well, she somehow went out of her way to spend some time with this young lady. As we left the table that day backstage, Linda whispered very seriously to me, "Marry that girl." So I did. Little did I know then that my future wife Fran and I would someday have a beautiful boy together who somehow thought Ringo was a Rutle. Thanks, Linda.
It was during one of those fantastic Paul McCartney soundchecks that I first realized something about the man who Linda loved so dearly. It hit me that apart from everything else, Paul McCartney is the single greatest musician in rock history. Along with Stevie Wonder, he is the most purely musical individual who I've been around. Even if Paul never wrote or sang a song -- and thank god, he has and does -- he'd still be one of music's powerhouse talent. This man could play or sing anything, and at least during soundcheck he frequently would do exactly that.
I remember being on a bus ride one night in Argentina sitting next to Paul doing an interview for Rolling Stone. As we spoke, Paul had a shoebox on his lap and was gleefully playing drums on it as he politely answered questions about The Beatles for the millionth time. It hit me right then -- Paul McCartney may be the best shoebox drummer who's ever lived. And if you've seen him with his great band today, you know he's still a force of nature. I was thrilled to be invited to see him when he played an intimate gig at the Amoeba store in Los Angeles, and to watch as a small crowd, including Ringo, dance along in the aisles. Music pours out of this man like no one else, and I am thankful for every note of it, then and now.
As a kid, I was first struck by arguably rock's greatest wit and sharpest rebel, John Lennon -- the only Beatle who I never had the honor of meeting, though I did get to show my respects as a writer on a big tribute that Yoko One helped put together immediately after 9/11 at Radio City Music Hall. Still, I loved John Lennon so much from afar that when he was brutally struck down during my freshman year at college, my late great father immediately called me up and asked if I wanted to fly home to New York City, as if there had been a death in the family -- which, of course, is exactly what it felt like.
Though I've had the pleasure of getting to know Olivia Harrison -- like all the women in the Beatles world, a exceptionally strong and beautiful lady -- and meeting their son Dhani, I only had one conversation with the great George Harrison, and as a lifelong fan, I will never forget it either. This was during a Christmas party at Tom Petty's house in the early Nineties, and I had no idea that they would be any other Wilburies in the house. There was some kind of gift exchange during the party, and knowing what a Beatles fan he is, I had wrapped up an old issue of Life magazine with The Beatles on the cover for Tom. As it turned out, George sat down next to me on the couch just as Tom opened up my gift. At that moment, George turned to me, and with the comic timing of a lost scene from A Hard Day's Night and said, "Oh yeah, The Fabs -- I remember them."
I remember the Fabs too. We all should. For millions of us, The Beatles will always be the ultimate class act. And so on behalf of all of us who love The Beatles here, there and everywhere -- thank you for all the love you've shared with us on the long and winding road.