 On Monday, I joined colleagues from corporations, NGOs, academia and government at an event in New York to celebrate the fifth anniversary of Global Handwashing Day (GHD) and to draw attention to the need for greater political commitment, investment and inter-institutional coordination in order to upscale successful initiatives that change behavior towards handwashing.
A number of panelists highlighted the critical need for greater attention to handwashing as a vital component of any WASH (Water, Sanitation and Hygiene) strategy. Dr. Valerie Curtis, Director of the Hygiene Center at the London School of Hygiene and Tropical Medicine, launched the meeting with an important research finding, namely that 600,000 lives can be saved annually by the simple practice of handwashing with soap.
Since the first GHD five years ago, great progress has been made in giving this issue attention. Today an estimated 250 million people globally are participating in events to highlight the vital role played by handwashing in preventing infection, particularly diarrhea and pneumonia that still claim the lives of more than two million children under the age of five every year.
Professor Jeffrey Sachs highlighted the priority that has to be given to dramatically scaling up investment in sanitation, including hygiene education, through greater political commitment. He reminded us all that the sanitation target of the Millennium Development Goals is the one lagging farthest behind, with two and a half billion people still lacking a toilet and one million practicing open defecation every day. He drew our attention to the partnership between Unilever and the Millennium Villages Project which he directs, to bring handwashing with soap to nearly 500,000 people in 80 rural villages in Africa.
Paul Polman, CEO of Unilever, spoke of his conviction that business cannot be a bystander whilst people are excluded from services. Business has to help solve the problems and be an integral part of the solution.
The Minister for Water in Kenya, Minister Charity Kaluki Ngilu, spoke forcefully of her decision to increase the budget for water, sanitation and hygiene education, including the provision of soap in schools and clinics and the impact this is having on reducing maternal and child mortality and morbidity. She said that it is a priority to prevent over 17,000 children dying every year.
WaterAid has long given importance to hygiene education, particularly handwashing, as an integral part of our WASH programs globally. WaterAid has also recently developed a partnership with Unilever to promote improved hygiene practices such as handwashing, along with improving access to safe water supplies and sanitation facilities, to communities impacted by climate change in coastal areas of Bangladesh. To date the program has reached nearly 6,000 people with hygiene messages at mass events and through school programs, and the plan is to reach 400,000 people in total.
Other companies such as Colgate Palmolive are also realizing the importance of the need to be part of the solution and bring life-saving interventions to those living in poverty. More commitments from other major food and pharmaceutical companies are urgently needed together with greater donor priority to investment in hygiene education and sanitation.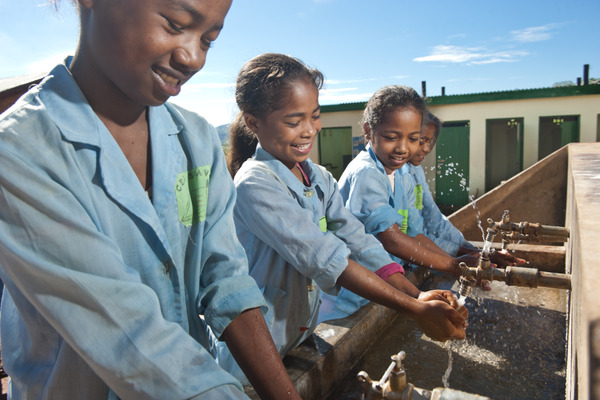 Photo: WaterAid/Rindra Ramasomanana. Schoolgirls are happy to be able to wash their hands with clean water in the new wash basin, funded by WaterAid, Soavina, Betafo District, Vakinankaratra Region, Madagascar, February 2012.
There is plenty of evidence to show that handwashing with soap and the provision of toilets are two of the most cost-effective health interventions. For example, handwashing with soap after using the toilet and before eating or preparing food can deduce diarreahal risk by 45 percent. It can also produce dramatic reductions in neonatal mortality.