One recent evening, my wife Kelly splashed down the stairs, her arms overflowing with old photo albums.

I watched her pull photos from the albums into a not-insignificant pile on the wooden floor. She's a DJ pulling beats away from a well-woven track, a scrapbooker loosening accumulated time back into its constituent moments. She disassembles with wistful relish.
The collected images offered a rogue's gallery of anonymity, of fugitive scenes: a gondola pilot in Venice who looks a bit like Zorro on vacation: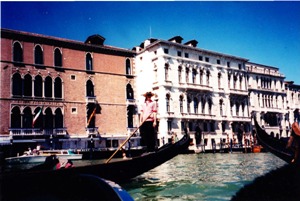 ...a balcony with magenta flowers spilling over its edge: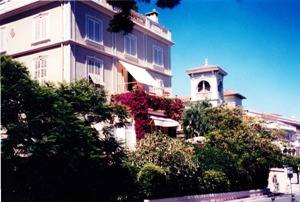 ...the nondescript ruins of some anonymous Mediterranean town: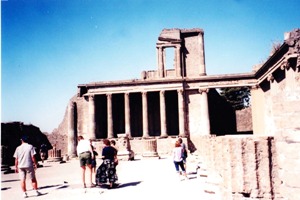 This pile sprang from her parents' 2001 trip to Europe, their first and last together, and the photos -- once printed and therefore materialized in hard copy form -- became part of her inheritance, snapshots of what her late mother Jean might have seen on this trip. They are unlabeled, unmarked and -- because my wife did not accompany them -- largely unknown.
After her parents died, this album passed to Kelly. It was a strange sight to see her working nostalgia backwards in a photographic purge. These memories, someone else's memories, have been officially excised along with other pictures from her own older albums: a high school friend's dog/child/cake/house/vacation.
Part of Kelly's culling stems from a desire to simply de-clutter, to create breathing room in the limited space of the albums for actual pictures of her parents, which may one day signify something to our daughters other than the unnamed cathedrals of old Europe. Kelly had to clear her parents' house of its endless contents, and this process has left its mark.
In part, though, this has nothing to do with my wife wanting to keep images only of people she feels close to. Rather, as part of today's copious image culture, pictures of Europeans landmarks and Venetian gondolas are simply easier to come by than ever before in human history.
At breakfast the other day, my daughter Athena, age 6, asked, knowing full well the archival power of YouTube, whether "I" had any videos of swimming puppies. In a matter of seconds, we watched a glorious pack of tiny dogs take to the pool. Put another way, why take a picture of a gondola in Venice when a web search from your palm device will give you hundreds, maybe thousands?
The web results may not be your memories, but then again, when you pull out your own gondola picture 50 years from now, will you remember it anyway? If you substituted a generic gondola picture or another balcony with flowers, drawn from a web search, for these originals in your old paper albums, would the photographer -- you -- see the fraud from a half-century distant?
Significantly, Kelly's excised photos of her parents' trip are from the age when we all took digital photos, but before social networking and insta-sharing. Formerly, one snapped everything, no longer bound by the hard limits of film, and then printed photos in perhaps previously unknown quantities. And before digital pictures, we had to reckon with this difficult problem: There are only three pictures left on our roll of film (how's that for an archaic phrase?) for the rest of the vacation. What will we shoot?
Pictures are a way of encoding time and encoding memory, and yet each vector is under rapid revision. Now, we might take batches of photos of a family birthday, dispense them to our computer or maybe Facebook or Instagram and then look at how many likes our album receives and then perhaps browse the remains years later.
Or never look again.
I have never been a prolific photographer. Lately, I've become even less inclined to take many pictures. The sheer ubiquity and relative ease of the technology (wait until Google Glass gets going) makes me less inclined to capture anything, simply because everything can be and probably has been already captured.
Yes, I want a picture or two of my daughters riding their bikes at dusk or playing in the foam of Lake Michigan, but I don't need hundreds of each. For me, to be behind the lens is to fix an additional screen between the person and the experience.
And yet.
While in the Netherlands last week for the inaugural European Beat Studies Network conference, I rented a bicycle and pedaled from Middelburg to Vlissingen. There, I snapped a photo of coastline wrapping around the north end of Vlissingen.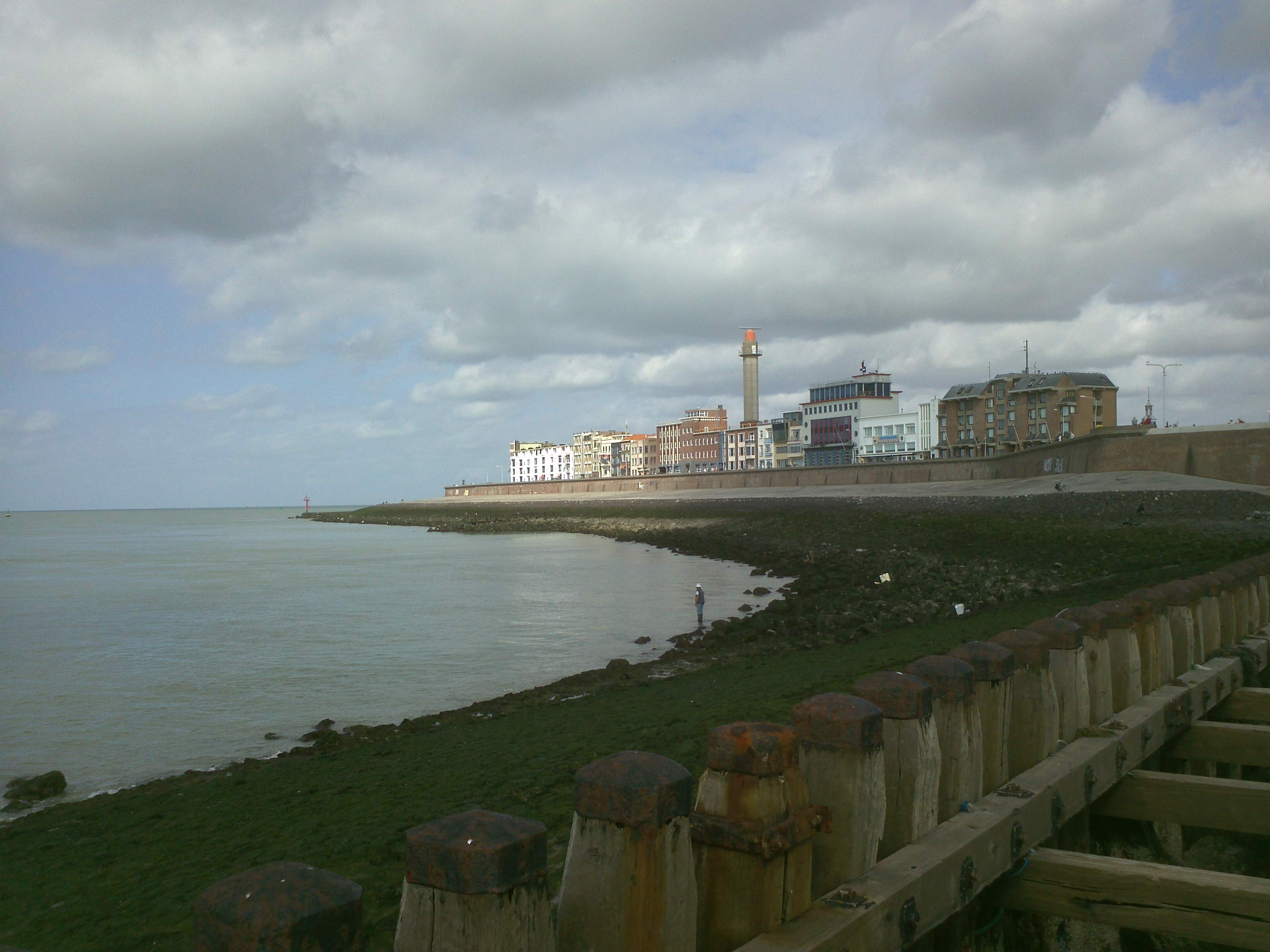 Why? I felt a small compunction to document my presence in a space so delightfully different from my everyday routine. I've put it here, in this post, and on a whim, I confess to making it the wallpaper of my computer monitor.
Yet as my daughters will one day have to sort through my belongings -- the collected detritus of a life -- I'll don't think I'll add it to a family album.