Disclaimer: I absolutely adore my in-laws. I really, really, really do.

For the four years that my now-husband and I were dating, I heard all about my sister-in-law's huge, gorgeous wedding extravaganza. The traditional hall, the 350 person guest list, the dress, the cake, the flowers, etc. I even attended a few family weddings on his side and saw first-hand the production that is a modern Greek wedding.

And I was afraid... very afraid.

Not that I didn't want to be the center of attention, that's no problem for me. No, I was worried about the homogeneity of it all -- the same wine (Apelia), the same meals (prime rib), the same church (St. Nicholas), the same cake (white with strawberry filling), the same everything. I was also worried about being overwhelmed -- I'm not Greek, I'm an English/Indian/Scottish/Irish hybrid and maybe because of that I felt a lack of cultural identity, but I still wanted to feel our wedding was a representation of the two of us and not "the Canadian girl marrying the Greek." (i.e "My Big Fat Greek Wedding" -- Nia Vardalos nailed it, right down to the bundt cake.)

My husband surprised me by "proposing" (that's a whole other story!) in Mexico on Christmas Eve in 1996. We were thousands of miles away from home and had a few days to ourselves before we shared the news, and we started to talk about what kind of wedding we wanted. We discovered that we had a pretty clear idea of what we didn't want, but not a clear idea of what we did want. Clearly more research was in order. On our flight home, John turned to me and said "you know my family is going to go crazy when we tell them -- are you ready?"

And... I wasn't. So we decided to keep it our little secret for a few weeks.

We spent those weeks, which turned into months, shopping for my engagement ring, going to wedding shows, looking at halls and invitations and poring over magazines (okay, maybe he wasn't poring over magazines). We made some decisions and were ready to make our big announcement when my sister-in-law called to invite me to a surprise baby shower for one of her cousins. Then she added, "we told her it's a surprise engagement party for you guys, pretend you're engaged, k?"

Imagine her surprise when we announced our real engagement that day (although we did tell his parents a few days before -- they kept the secret).

Once we shared our news, my soon-to-be mother-in-law was concerned that I had taken control of the planning, she was afraid that I didn't know what I was doing (even though I was doing a lot of event planning at the time). Truthfully, I think she was worried that I wasn't going to honor their traditions. She couldn't have been more wrong. My fiancé and I gave this a great deal of thought, and I think we came up with a wonderful wedding that felt right to both of us. We made sure to educate everyone in the room by doing little things (like a program for the church service, which was conducted in Greek).

The greatest compliment I've ever received was from my mother-in-law the day after the wedding, when she told me it was the most beautiful wedding she'd ever attended and that she would never doubt me again (and for the most part, she's kept true to her word!) We found the best DJ for Greek and non-Greek music, we included Greek traditions like the ceremonial "tearing of the bread," we were married in a Greek Orthodox church. I even made a speech in Greek! Our friends performed the Neil Diamond song for my dance with my father, we passed on the heavy, expected, midnight sweet table in favour of wedding cake, fresh fruit and chocolate-covered strawberries. We didn't waste money on bonbonnieres. (You know, those statuettes and picture frames that never match your decor and are cluttering up the basement!) Our cocktail hour was outside (that was unheard of at the time). We held our reception at a beautiful venue that nobody had been to before and had a romantic, fun, perfect summer wedding.

So, how did we keep it all under control?

1) We made sure we knew what we wanted, what was important to us and what we were willing to compromise on. I'm so glad we had a few months to ourselves, because it gave us some breathing space to do a little research and put a plan together. For example, we wanted to cap the guest list at 150, so we booked a room with a 150 capacity -- we couldn't go over and we couldn't cancel without losing our deposit (or so everyone thought!)
2) We paid for the wedding ourselves -- money talks!

3) We listened to everyone's suggestions in an open, non-committal way "Oh, you think Stargazer lilies would be nice on the tables? That might work..." I'd say (with absolutely no intention of having lilies on the tables.)

4) We picked our battles. You can't die on every hill, but you can compromise on some of the minor details.

Another little bonus of keeping it to ourselves? It was like a pre-wedding "babymoon" -- that little moment in time to enjoy each other before the chaos of a major life event takes over.

Looking back, I wouldn't change a thing.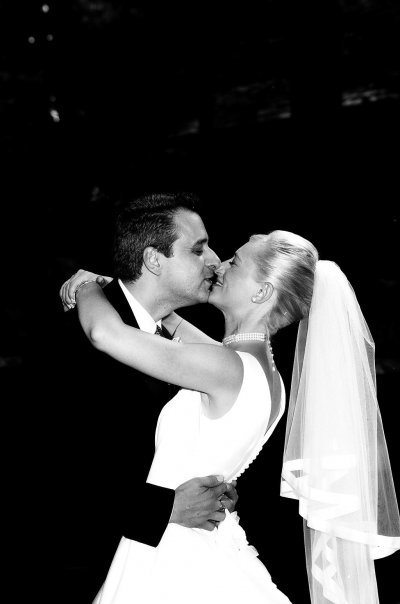 Dawn Dwyer-Pappas -- about to celebrate my 14th year of wedded bliss.