The real estate crash of 2008 may have been a disaster of epic proportions for much of the country, but for one little non profit in Austin TX, it was an unexpected godsend. For the vast majority of animal shelters, finding and paying for a suitable physical location is a monumental task. Austin Pets Alive! was no different. Veterinarian Ellen Jefferson took over as Executive Director of APA! in 2008 and had been searching for an appropriate building to house their operations and help them expand. By 2010 they had still not found a location. But the recession was in full swing and even in a boomtown like Austin TX, there was a lot of real estate languishing on the for sale lists.
By sheer blind luck, one of the APA! board members, who happened to be a realtor, had listed a commercial property at a busy intersection in the heart of South Austin: 2 small office buildings on a huge grassy lot full of live oaks. By the end of 2010 it had been standing empty for a long time. The APA board members made their pitch, and the owner agreed to rent the property at far below market value. Suddenly, APA! had a home.

If it takes a village to raise a child, it takes an army to raise an animal shelter -- an all volunteer army. APA! used their meager budget to purchase supplies and their loyal volunteers came in droves to bring the facility to life, one building for cats, the other for dogs. It was a seemingly endless project. They painted interiors and exteriors, built large and small indoor kennels, erected large fenced areas for dogs to play in and numerous large indoor enclosures for cats. Large fenced pens were built over much of the grassy yard so dogs could spend days outside and be more visible to the public, and outdoor signage went up at the busy nearby intersection to draw the public's attention. One tech savvy volunteer built an extensive website that made it easy for new volunteers to attend orientation and get involved as well as giving photos and biographies on every available animal for potential adopters.
With their new facility up and running, APA! was suddenly capable of taking in many more dogs and cats on the City's euthanasia list. They began hiring paid full time staff using donations and adoption fees to cover the payroll. As with almost every other non profit organization, money was a constant struggle. They found an angel in Austin Subaru who approached APA! with the proposition of hosting adoption events. Subaru used their own marketing budget to organize annual events like "Paddle for Puppies" and "Wagathon Walkathon" with proceeds going to the shelter and helping APA! gain much more public exposure.


Only a year later, APA!'s efforts had gained considerable traction and as the numbers were tallied by the City in mid 2011, there was much cause for celebration by all area animal shelters and advocates: Austin TX was now officially the largest US city to achieve No-Kill status. It was a goal that took the efforts of many people over many years to achieve. But No-Kill status is not a one time achievement. It's something that needs to be constantly maintained. APA!'s board knew they needed to bring in a lot more cash in order to save enough lives to help keep Austin No-Kill. Enter the ASPCA.
In recent years, the American Society for the Prevention of Cruelty to Animals (ASPCA) has hosted a nationwide contest to help animal shelters save more lives than ever before. The first 50 qualifying shelters to apply are accepted into the challenge and the contest is held over the months of June, July and August. Each shelter competes against their own numbers from June, July and August of the previous year and hundreds of thousands of dollars are given out in prize money including prizes for Most Improved and Best Community Engagement as well as grants for the top shelters in each designated region of the country. But the big money is the grand prize: a $100,000 grant to the shelter who saves the most lives above and beyond their numbers from the previous year.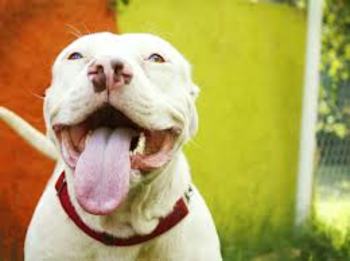 Throughout the sweltering months of the 2011 Texas summer, the staff and volunteers at APA! exceeded all expectations, taking in and adopting out record numbers of dogs, cats, kittens and puppies. It was an exhaustive effort, with the staff and volunteers alike working endless early days and late nights. There was a palpable buzz in the air by the time the dust settled at the end of the summer, with numbers being tallied and everyone taking a deep breath. Weeks later the announcement of the prizes finally came. Austin Pets Alive! had won the grand prize. With 850 more lives saved than the previous summer, the $100,000 grant was theirs!
Sure enough, that Fall, officials from the ASPCA showed up in their little orange ASPCA car with orange balloons and a giant check to present to APA!. Ellen Jefferson thanked everyone for all their hard work and gathered volunteers and staff together for free pizza and beer. Everyone breathed a sigh of relief and gave each other some well earned pats on the back.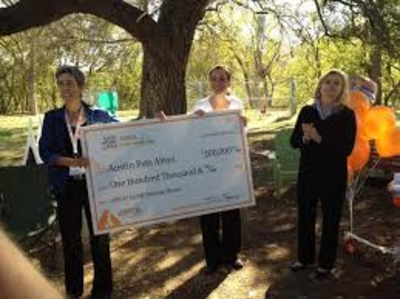 But even with the big win, as soon as the pizza and beer were gone, it was back to the business of animal rescue. And as 2011 came to a close, the APA! board found out that they would soon need every penny of that hundred grand, because their perfectly located facility that they had all worked so hard to find and renovate was, unfortunately, about to go back on the chopping block.