Political analyst Neal Milner recently made his case for why government in Hawai'i fails so often against the backdrop of Peter Schuck's book that addresses national policy failures. Milner's review of the factors that cause national and state policy-making failure to be so pervasive is helpful. Still, it places too much of the blame at the feet of elected officials and not enough at the doorstep of those who help empower them: the media, and an electorate that often votes, not just against its own interests, but against the greater good. (Not just "no more taxes" but "no to combating climate change," "no to gun control," "no to immigration reform," and even "no to the appointment of US ambassadors.")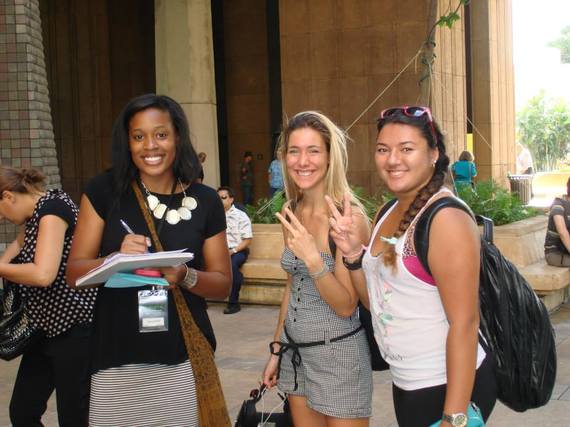 Some millennials, students from the University of Hawai'i and Hawai'i Pacific University, joined a rally this year at the Hawaii State Capitol to urge lawmakers to raise the minimum wage.
Perhaps Milner feels that both the media and the electorate are covered in his reference to "an enormous and active civil society" as one of the characteristics of the American body politic. But they deserve more credit than that for their contributions to policy failures. Nationally, and here in Hawai'i, we do not lack for examples of we, the people being asleep, or at least unaware and indifferent to the policies -- and policy-makers -- that help shape our lives. How else can we explain Hawaii's low voter turnout or the predictions that the worst performing Congress in history seems poised for reelection, with possibly big wins for the party of relentless obstructionism?
Locally, rail appears poised to be one of the casualties of the local media's aversion to asking tough questions. The City had reliable information about the performance of Ansaldo Breda before they were appointed. All the red flags should have been waving. But Honolulu went full steam ahead. In recent days the media has reported that HART "plans to look at other ways to save money, including using less expensive materials." This comes on the heels of news that Belgian National Railways has reached a settlement with Ansaldo Breda after cancelling its order for three V250 high speed trains citing "fundamental shortcomings with potentially serious effects with regards to both safety and reliability." And this week we learn that the first of the V250 trains rejected by Netherlands Railways (NS) began its journey back to the Ansaldo Breda plant in Italy. That rejection was reportedly based on the poor quality of the first nine trains delivered in 2013.
But the message from HART seems to be "Don't worry, be happy," without noticeable media and public pushback for a better understanding of why this confidence is warranted.
Honolulu residents have a right to expect the media to get beyond simply reporting HART's declarations of confidence. Shouldn't the announcement that HART is planning to save money by "using less expensive materials" be cause for alarm? Isn't the media interested in finding out what industry professionals -- the ones with no worries about self-preservation -- think about HART's decisions?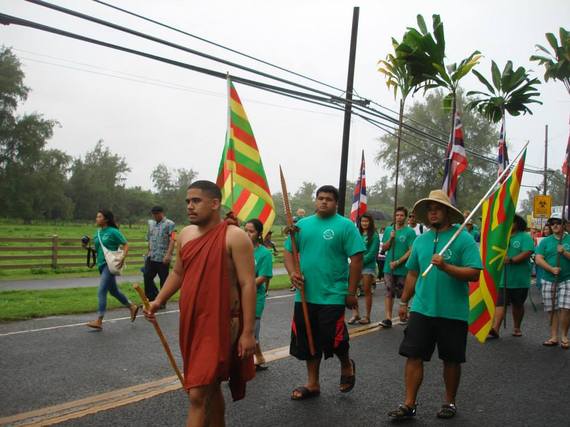 UH student, Jacob Aki leads an "aloha aina" march to block further development of the North Shore.
"Policy makers," says Milner, "typically show little interest in assessment or implementation." Could one reason for that be that they know they will not be rigorously challenged? That challenge only seems to happen after debacles of the kind we have seen at the University of Hawai'i -- dubbed a "serial accountability violator" by Milner. Perhaps it is easier to challenge UH than question policies linked to powerful corporations with deep pockets and far-reaching connections.

Yet the media does turn the spotlight on sometimes with a ferocity that bears the tinge of bias. Representative Faye Hanohano's intemperate outbursts merited coverage, certainly. But front page treatment and large inside features for days on end? Was that a public shaming or dispassionate reporting? Or the sensationalizing of an easy target?
From the local to the global, we aren't asking the tough questions. The outrage of some that taxpayer dollars were helping to fund Israel's assault on a largely refugee population in Gaza with more than 2,000 civilian deaths, of whom more than 500 were children, could not attract media interest. The TV stations ignored four fairly large protests by Honolulu residents -- including a march from the State Capitol -- that took place at the intersection of Atkinson and Ala Moana Boulevards and another on UH campus when Kerry visited.
Footage of the march was sent to the TV stations but went unused because these protests were never considered news-worthy. Yet one pro-Israel rally earned splashy coverage in the only daily newspaper. Yes, Israel is an important US ally, but isn't it every citizen's business -- and certainly the media's -- to challenge conventional thinking?
Hopefully the future promises more of people like Alex Kaiser who stopped, got off his moped and joined Honolulu residents standing outside the Hawaii Convention Center recently to echo the call of the Elders for a just and inclusive global community.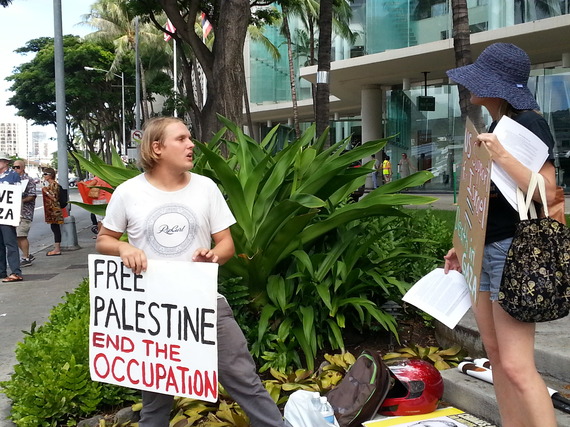 Alex Kaiser got off his moped and joined demonstrators outside the Hawai'i Convention Center, who were echoing the visiting Elders' calls for peace.

"I had no idea the Elders or Desmond Tutu were here. When I saw the group with signs saying "Save Gaza" it felt like a very positive moment. I spent the summer of 2006 in England and I witnessed the Israel-Hezbollah War unfold via BBC and Al Jazeera. It had an emotional effect on me, compounded by the dawning realization that I pay taxes and therefore I was complicit in funding war crimes. When I came back, I found that even my closest and kindest friends simply didn't know ANYTHING had happened. In arguing with my friends and family to 'make them care,' I realized how dangerous and far-reaching the misinformation is. If standing on the street with a sign that says 'Free Gaza' makes someone wonder 'what are they talking about?' there is hope. I feel that -- like Plato's cave analogy -- once you realize your own ignorance you can't turn away from the truth."
Milner's observation that what government should do "is sexy" but what it can do is "dull, off in the shadows somewhere" rings true. For sure, we, the public and the media, can and should be careful listeners, observers and questioners. It may not be sexy. But it is essential.