At two months, Baby Musa was the youngest in a crowd of more than 100 people in Honolulu on Tuesday July 15, protesting the bloodshed in Palestine.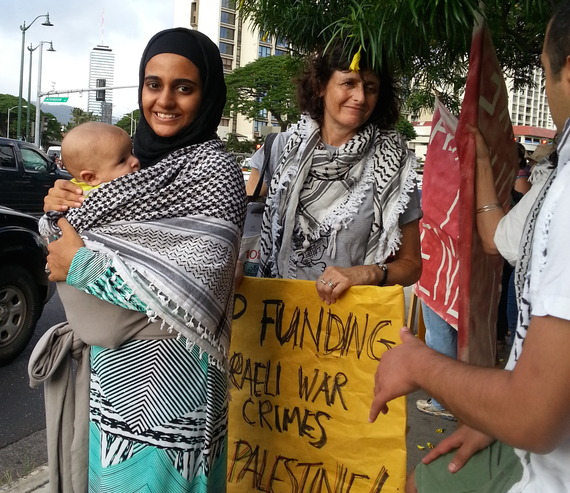 Baby Musa in the arms of his mother, Samah Nasser. Seen here with Cynthia Franklin, one of the organizers of the demonstration.
They stood at the busy intersection where Ala Moana Boulevard meets Atkinson, from 4-6 p.m. holding up signs calling for an end to the occupation of Palestine and the flow of U.S. taxpayer dollars and support to Israel.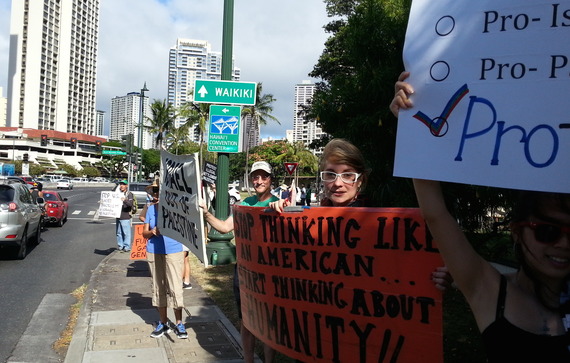 Kanaka maoli sovereignty activist, Terri Keko`olani came wearing the same red ribbon she had just worn to the Department of Interior hearings on rule-making for the establishment of a government-to-government relationship between the United States and the Native Hawaiian community. "It symbolizes that we still stand behind what our Queen said when she wrote protesting annexation," she said. "And I am here today as a member of one occupied nation standing in solidarity with another occupied nation and to express our support for the people of Gaza in their suffering."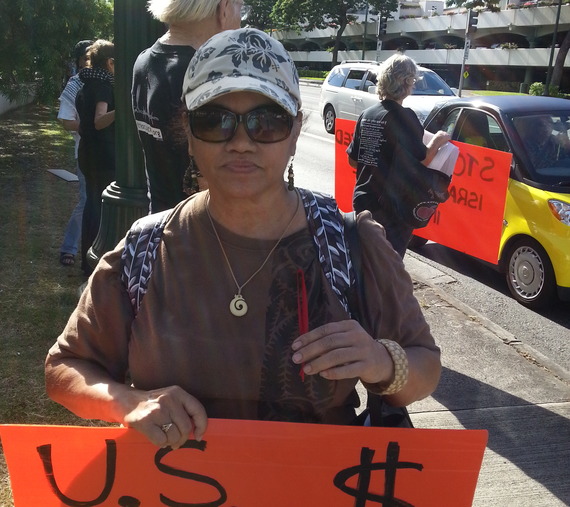 But Terri Keko`olani was also there as a member of the local chapter of "International Women's Network Against Militarism." "As women, as mothers, it is truly horrific to watch what is happening in Gaza."
Families of Protesters
University of Hawaii, Manoa student, Esma Arslan was there with several fellow students. But with her also were her mother, Filiz Arslan and grandmother, Sabahat Günaydin as well as her 13-year-old brother, Esad. She had told fellow worshippers at the mosque she attends about the demonstration and they quickly joined in making signs and going public with their opposition to the assault on Gaza. The fact that all of them were observing the Ramadan fast did not dampen their desire to stand with the people of Palestine and wave and chant as curious motorists drove by, honking and waving from time to time in agreement.
"Free, Free Palestine/Occupation Is a Crime"
Masar Abdeljawad was born in Palestine but has lived in Hawaii for almost 15 years. Not satisfied with just standing and holding signs, she walked the crowd, raising a chorus of "Free, free Palestine./Occupation is a crime." "I have attended demonstrations elsewhere where others have led with that chant. This time, I started it," she said. She was there with her husband, Daoud Salameh and other family members to speak "for freedom and peace in Palestine, and for all humanity."
"I protest a lot," said one man who identified himself as Sustainable Farmer Drew. "Animal rights, food sovereignty, veganism, people's right to food, social justice. Had to come out for this."
Ra`ana Yasmin is from Pakistan and has lived in Hawaii for many years. She was taking part in the demonstration "because I believe passionately in the freedom of Palestine. War is between two equal parties. What is going on there is genocide."
Mothers and Grandmothers for Peace
Karen Howell has four children and eight grandchildren. "I have friends who have been to Palestine. There are whole families with eight, nine children crammed into windowless rooms, trying to stay safe amidst all the violence. There are no shelters for the Palestinians. It's hideous."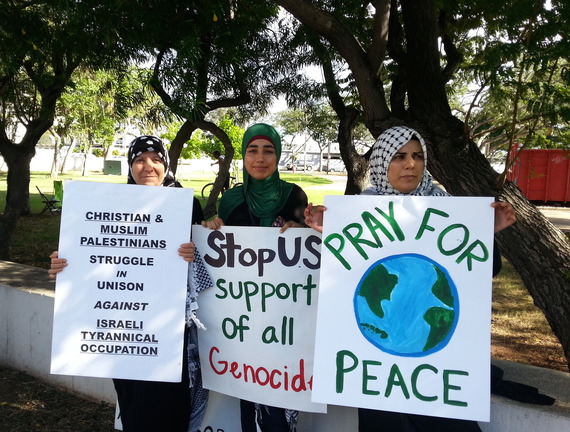 Fahreen Jaffar and Sumble Khan together held up a large Palestinian flag. Both are mothers of young children and were stunned by the searing images of children maimed or killed in the recent attacks. "This is my first time," said Fahreen. "What is going on in Palestine is so very unjust. I had to come out."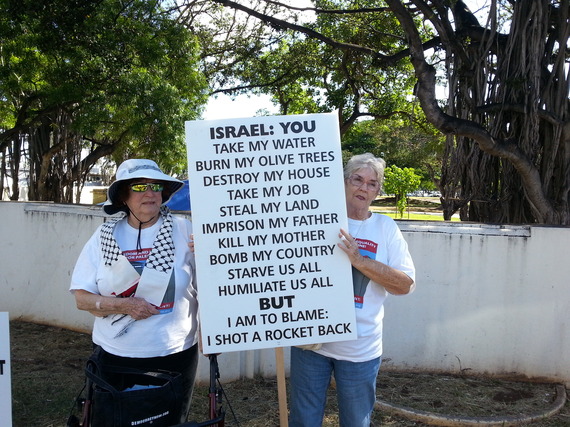 "Imagine a home invasion," said Sumble Khan.
You defend your home against those who have invaded it and you are called a terrorist? That is what is happening to the Palestinians. We have so much here -- security, food, comfortable homes. What do they have? Nothing. No security. No safety. Demonstrating to make people aware of what is going on is the least we can do.
She was grateful that she could leave her two sons with her parents so she could come out to join the protest.
Support From LGBT Advocates
Suzanne Young, who with her spouse, Tambry Young became the poster couple of the LGBT fight for civil unions and same sex marriage in Hawaii, joined the protest right after the end of her workday. Her teenage daughter, Shylar could not join her and wondered at her mother's determination to attend the demonstration. "What good can it possibly do?" she asked. "These people are so far away."
That feeling of impotence in the face of unfolding tragedy was why several people felt they had to be there today. It was precisely because the people of Palestine are so far away -- and yet are so in need of international support -- that coming out today in Honolulu, as others have done in cities around the world, to protest the violence was so important.
Visitors Join Residents in Protesting Israeli Attacks
Marina Uhercikova from Slovakia was just vacationing in Hawaii, but she joined the demonstration with friends from Morocco and France who have lived here for several years. "We are here for humanity. That is all." Hector Valenzuela from Guatemala offered the same reason for being there. "This is a human issue," he said.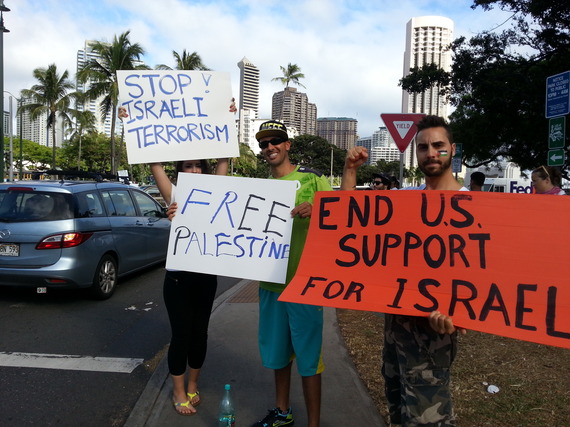 Rebekah Garrison, visiting from the University of Southern California where her graduate studies include studying US occupation history in Puerto Rico and Kaho`olawe, also made time to join the protest.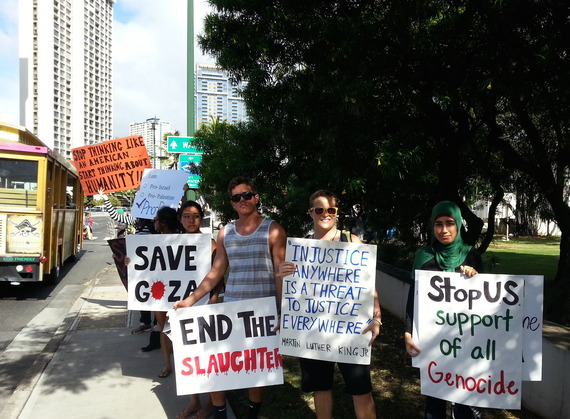 For many the struggle is one they have followed for some time now. Carol Murry initiated the protest. Cynthia Franklin and several members of the English Department at the University of Hawaii, Manoa have friends and colleagues who are directly touched, personally and professionally, by what is going on in the Middle East. Franklin gave everyone she spoke to a flyer inviting them to add their names to the US Campaign for the Academic and Cultural Boycott of Israel (USCACBI).
Rev. Barbara Grace Ripple(center) and her husband, Rev.Samuel Cox, were there as local Friends of Sabeel, a Christian organization founded by an Episcopal priest from Jerusalem, Canon Naim Ateek who has visited and spoken with audiences in Hawaii. Archbishop Desmond Tutu is the international voice for Sabeel. Ripple and Cox are also members of Hawaii's Interfaith Alliance.
For George Hudes (left) whose parents survived the Holocaust and rejoiced in the creation of Israel, the July 15 protest in Honolulu was just the latest act of opposition to policies which he believes run counter to basic tenets of Judaism. "This is not about being anti-Israel. It is about being pro-justice and peace for all."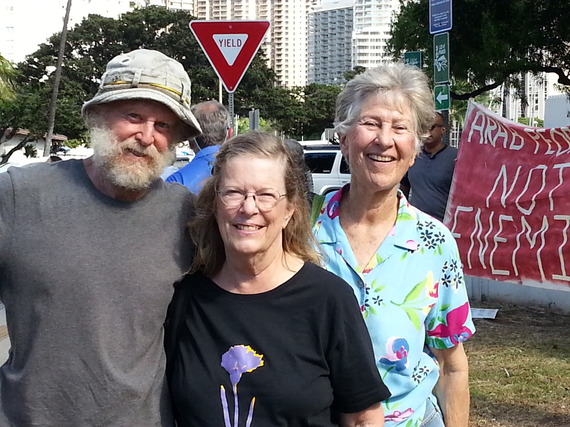 Or, in the parlance of Hawaii, it is about the breath of life. For everyone.
The group plans to hold a similar protest next week, July 22. Same time, Same place.