Kealoha, Hawaii's own poet laureate wants to empower young people and help them find their voice. His medium for doing that is the spoken word. And to help this graduate in nuclear physics from MIT and HawaiiSlam poetry legend tell "The Story of Everything," the Native Arts and Cultures Foundation (NACF) has funded a new pilot project that involves partnering with high schools. The project culminates in a public performance at the Kennedy Theater at the University of Hawaii, Manoa on August 1, 2015. This is one of the first projects funded by the foundation's Community Inspiration Program nationwide.
"We believe art can be a medium through which to tackle challenges such as land stewardship, gender equity, trans-border migration and youth development," said
NACF President/CEO T. Lulani Arquette (Native Hawaiian).
"I think art does so many different things for us! It makes us laugh and cry and wonder and empathize," said Kealoha, Hawaii's Poet Laureate. "It provides a mirror for us so we can see who we are as individuals and as a collective. It documents our beliefs and our many cultures through space and time. It shows us what is possible. It inspires us. It shifts our paradigms."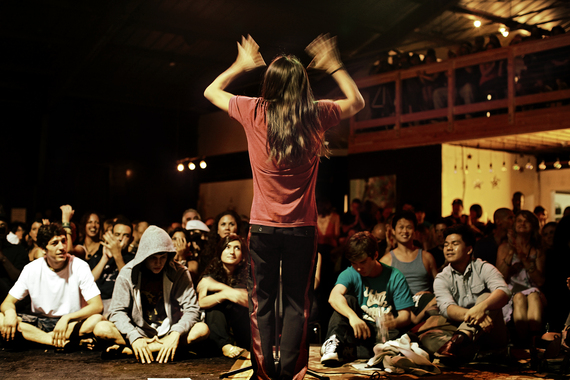 Kealoha: Inspiring and empowering youth through the spoken word.
Kealoha's "The Story of Everything" brings together science and art. It helps young people understand the various streams of knowledge that pour into us from birth. Beginning with the question, "Where do we come from?" Kealoha takes rapt audiences on a high-energy tour of scientific theories of origin as well as the Native Hawaiian creation story. The ultimate benefit of this outpouring of creativity in spoken word, dance, chant and visual arts is to build self-esteem and help underserved Native Hawaiian youth discover who they are and unleash their full potential.
Hawaii Artists Vie for 2015 Artist Fellowships
To unleash the full potential of Hawaii artists, the Native-led foundation is offering a new fellowship exclusively for Native Hawaiian artists who focus on traditional arts, music, dance and visual arts (2d and 3D). Online applications must be submitted at your.culturegrants.org by 5 p.m. Pacific time on January 15.
JANUARY 15 DEADLINE
Artists with a quality body of work that has earned the respect of their peers are invited to complete their applications online at http://your.culturegrants.org/ by January 15, 2015. The awards are generous--up to $20,000 each. Past awardees are not eligible for the 2015 Fellowships.
Past Recipients
Among those who have been recognized with fellowship funding from NACF are these familiar, respected names: 2014: Keola Beamer (Music); Kaili Chun: (Visual Arts): Patrick Makuakāne (Dance); Micah Kamohoali'i (Dance). In 2013 the awardees were Kapulani Landgraf (Visual Arts; Christopher K. Morgan (Dance); and Cyril Pahinui (Music). In 2012, Raiatea Helm received a Fellowship in the music category while Christen Marquez was an NACF Film Fellow in 2011.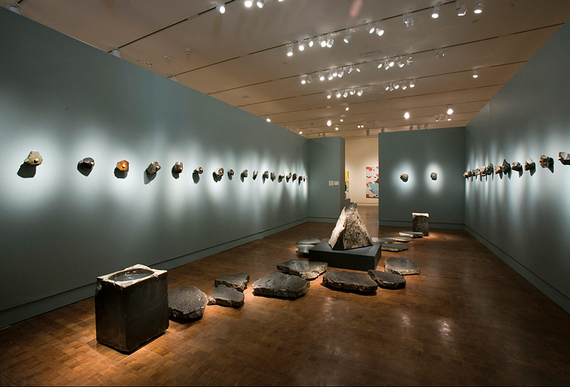 "Nau Ka Wae" (2006) by Kaili Chun (Native Hawaiian, 2014 NACF Visual Arts Fellow), including a wai basin (fresh water basin) in foreground.

This opportunity from NACF was made possible through a partnership with the Office of Hawaiian Affairs and support from the Leonard and Rose Freeman Family Fund of the Hawaii Community Foundation.
"We are grateful for the generous support of the Office of Hawaiian Affairs and the Freeman Family Fund," said Arquette."We are fortunate that our partners share our commitment and our belief that indigenous arts and cultures contribute greatly to discovering our shared humanity and bringing people together to transform the world," she said.