Both Barack Obama and John McCain have increased staff and offices in Arizona over the last couple of weeks. On Wednesday, September 10th, the Obama campaign opened its Arizona headquarters office in Phoenix, and it spent last week ramping up volunteer operations in Phoenix and throughout the state. The McCain campaign has announced plans to open a second office in Arizona -- in Tucson -- later this week.
The Obama and McCain campaign offices in Phoenix are worlds apart from one another. McCain's Southwest headquarters is currently located in a posh office building in a high-end neighborhood and is filled with new furniture, new phones and professionally made wall hangings. The Obama campaign, on the other hand, rented a home in a dilapidated downtown neighborhood -- its wraparound porch was fitted years ago with end-to-end security bars. Homemade posters are taped to the security bars and to the walls within the office.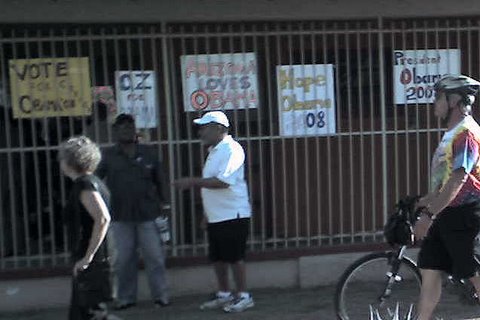 Like most Obama campaign events across the country, the Phoenix office grand opening attracted more people than expected, and many more than the office could accommodate. When I arrived, it took me almost 10 minutes to make my way into the building. Once inside, I could barely make my way around the crowds of excited Obama supporters. One lady commented that there were so many people crowded into the office that it was cooler outside than inside.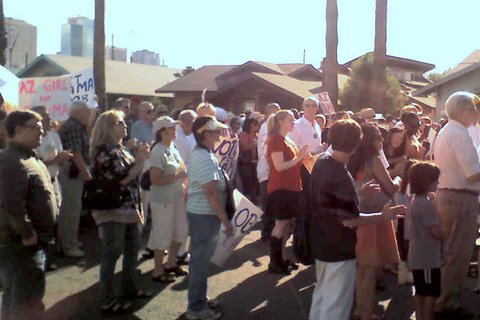 Volunteers were lined up at desks, signing up for phone banking, canvassing, and other activities for both the Obama campaign and the coordinated campaign with the party. A couple of ladies walked around with checks in their hands, asking over and over, "Where can we drop off donations?" When they were directed to one of the volunteer desks, they laughed and said they stood in that line for 10 minutes, only to be told they needed to find a staffer. A volunteer walking by overheard the exchange and quickly took their checks and apologized for the confusion. Smiling brightly, she said, "It's a good sign that we're busy!"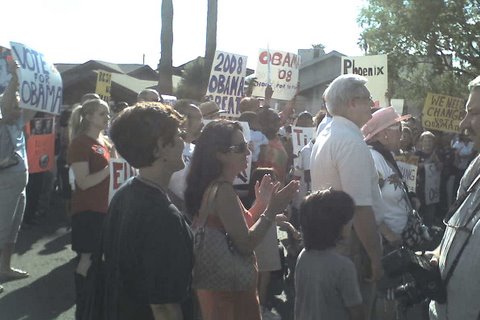 Meanwhile, the crowd outside -- the majority of the attendees -- stood sweltering even as they waited under shady trees, watching crews constructing a small stage and assembling sound equipment. When it was time for the rally to begin, the crowd was forced, reluctantly, from the shady lawn to the hot asphalt under the desert sun, a few stragglers left behind under the trees. Once there, however, they began chanting enthusiastically, even the stragglers on the lawn joined in, holding up homemade signs, yelling, and chanting.
--
Images: Emily Hopkins