PHOENIX, AZ -- At the same time and less than a mile away from former presidential candidate John McCain's upcoming health care town hall meeting, Organizing for America (President Barack Obama's field team) will be launching its "Let's Get It Done" National Reform Health Care Bus Tour.
The McCain town hall begins at 5:30 PM, and the OFA bus tour kickoff rally begins at 6:30 PM.
The bus tour is slated to travel across the country over the next couple of weeks combating the myths surrounding the current health care reform package. It is the latest in a series of hard-hitting public relations campaigns from Organizing for America (OFA), the president's former campaign arm.
The stated mission of the National Reform Health Care Bus Tour is to support the President's three goals for health care reform:
Reducing rising health care costs
Guaranteeing patients the right to choose their health care plan and their doctors
Ensuring quality, affordable health care is available for all Americans
The McCain town hall begins at 5:30 PM, and the OFA bus tour kickoff rally begins at 6:30 PM. Both events are within .8 miles of each other in downtown Phoenix (see the map below). Both events are free and open to the public, and tickets are not required. Admission will be on a first-come, first-serve basis.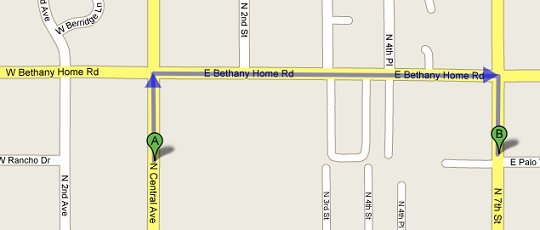 Point A is the location of McCain's town hall and point B is the location of OFA's launch for its National Reform Health Care Bus Tour.
According to OFA, further details about the tour will be forthcoming within the next few hours.
Both the White House and Organizing for America seem to be heavily focusing on Arizona. President Obama has visited Arizona three times this year -- in the spring to talk about the foreclosure crisis, in May to deliver the Arizona State University commencement rally and last week to address the Veterans of Foreign Wars (VFW). Organizing for America has been working to heavily staff Arizona with a State Director, Field Director, Deputy Field Director and Regional Field Directors.
The White House has also launched its own web-based resource center, Health Insurance Reform Reality Check, that provides fact-checking analysis regarding the health reform package currently on the table.
UPDATE: Events that have been posted by various OFA local staffers are:
Wed, Aug 26 - Phoenix (IBEW Hall)
Thurs, Aug 27 - Albuquerque (National Hispanic Cultural Center)
Fri, Aug 28 - Denver (Tivoli Commons, Auraria Campus)