PHOENIX -- Following on news that pollsters across the spectrum have declared the presidential race in John McCain's home state Arizona a dead heat, Barack Obama is sending signals he will step up efforts there, perhaps even stumping here on his weekend tour of Western swing states.
McCain has responded to the news by directing robocalls to Arizona area codes.
Over the summer, McCain enjoyed a double digit lead here. At the end of September, his lead had withered to 7 points. Early this week, a torrent of polls suggested the race is too close to call.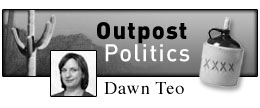 Until Wednesday, neither campaign had spent money in Arizona except to open offices and hire staff to man them. The only advertisements running in Arizona for either candidate have been the result of national media buys rather than targeted regional or local advertising campaigns.
Although a plethora of research has shown robocalling to be ineffective, it is cheap, and it is fast. Robocalls are usually the last resort of campaigns that are out of money and out of volunteers -- and in this case amount to yet another signal of how the McCain-Palin campaign is stumbling to the finish line. McCain can not muster sufficient volunteer staff in his home state.
The State Democratic Party Chairman told the Arizona Republic Wednesday that he has already had discussions with the Obama campaign about "pumping more money into the state to get the Democratic Party 'over the top' on Election Day."
Richard Wolfe of Newsweek said Wednesday night that Obama's senior aides are "intrigued" by the polls that show Arizona as a dead heat. The campaign, he says, is now "seriously examining a late surge" in McCain's home state,
That may include ramping up TV advertising, on-the-ground staff or even deploying the candidate to stop there. Obama is scheduled to make a Western swing late this week, making an Arizona visit possible.
Wolfe also points out that the race in Arizona is more competitive than the race in Pennsylvania, according to the polls. An Obama visit to Arizona, he says, makes more sense than a McCain visit to Pennsylvania.
Dana Bash spoke with state Republican Party leaders Thursday morning who told her that Arizona looks "a little too close for comfort."
The Arizona Republican Party has been plagued by infighting and scandals. John McCain has not been popular with much of the state party leadership, including Chairman Randy Pullen who won the battle for control of the state party by soundly defeating a candidate who was largely perceived by the rank and file as McCain's hand-picked candidate.
Democrats and Obama supporters have also been heartened by reports that Arizona Republicans may be demoralized. Republican offices in Arizona have been relatively empty and inactive. Democratic offices and the Obama headquarters in Arizona, on the other hand, are bustling with energy and enthusiasm.