PHOENIX -- Five polls conducted over the last two weeks here describe the race for the presidency in John McCain's home state as a dead heat.
When the first of the five polls was released a few days ago, some Arizonans wrote it off as an outlier. Then another poll came out with similar results. Then the Arizona Capitol Times reported that an internal Republican poll had found the same results. Then another and another. Five polls.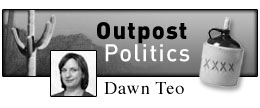 Losing Arizona would be a remarkable feat for McCain given that he lives here, at least part time, and that Arizona has only voted for a Democratic presidential candidate once (in 1996 for Clinton) since Harry Truman's surprise upset over Thomas Dewey in 1948. Bush won Arizona by 10 points in 2004.
Republicans are vexed. Democrats are hopeful.
The Polls
Market Intelligence/Zimmerman & Assoc.
(Conducted Oct. 16-19)
McCain   44%
Obama    42%
Other     5%
Undecided 9%
Margin of error: +/-4.9%
Sample: 408 likely voters
Painstaking efforts by Democrats to canvass in even the reddest districts of the Phoenix metropolitan area are paying off. This poll shows McCain with only a 3-point lead (43-40) in Maricopa County (Phoenix) where Bush won by 15 points in 2004. This is a serious deficiency for any Republican candidate in a statewide race. Meanwhile, Obama is running up the score in Pima County (Tucson) with a lead of nearly 19 points.
Myers & Grove / Project New West
(Conducted Oct. 23-24)
McCain   48%
Obama    44%
Other      5%
Margin of error: +/-4%
Sample: 600 general election voters
Among those who have already voted, Obama enjoyed a 1-point lead (47-46) in this poll, but among those who have not yet voted, McCain still shows a 7-point advantage (49-42). Obama has a strong lead of 10 points among independent voters in the Project New poll. Men favor McCain by 18 points (54-36), while women favor Obama by 8 points (50-42).
ASU/Cronkite
(Conducted Oct. 23-26)
McCain   46%
Obama     44%
Undecided  9%
Margin of error: +/-3%
Sample: 574 registered voters
ASU/Cronkite showed McCain ahead by 7 points at the end of September, making this a dramatic drop in home state support.
Most supporters have made up their minds, and most indicate very strong support for their candidate. Only 7 percent of McCain supporters and 6 percent of Obama supporters say they might be willing to change their minds before election day.
Arizona State University Associate Poll Director Dr. Tara Blanc told KAET8 that a home state advantage does not make the population of the state immune to the trends that are happening across the country. Independent voters are breaking for Obama not just in Arizona but also across the country.
More than twice as many people who were polled believe that McCain has run a more negative campaign compared to Obama.
Rasmussen
(Conducted Oct. 26)
McCain   51%
Obama    46%
Margin of error: +/-4.5%
Sample: 500 likely voters
Before this poll was released on Monday, the smallest lead Rasmussen showed for McCain was a 9 point lead in June.
Overall, voters in this survey believe that John McCain is better able to handle the economy and the war on terror. However, Obama fares better on these issues among independents.
McCain's lead among white voters is down from a 23 point lead to a 13 point lead. Obama fares better among Hispanic voters (58-34). McCain leads among men (55-42), and Obama leads among women (49-47).
Internal Republican Poll
(Reported by Arizona Capitol Times on Oct. 27)
McCain +3
Although neither candidate has made a major appearance in Arizona since the primaries, Merrill said Democrats could bring a major national figure into Arizona to boost turnout in the final days of the election. Turnout is expected to be an astounding 85 percent, which is expected to help Democrats in down-ticket races.
Democrat Ann Kirkpatrick is expected to win the seat of currently indicted Rick Renzi (R) in Arizona's first Congressional district. The hottest race in Arizona, however, is taking place in the third district, the seat previously held by John McCain and currently held by Republican powerhouse John Shadegg.
Until recently, Shadegg's seat was rated "likely Republican" by most pollsters but has moved into the "leaning Republican" column. The netroots has gotten into the action with high profile Democratic bloggers asking Democrats across the country to contribute money to this race. Like the presidential race, the outcome of this Congressional race will hinge on turnout.
Arizona Democrats are determined to win a majority of state House seats for the first time in forty years. They have spent an impressive half a million dollars on state House races, while Republicans have only been able to spend a fraction of that. It is likely that Democrats will hold a majority in the state House after November 4.