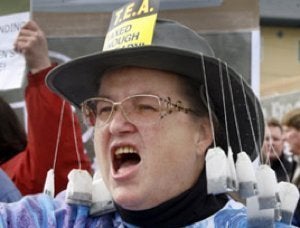 By Alex Brant-Zawadzki and Dawn Teo
After years of a love-hate relationship with the Republican Party, the man most often regarded as the founder of the Tea Parties, Eric Odom, announced Tuesday that he is re-joining the Republican Party. This after he posted an open letter to the Republican Party in July in which he said he would be willing to re-join, "if and only if" certain conditions would be met. (His conditions have not been met.) Odom's road to re-joining the Republican Party has been long and full of Tea Party theatrics.
Because Odom acted fast (or had forewarning, you decide) in the hours after Rick Santelli's CNBC rant, he rose to infamy by building (and controlling) much of the online infrastructure through which the hundreds of Tea Parties were organized across the country throughout 2009. While Odom self-identifies as a "newbie" grassroots leader and has been characterized in the media as rebelling against the Republican establishment, his connections to well-known conservative heavyweights are undeniable and years old.
As a key organizer of the 2007 Conservative Leadership Conference, Odom put together an impressive assemblage of speakers, including former U.S. House Majority Leader Dick Armey, South Carolina Governor Mark Sanford, then Co-Chair of the Republican National Committee Jo-Ann Davidson, Grover Norquist, President of Americans for Tax Reform, and the infamous lobbyist Rick "Astroturf Kingpin" Berman. Last year, Odom organized Roots HQ 2009 (the equivalent of NetRoots Nation for conservatives). In November of 2007, shortly after Rightoberfest, Odom picked up a job as New Media Coordinator for the Sam Adams Alliance, where he worked until just days before Santelli's rant.
Odom has consistently taken controversial public stances against Republican candidates. In 2007 he was in the center of a debate with a Nevada assemblyman who Odom accused of pork barrel spending when he proposed spending money to help pay for housing for veterans while they are seeking medical treatment. Odom used a now-familiar tactic against Ty Cobb -- he accused him of not being a "real" Republican, just not being conservative enough. Odom was later accused of being behind an anonymous website that made vicious attacks of a truly personal nature (most of which were later proven to be untrue) against that same Nevada assemblyman.
At 6:11 AM on February 19, Rick Santelli told the world via CNBC, "We're thinking of having a Chicago Tea Party," in what he later claimed was a spontaneous, "half serious" outburst of anger against the bailouts. In what can only be described as an incredible feat of web programming skills, by 11:36 AM, Odom had rolled out OfficialChicagoTeaParty.com, a professionally designed website where Santelli's rant fans could sign up to organize or attend Tea Parties. Just four days later, Odom posted specific details and locations for Tea Parties that would take place just a week later on February 27.
According to the Libertarian Party of Illinois (LP-IL) Chair Dave Brady, his group created a Tea Party group on Facebook in late 2008, and Odom was a member. According to Brady, when Odom (who was an active member of LP-IL) launched his Tea Party efforts, he effectively hijacked their Facebook page and their tea party idea: "This all is kind of frustrating because LP Illinois gets no credit for this project. Eric Odom, a member of LP Illinois, and our original group, created his own website and Facebook group and aligned directly with Santelli."
At the time, Odom gave Santelli all of the credit, describing the CNBC rant as authentic and spontaneous. Months later, in May, Odom would take the credit, saying in a blog posting, "I'm the guy who developed both the site and concept for the February 27th Chicago Tea Party."
Most website creators are excited when a new website goes live, especially if it is related to a cause that they are passionate about, but Odom didn't post his new website to his Twitter feed until 10:35 PM. He was coy with his followers, imploring them to "wait for Santelli" three times, saying his people were in discussions with Santelli, before posting, "#Dontgo Movement is putting together a Chicago Tea Party Planning Committee http://officialchicagoteaparty.com #optwtp."
Odom did make sure to promote the new Tea Party Facebook page, "Make sure you join this Facebook group. It has the RIGHT orgs running it." Phil Kerpen of Americans for Prosperity (an organization funded, at least in part, by the infamous Koch family of Koch Industries) is listed as the Creator.
Nine days after registering OfficialChicagoTeaParty.com, Odom registered TaxDayTeaParty.com, designed to help protesters register to organize or attend Tea Parties across the country, complete with a substantial list of partner organizations and a state-by-state list of protests being planned for April 15. In March, he created the American Liberty Alliance, which would later become one of the driving forces of the August Congressional recess rallies.
In fact, when Odom created RecessRally.com to (once again) coordinate nationwide rallies on a single day (August 22), Odom reused his TaxDayTeaParty.com formula. Unlike earlier Tea Parties, however, August recess rallies focused on health care reform. They were also much louder, meaner, and promoted by Fox News.
Odom currently manages more than 200 web domains either directly or through his consulting agencies (which include Flat Creek Management and Fresh Vision Media) and his organization (American Liberty Alliance--which, oddly, seems like a nonprofit but is not registered as a nonprofit). He was one of the Tea Party leaders who traveled to NY-23 to stump for the Tea Party candidate, Doug Hoffman, against the Republican candidate, Dede Scozzafava. Once again, she just wasn't Republican enough.
According to Odom, when John McCain became its presidential nominee, Odom left the Republican Party for the Libertarian Party and supported Bob Barr's presidential bid saying, "I might have taken a different approach if I wasn't voting in Illinois where it didn't really matter." Once Sarah Palin came onto the scene, though, Odom became (and remains) a stalwart Palin supporter. He even registered the website ThanksToPalin.com
In July Odom said he would re-join the Republican Party if and only if the Republican Party leadership (paraphrasing):
Gives Odom their blessing.
Expels from any future party support or praise any Republican Congressperson who votes for health care reform.
Stops being camera whores.
Stops asking for money.
Promotes (Odom's) Tea Party websites on the GOP website.
Stops paying professionals, and hires real activists.
Stops holding "idea camps"; stops asking for ideas; and stops co-opting activists' ideas.
Starts really attacking Democrats.
Nevertheless, Odom wrote in his blog Tuesday, "I know many of my fellow Tea Party activists are going to hate me for this, but it's time to face reality. The Republican Party must be our vessel in 2010," adding later, "As a libertarian who voted for Bob Barr in 2008, I find it very difficult to state this in a public manner, but I will now be joining the Republican Party."
Just a couple of weeks ago, Odom declared war on the GOP, saying in a blog post about the GOP establishment, "Wake up. The machine is waging war against you."
Odom is also unhappy with the current conservative news outlets. In late September he announced what he calls a movement-minded news portal and his answer to the Huffington Post.
Earlier this week, Odom announced the formation of a new PAC, telling TPM that Tea Partiers have "lacked the initiative to get involved in the campaign side of politics." Odom vowed, in his PAC-announcement email, that his Liberty First PAC has an initial goal of raising $1 million and will do three things: (1) "refuse to help any incumbents," (2) help "Patriot Candidates" defeat "power hungry politicians," and (3) "build a national educational media campaign to help the general electorate understand what our government is attempting to do to us."
Though Odom has no intention of supporting the current crop of Republicans (and proudly asserts that he will work to defeat many of them), he is making his 2010 stand from within the Republican Party, "Love or hate the Republican Party, it's our only vessel in the short term. We either unify through it and make a stand strong enough to stop this madness in government, or we fracture over third party efforts and meet uncertain political demise."
This article is the first in our series, Reading Tea Leaves. Read them all:
Part 1: Tempest in a Teabag: Tea Party Founder (Re)Joins the GOP
Alex Brant-Zawadzki is a writer who has studied in both the United States and abroad. He is a former contributing Writer at OC Weekly. He edited his university newspaper, The Saint, and received the honor of Best Student Newspaper in Scotland. Alex has been passionate about journalism from a young age, and is extremely proud of a reporting credit he managed to get in Time Magazine. Alex currently resides in the heart of San Francisco.