This story was produced in partnership with Facebook Stories. Submit your own Facebook story here.
----

Millions of people use Facebook to keep tabs on their fitness goals and stay motivated with the help of friends and family. Click here for more on most active cities on Facebook.
As any spouse of a soldier can tell you, military marriage is a journey. In the past five years, my husband Steve and I have been through two deployments, moved across the country and started a family. Unfortunately, weight gain was also a big part of my story.
I gained more than 55 pounds while I was pregnant with my first child. I was shocked to hear the doctor tell me that I weighed 232 pounds, and tried to blame it on the pregnancy. Deep down I knew the truth was that I had started gaining the weight long before.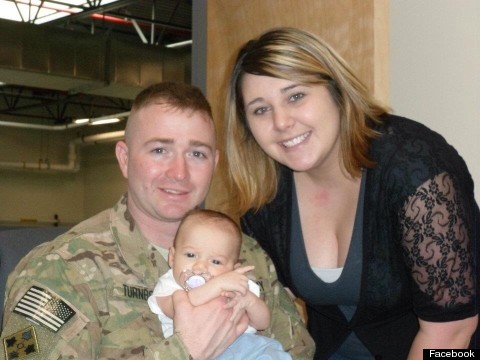 Steve and Dawn Turnboo with their son Gage in early 2012.
Our son Gage was born on Jan. 18, 2012, and six weeks later, my husband deployed to Afghanistan. At the time, I still weighed 210 pounds. I grew to hate mirrors, and my attempts to squeeze myself into my old clothes left me feeling defeated. One day, not long after Steve had left, I decided I was done feeling bad about myself. I wanted a healthy body again, so I had to get to work.
I started a strict exercise routine and committed to two daily workouts, including a bootcamp class and 45 minutes spent on the treadmill. I cut out fast food for 11 months without cheating and never skipped a workout. My husband was in awe of my commitment. While he's deployed, we rely on Facebook to communicate, and I sent him updates from home, pictures of our son and messages about my progress in the gym. I was getting stronger every day, and I loved that he got to cheer me on from overseas.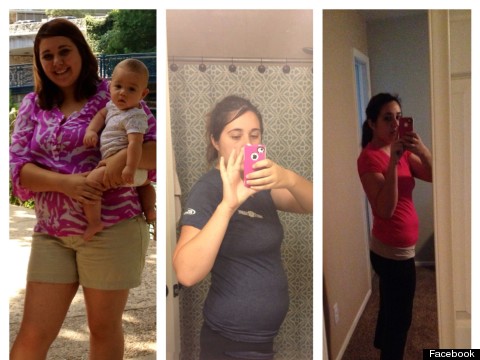 Dawn captured her weight loss progress and shared the photos on her timeline.
Even though I sent him pictures of my changing body, I was still really nervous to see him in person again. What would his reaction be? Would he like my new body? He came home in December 2012, just before Gage's first birthday, and at 142 pounds, I weighed less than I did on the day we met. His surprise made me feel amazing, but it was the moment he told me how proud he was of all that I had accomplished that I really felt like I had achieved my goal.
Being open with my weight loss kept me going, but it also had an unexpected impact on my friends and family. So many people sent me messages, seeking advice on how to start their own fitness journey after I began to post photos of my transformation on Facebook. I think it was just seeing that with hard work and dedication, a healthy body is possible. I didn't realize it at the time, but my experience helped motivate them to start over, just as I had done months before.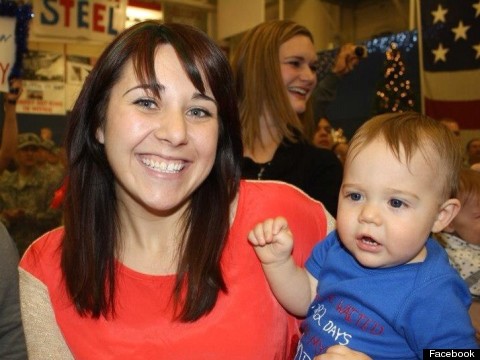 Dawn and her son Gage after she lost more than 70 pounds.
It wasn't easy. There is no magic pill for good health, but the hardest thing about my journey to fitness isn't what you might think it would be. No, the food wasn't always great, and yes, sometimes I wanted to drown myself in a burger and fries. Still, it was knowing that when Steve came home, I would be tested. He's been a soldier since he was 18, and is always in great shape. Most of the time, he can eat whatever he likes without consequences. It's been eight months since he came home, and I'm happy to report that I've kept the weight off.
Now when people ask me about my story, I tell them what a friend told me: Nothing changes if nothing changes. We all have to start somewhere. Don't let anyone or anything stand on your way. Start small, take one thing out of your diet every week and start walking for just 10 minutes a day, and I promise you will see results. If you want it bad enough, you will win. You are the only person who is holding you back. But most importantly, love yourself no matter what.