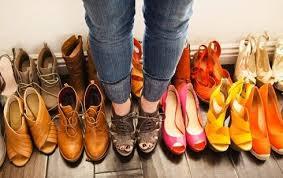 I don't have a problem,
I can quit if I want to,
These shoes are like friends,
And who the hell asked you?
The closet floor's covered,
But I don't really care,
Green rug like the bedroom,
Not much under there.
It's true that their numbers
Rise into the hundreds,
They're all necessary,
And Hoarders hasn't called yet.
I've pumps, mules and flip-flops,
Slides, sneakers and Mocks,
And, heaven help me,
One pair of red Crocs.
I've boots made for walking,
And shoes made to run,
No jogging these days though,
Screw that. I am done.
The husband dislikes it,
When I go to the store,
There's no room for his shoes,
Mine take the whole floor.
"You bought shoes?" he asks me,
"Really? Can't you abstain?"
But they were on sale,
And he protests in vain.
I don't see the issue,
I don't let it phase me,
He knows he can't fight it,
If he wants to touch me.
See, shoes make me happy,
Shoes make me dance,
'Cause shoes always fit,
Unlike my pants.