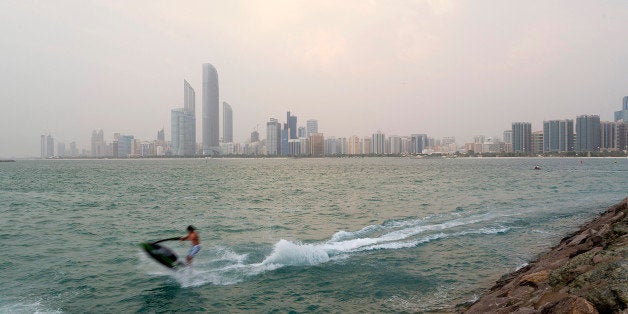 Remember, when you see me at the airport, whatever you do, do not hug or touch me in any way.
That was what one of my best friends said on the phone as I was finally making travel preparations to come see him in Abu Dhabi, United Arab Emirates (UAE), a year ago. With that last-minute instruction, before I hung up to board my aircraft for a very long journey, I knew this was going to be very different than any other vacation stored in my memory.
If it were not for the common site of robe attire, abaya for women, and dishdasha for men, you could be in any major metropolitan location. The two large UAE cities, Abu Dhabi and Dubai, are beautiful metropolitan areas and the Emiratis are gracious hosts. The cities are bustling with business and commerce as well as with great restaurants, fabulous hotels, and world-class entertainment. You can even snow ski in a mall.
Yet despite all this glitz and glamour, there is always a very faint feeling of tenseness and unease knowing the locals are watching you. It is definitely a location you do not visit without a little personal research on the rules and customs you should adhere to strictly.
Though I never had any problems while visiting, there was one instance where I knew I had come dangerously close to crossing an invisible line. A group of us got together early one evening for a rowdy happy hour. Yes, there are bars, and there is liquor in the UAE. Just the fact that we were being loud was a bit of a problem. Then I innocently asked a question of the assembled tourists and international workers known as expatriates, or expats. It went something like this:
"I see all the construction and know there is a business plan to grow the area into the millions within a few years, with residents and tourists flocking to what you are now building. How can the Emiratis expect that to happen, expect to be considered a desirable destination by the rest of the world, if you can still be arrested for hugging in public, among other things?" I asked.
It was as if I had walked into a Twilight Zone episode -- I no longer existed. Every -- and I mean every -- person in our group stopped talking to me and turned away silently, either looking down at their phones or at some imaginary spot on the carpet. The chill I felt was stunning, and I immediately realized what I had done.
If any of these temporary workers or tourists had given any credence to my query, and if a nearby Emirati had heard it and reported it, these new-found friends of mine could have been deported from the country immediately or, even worse, jailed like Shezanne (Shez) Cassim. Cassim is the Minnesota resident currently locked up at a high-security United Arab Emirates prison after posting a 19-minute comedy video parodying Abu Dhabi security. (It is a very safe area).
It is sad to see the negative publicity the UAE is now receiving. The area is beautiful and, for the most part, the Emiratis are welcoming of all guests. However, this negative press is justified and it was inevitable. It is the answer to that question I posed late last year. If the UAE wants to play on the worldwide stage as a glittering super star, the remaining hardline Emiratis will have to follow the script the rest of the world has written.
Note: I reached out to several expats as well as others who have visited for their comments on Cassim and these latest developments in the UAE. Not one would go on record with a comment for fear of reprisals in the country.