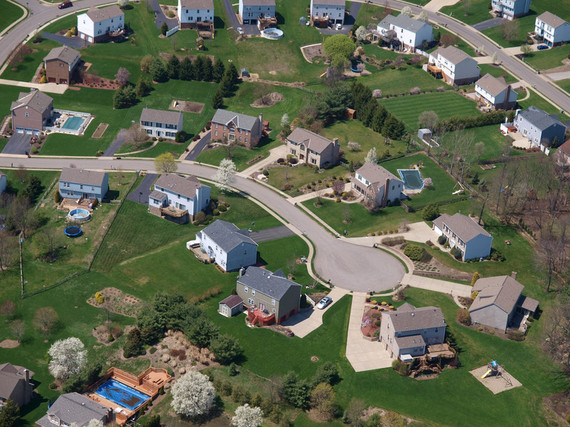 We've all heard many times the "making lemonade from lemons" quote. When life throws a negative at you, turn it around and make something good out of it. Of course, this isn't possible in many cases, but it's a nice thought and course of action if it works.
Recent news and data tells us that there are far fewer homes for sale in foreclosure than in recent months. In August 2014, foreclosure inventory plummeted 33 percent year over year. This marks the 34th consecutive month that this inventory has declined, and 19 straight months of 20 percent or greater declines. Home prices are improving, in part due to fewer price-depressing foreclosure sales.
All of this information is nice, unless you own a home in a neighborhood with a foreclosure in poor condition sitting there dragging down neighborhood home values. Actually, there is some lemonade to be made here. Of course, if there are a half-dozen of these foreclosures within a few blocks, this isn't going to be a great opportunity. But, if there is one or maybe two, you can do your neighborhood a favor, help your home's value, and generate some great cash flow in the process. You can help yourself and your neighbors as well, and make some money in the process.
Invest in Your Neighborhood for Profit
Why not buy that foreclosure and convert it to a rental? You'll take it off the market as a deep discount property. You'll improve the neighborhood when you fix it up. And, you can control not only its ownership but occupancy as well. After all, if an investor buys it, they may be less picky about renters, or discount the rent to keep it occupied. You, on the other hand, can control the rent, marketing for better quality tenants who can afford the home and will hopefully take better care of it.
Single family rental home investors will tell you that one of the things they must be disciplined about is checking their properties, at least with a drive-by, regularly. Making sure that your tenants aren't violating exterior HOA rules and getting early warnings of problems are the goals. If the home is right there in your neighborhood, it's almost a daily thing without any planning required. You may be driving by it every day to and from work.
There May be Help Out There
Some areas are aggressively working to avoid neighborhood blight by offering government-backed financing for distressed homes and/or repairs. Check your local tax assessor and city and county housing offices to see if there are programs to take foreclosures off the discount market and fill them with owners or tenants who will maintain the homes.
It's a Great Investment
If you're not upset with the tiny returns on your savings and certificate of deposit returns, that's OK. But, with today's miniscule savings rates and risky stock market investments, it's nice to be able to generate double-digit ROI with special tax advantages as well. In most cases, you can deduct all expenses related to ownership of a rental property, as well as depreciation. You can wipe out a chunk of the tax liability, even while you're enjoying depositing the rent income every month.
If your lemon these days is a foreclosure in the next block that's vacant and losing ground on the curb appeal front, take action, squeeze that lemon, and sweeten the lemonade with some cash flow sugar.
PHOTO GALLERY
10 States Where No One Wants To Buy A Home