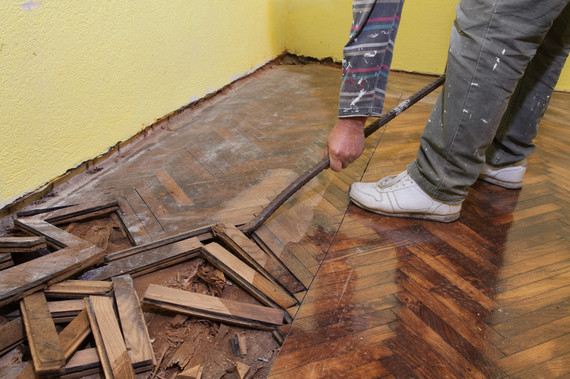 Fix & flip as a real estate investment strategy has been really good to many of us for a long time. In rising or falling markets, we've had a great run, and we're still seeing a lot of opportunity in today's markets. It's more difficult to find bargain purchases, as foreclosures are off and prices have risen due to investor competition.
Fix & flip profits come from three process phases, the purchase, the rehab, and the sale. You can make up for paying a higher price if you can increase your selling price or get a better rehab result at a lower cost. Investors in the current market are seeking out older homes in desirable neighborhoods to get a higher price on resale or higher rents.

Flip Profits are Up
RealtyTrac released a Q3 2014 report showing 26,947 flips, 4% of the total single family home sales and down from 4.6% the previous quarter. Since they can only track the purchase and sale prices and not the rehab costs, the report cites the gross profit on average (sale minus purchase not including rehab) to be $75,990. This 36% gross profit was up one percent from the previous quarter.
If prices are rising for the fix & flip investor on the buy side, but profits are rising as well, then they must be getting higher resale prices and/or getting a better profit on their rehab work. This is the situation we're finding in some older homes in established and desirable neighborhoods. Sometimes the purchase price is still a bargain, as these older homes present a greater challenge in the rehab, so there is less competition for them.
If an older home is a sound structure and the rehab work required is renovation to appeal to today's buyers and tenants, then it is probably a good candidate for fix & flip. As always, the kitchen presents the greatest opportunity to improve the structure, and also the highest rehab cost. A complete redesign is often unnecessary however, as often resurfacing cabinets and work surfaces, as well as upgrading to modern appliances is enough to take the home to market.
Bathrooms and converting to larger closets are also cost effective rehab projects. Get an education walking through brand new spec homes to see what buyers want, as builders are constantly adapting to the market. Older homes have charms that appeal, but they're avoided by many buyers if they aren't somewhat energy efficient and offering amenities they can get in a new home.
The cost-to-value ratio for renovation projects has reversed a long period of decline. For the second consecutive year, the value compared to cost for rehab projects has increased for all 35 projects tracked at one remodeling site. The average selling price of existing homes has increased about five times the increase in construction costs according to some estimates.
With resale prices rising and rehab costs holding pretty steady, there is a lot of opportunity in locating older homes in neighborhoods where buyers and renters want to live. Many of these neighborhoods have also enjoyed a higher historic appreciation rate than newer subdivisions. Many are close to downtown areas, desirable employment, and have high walkability scores. Take great care in selection, as older homes can present extra costs to conform to newer building or safety codes. All of the basics are still part of the deal. Get the lowest price going in, carefully control your rehab costs, and have a strong buyer list. The fixing part is wasted if you don't have buyer demand for the flip.