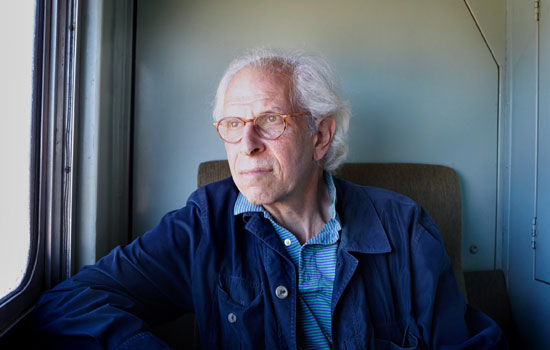 Iconic American photographer
Stephen Shore
is showing us the images he shot the day before in tiny Winslow, Arizona. Empty intersections. A white station wagon buried in low shrubs. An incredible pair of doors, the left marked "Calvary Chapel" and the right "He-Brews Café." The junk-strewn yard of a garage that says "We fix flats.
"And they left off the end quote mark," he says, laughing softly.
Shore laughs easily, scrolling through 180 arresting and people-less photos, masterful studies in line and color and landscape and very much of the empty urban quarters which Shore has been shooting since his seminal 1970s books American Surfaces and Uncommon Places established him as one of the early masters of color photography. He is showing us the entire contents of his camera from September 19, which he did not edit, and which are going to be projected, in the same order, onto a drive-in movie screen in Barstow, California as part of Doug Aitken's "Station to Station" project.
"Stephen, the great thing about you is that you just go out and shoot a perfect Stephen Shore photo," says Aitken, mesmerized.
It's not really a joke, as Shore's photographs are instantly recognizable for their stark depiction of what he calls the "built environment" - buildings, sidewalks, vehicles, spaces that humans have made. But Shore's never done a project like this: shot in one day, unedited, blasted onto a huge movie screen.
Even in the environment of immediacy and ephemera that characterizes "Station to Station," Shore's larger concerns grab you by the throat.
"I can have all kinds of cultural or sociological thoughts about a city, but those kinds of thoughts are expressed in words. And that's not what photography does. So I have to find a visual outlet for cultural forces," says Shore, sitting on the train that hauls Aitken's gargantuan art project from city to city.
"So that's essentially what I'm looking for: points where the various cultural forces at play at a particular time become physically manifest through architecture, through artifacts, through light, through weather, through the conjunction of things - of one building next to another, built in different periods, or all experiencing the pressures of age."
In Winslow, for example, I-40 was built and made the old Route 66 redundant, bypassing downtown by about five miles. The owner of the La Posada Hotel, Allan Affeldt, told us that the many of the best old buildings in Winslow were torn down in the name of urban renewal. Industries and small businesses go away. Buildings age. In the desert Southwest, this tension is particularly well-preserved.
"That dynamic has a visual component: this is how the town has changed, and these buildings are boarded up; and there's this new part at the edge of town and you can see the town ending and the land beginning," says Shore.
He has shot Winslow before, in 1972, as part of his "American Surfaces" project. He and a friend were on a road trip and returned to New York City by driving to Winslow and taking Route 66 all the way to Chicago. On that trip, Shore kept a visual diary of everything he ate, beds he slept in, people he met. Yes, lots of people.
In fact, Shore does shoot a fair number of people. He started out shooting at Andy Warhol's Factory in NYC when he was 17 years old, and that was all people. He tells me, smiling broadly, that he was hand-picked to be the only one to shoot the wedding of Fergie (of the Black Eyed Peas) and Josh Duhamel for Elle. Okay, that was something of an anomaly. The portraits in "American Surfaces," however, really stand out as progenitors of a lo-fi style still in evidence now among photographers such as Juergen Teller or Terry Richardson. But that's not the work for which he's best known.
"Stephen has made this immense contribution in terms of the way of seeing things -- explorations into the banal and the mundane and the non-sites and the negative spaces that often go unlooked," says Aitken, who was first given a copy of "Uncommon Places" at about age 14.
The Barstow exhibition, Aitken says, "creates this incredible condition of reflectivity: You go to a movie house for entertainment. But what Stephen's done is turned this drive-in movie theater into a mirror that's reflecting the landscape back in on itself."
Shore says he was interested in the "performance" aspect of shooting Winslow all in one day. It's ephemeral, like all performance - he sweeps through once, unedited.
He was confident he could pull this off because, for 30 years, he shot with an 8x10 view camera. It was expensive and he could only set up 10 to 20 shots a day. In order to make the best of his time and money, he would only take a single shot of each subject.
So that's how he shot Winslow: working with digital Nikon D800 35mm, he took one shot of each location. Obviously, with that kind of camera, he could take unlimited shots, but he exercised monk-like discipline. There are only three times in the entire edit that he took a second, better, shot.
"See, if you only take pictures that you know are going to be good, then you're not going to take any risks, and you're not going to take any pictures that are in fact going to be any good. So you have to have the freedom to fall on your face and make mistakes. So the economy comes from not taking two pictures of anything. And after years of doing this, I find that I have a sense of what I want from a picture."
Photo by Alayna Van Dervort, courtesy of LUMA foundation