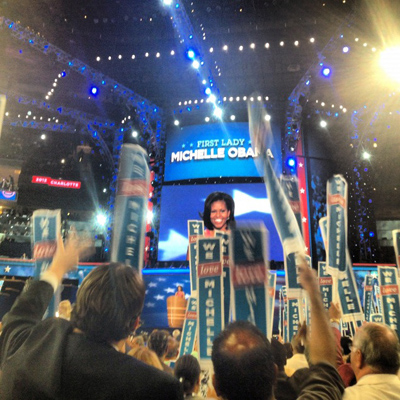 By Marin Cogan, GQ
On the floor of the conventions, where delegates are closest to the speakers, the speeches themselves might not actually matter. It's too easy to get caught up in the excitement of being in the arena: the bright lights, the giant faces of beloved political figures towering on the JumboTron, the staffers and delegates pinballing around the convention floor. This first became clear during Clint Eastwood's RNC speech. Off the floor, people thought it was an unmitigated disaster. On the floor, people were forcing themselves to laugh and play along, because, Ohmigod, it's Clint Eastwood!
Last night it was Michelle Obama whose face hovered on the big screen, withholding glittery tears in her eyes as she delivered what almost everyone considered to be a flawless speech. That presents certain challenges for a reporter trying to cover her speech in an interesting way. In politics, there are a million ways to explain why you hate someone. Articulating affection is harder.
"Michelle Obama, she's a wonderful example, not only for our country but for working women, older women, younger women -- she holds herself with such confidence and such pride. She's just a great example of a good American and good human being," says Cindy Trigg, a Democrat from red-country Nevada wearing a stuffed donkey on her head.
Joe Morgan, a blind delegate from Colorado, says, "I think Michelle is one of the most dynamic first ladies we've ever had. Michelle is concerned with some of the issues that really affect all of us," as he and a companion make their way out of the speech.
Says Ken Wollin, a retired public school teacher in the Illinois delegation: "On a scale from 1-10, I'd say 20, 100. It was fabulous."
This story originally appeared on GQ.com: How Do These Delegates Love Michelle Obama? It's Difficult to Count the Ways

Read More: Get the Latest Death Race Updates From the Campaign Trail
More from GQ:
The 50 Most Powerful People in Washington
GQ's Glenn O'Brien Assesses Republican Presidential Candidate Style
The GQ Guide: Everything You Need to Know About Wearing Ties