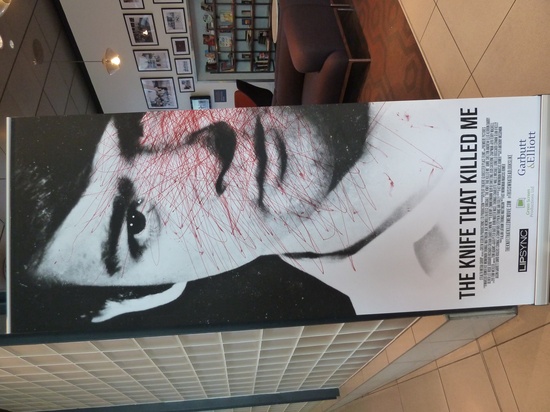 In late October (2011) a couple of weeks after (my youngest daughter) Cait had passed, there was a huge storm, with snow and ice we rarely see in the New York metropolitan area that time of year. Trees, branches and power lines fell everywhere. We lost power at our home for the first time in more than 20 years.
I remember the day so very clearly, the last Saturday that month, when the October snow began to fall. It was the first time since Cait's passing I actually saw things in 3D again. Previously, since October 9, I had seen things in a total fog and a rather one-dimensional aspect, as if I were watching a flat, black-and-white film. On that Saturday afternoon as the October snow fell, I remember looking out the bay window in the living room and noticing color and depth. I saw that the window seat was closer than the window, and that the snow on the ground outside was beyond it and that the flowering crab apple tree in the front yard (of course without blooms this time of year) was farther away still -- quite a startling revelation after these weeks of flat grey view.
Bob lit a fire that evening to keep us warm and, once darkness fell, I lit candles throughout the dining room. We sat ourselves in front of the fireplace and settled in for a night of quiet conversation. We prepared a simple supper from items needing no oven, stove or microwave, and sat back in our Saratoga chairs (folding chairs we use each year at the track) to partake of food and drink. I suddenly saw that the backyard was lit up like daytime and jumped from my seat! At the very same moment Bob, whose view was of the front yard, jumped to his feet exclaiming, "It's like daylight!" We ran to the doors to see the bright light of day awash over the entire property. It seemed to fade just as quickly as it came. We looked at each other, both knowing what we had just witnessed. We simply said, "Cait!"
We sat back down, somewhat in disbelief, but at the same time with a certainty of what we had just seen and felt. Our thoughts, of course, drifted to memories of Cait, and we sat before that fire for hours, reminiscing, crying and laughing. Since the electricity was out, we had only our cell phones for communication and, as luck would have it, each one had very little battery charge left after the initial calls we made when the electricity first went off. We had turned them off, to save the battery power in case of emergency need. As we sat there, deep in conversation, we heard a muted noise, sort of a static sound. We realized it was coming from one of the cell phones, mine. I picked it up and held it to my ear. I heard a constant static, rechecked the phone, only to discover it was, indeed, off. I quickly handed it to Bob and told him, "Go ahead, this is your chance to say anything you might still need to say." We each took a few minutes to speak into that phone, to the static, to spill our hearts and say out loud the things that had been reverberating through our heads since that fateful October day, a few weeks earlier, when Cait passed from this world as we know it. We felt an incredible connection with our precious daughter that night -- even stronger than ever before. The knowledge and gratitude of that connection abides and carries us to this day.
The understanding that energy does not die, that it simply transitions, is an all-powerful phenomenon and is truly the saving grace in times of loss, especially in times of such intense and tragic loss. One learns that the loss is tempered and somewhat balanced with the appreciation of the life lived here on earth and the gratitude of understanding the magnificent transition and final journey of the soul to everlasting freedom and ultimate peace.
It is no surprise to us that, since that October snow, the winter in the Northeast was the most mild we had ever recalled. You see, to us, it was the result of Cait's beautiful and effective transition; the effect of all that beauty and energy rejoining the throng of the universe at large. I like to think of it as a softer, gentler universe now that her soul soars within it, free from the confines of a body here on earth...
Excerpt From: "Love Honor Celebrate: A Mother's Journey of Transition" copyright 2013 Deb Carlin Polhill