Remodeling an outdated kitchen can be overwhelming especially when horror stories surface in the wake of a remodel. Not all kitchen remodels cost an astronomical amount of money. There are many budget-friendly avenues to explore when the decision has been made to move forward with the process.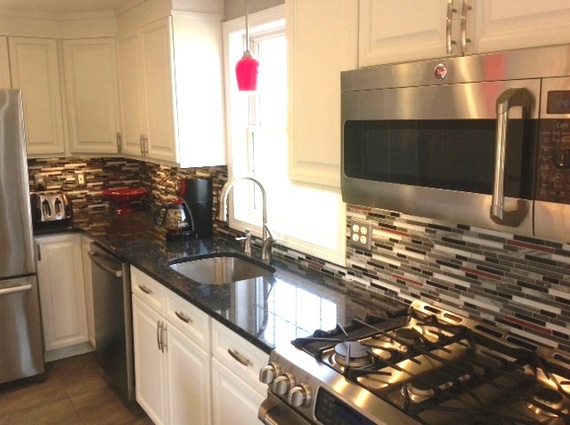 Initial research before demolition is essential. Determine a budget amount this will keep the project moving forward. When planning your remodel, take time to do some research. Product comparisons will aid in the decision making process when choosing cabinets, counter tops and flooring. Know your budget and try to adhere to the goal of achieving the desired look without overextending.
1) Keep within the same layout. One large cost saving factor to a kitchen remodel is to keep the same layout. When plumbing and electrical doesn't have to be redirected many dollars can be saved from not having to hire additional contractors for the job.
2) Paint the cabinets. If cabinets are in good shape and of some quality, painting will be most cost effective compared to purchasing new cabinets. This option will also provide a wide variety of colors to choose from.
3) Stock cabinets. When staying with the existing kitchen layout and painting the cabinets isn't an option; measure the cabinet boxes and replace with stock cabinets. Local home improvement stores can assist with the ordering details. If cabinets can be ordered without being custom-made, additional money will be saved by going this route.
4) Remove upper cabinets. Making your kitchen look bigger without knocking down walls and staying within the same footprint is easy. Most times an overabundance of unnecessary kitchen items are stored in cabinets. These items are rarely used or at one time may have seen more usage. Purge kitchen items that take up space. By removing upper cabinets the kitchen space will now visually appear larger.
5) Remove upper cabinet doors. If removing upper cabinets from the space isn't an option, remove upper cabinet doors instead. This avenue will allow for glasses and dishware to be easily accessible and will ensure that unnecessary clutter won't be seen.
6) Floor replacement. Reassessing the kitchen floor for replacement is a big factor in updating. An inexpensive ceramic tile can be used to update the look. Using a builder's grade ceramic will cut down on material replacement costs.
7) Counter top replacement. If choosing to replace the kitchen counter top, consider a grade 1 granite to keep the cost down. Granite can be expensive especially if a larger kitchen is being remodeled. Keeping to a grade 1 compared to a grade 4 or 5 exotic stone will still give you an updated new kitchen look.
8) Sink and faucet. Change out the sink and faucet if the decision is made to keep the existing counter top, replace the sink and update the faucet hardware. These small changes will make a large impact on the new kitchen look.
9) Change out cabinet hardware and hinges. This is an easy update that will have tremendous impact on the cabinets. Using a newer fresher style cabinet or bin pull depending on the style of the kitchen is a change worth implementing. So many new styles are available to choose from.
10) Update lighting. A quick and updated look can also happen by making a lighting change. Remove that old florescent light over the sink and replace it with a funky stylish pendant light. Most times the florescent light is hidden behind a cornice bridge that joins cabinets over the sink. This board is usually only decorative. Remove this cornice and expose the newly installed pendant light.
Being aware of the project budget and conducting product research will result in a newly updated kitchen space without breaking the bank.