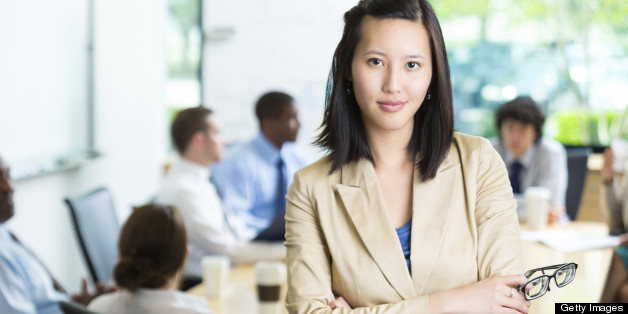 Draw a picture of a public leader.
Did you draw a man? Sketching the instant image of leadership that comes to mind, most people would. And that's not surprising, given the narratives we encounter daily. Which prime movers are featured in our history and government textbooks? Whose stone faces look out from Mount Rushmore? Whom do we honor with national holidays? Who are the central characters in our movies, TV shows, and books?
It's no wonder that girls and young women must stretch to imagine themselves as public leaders -- presidents, mayors, judges or lawmakers. As the Children's Defense Fund's Marian Wright Edelman put it, "You can't be what you can't see."
We know that many girls and young women are civically engaged, active members of their communities -- most often through volunteer service work, which we certainly endorse and encourage. No doubt, they want to make their world better and are willing to act on that impulse. But while young women do vote at rates similar to their male peers, they appear less inclined to run for elective office.
Considering the serious dearth of women in public office, we must convince young women to consider the political realm as a channel for creating systemic change by taking their seats at the table. We all pay dearly for their absence from the ranks of future activists and elected officials; when we write off half of our potential leaders, we lose distinctive perspectives and valuable brainpower.
Recent research by Dove found that only half of girls aged 8-17 see themselves as leaders, and that the biggest impediment to claiming that label is a lack of confidence -- a characteristic that grows with age. We see the evidence in adult women, who are less likely than men to decide on their own to run for office, often waiting until they're asked or encouraged. And women more frequently than men seek out candidate training programs, believing they need preparation before they're equipped to run -- in contrast to men, who simply make their decisions and then throw their hats in the ring.
Catalyzing confidence among girls must start early and target every age group. While girls are directed to service, we also want them to start dreaming big and imagining themselves as elected officials. We need a long-term investment in changing the picture of public leadership -- not switching from male images to female, but expanding and diversifying the picture so that every young person can identify with someone there. Sounds simple, but the reality would require a transformation in our culture at the highest level.
The White House hosted the first-ever national conversation on this subject last month. Convened in collaboration with the U.S. Department of Education and the Center for American Women and Politics, the event brought together an uncommon assortment of experts -- educators from the elementary to post-secondary levels, publishers and media mavens from print, broadcast, and online platforms, electronic game producers, advocates for women's political advancement, organizers of youth-serving groups -- as well as teens and young women themselves.
Coming from such a varied group, the proposed solutions were surprisingly consistent: Whatever the format, venue or medium, we need to place in front of young people -- girls and boys, young women and young men -- the examples, role models and mentors that expand their concepts of leaders and leadership. Reversing Edelman's comment, participants in the conference insisted that if you can see it, you can be it.
Support for this thesis comes from a recent article in the Journal of Experimental Social Psychology: "Successful female leaders empower women's behavior in leadership tasks." Researchers from the Netherlands and Switzerland conducted an experiment that showed that women exposed to highly successful female role models performed better on a leadership-related task than those exposed to a male role model or no role model.
How to accomplish the transformation? We need to equip those who work with young people with the right tools -- information and images about women public leaders that reach kids effectively where they are, whether that's in school, online, or among their peers. One award-winning social studies teacher told us at the White House meeting that he wants to teach about women and people of color in politics, but can't find age-appropriate, classroom-ready materials.
At the Center for American Women and Politics we're doing our part by creating Teach a Girl to Lead (TAG), a national education and awareness campaign to re-envision what public leaders look like, inspire girls and young women to follow in their footsteps, and make women's political leadership visible to America's youth. This campaign will:
Call upon the current crop of women public leaders to reach back and "lift as you climb" through participation in an online speakers' bureau.
Influence the influencers, working with teachers, parents, community leaders, and youth-serving organizations to highlight public service and depict girls and women as leaders throughout their programs, not just as an occasional theme.
Deploy resources in and beyond schools in a variety of forms: lesson plans, posters, videos, extracurricular activities, and other materials to help influencers do their part.
Drive a national conversation that calls attention to the dearth of women public leaders and the urgency of teaching a broader vision of leadership.
Create strategic partnerships with groups working across a range of fields and communities to develop and share content that helps girls and young women recognize themselves among the next generation of public leaders.
Down the road, we can envision a day when a young woman, asked to illustrate leadership, holds up a mirror and says, "This is what a leader looks like."