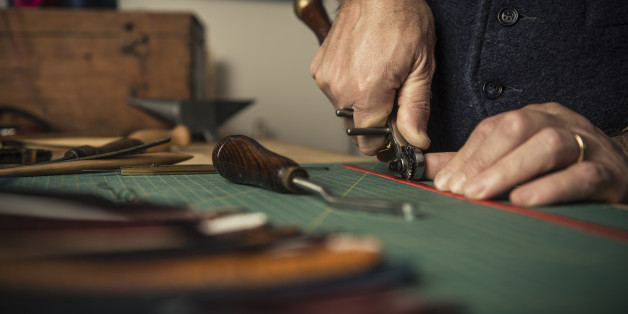 I was barely four years old, living in Buenos Aires, when I first asked my mom for a needle and thread. I came across an old doll without any clothes and was determined to give her a full wardrobe. My mom knew that if she didn't provide the necessary tools, I would get my hands on them one way or another.
Both my parents worked hard to maintain our little family. Despite our limited resources, I lived an intense childhood where toys were scarce but imagination ran wild.
I made clothes for my dolls and sketched them in different outfits when I couldn't get my hands on any fabric. Unknowingly at the time, I was beginning my life in design.
Then Argentina's economy collapsed. We moved to New Jersey, where I spent my teenage years, living a new life, going to a new school and not speaking the language. My future in the U.S. was uncertain, and there was no going home.
If it wasn't for the ethic my parents instilled in me, I would've been lost.
Based on merit and my portfolio, I was offered a partial scholarship from Moore College of Art and Design in Philadelphia. I worked full-time and took out student loans to cover tuition. But even though I borrowed conservatively and only for tuition, I still walked away owing nearly $100,000.
That debt drove my life after college. I was in way over my head, worked as a stylist and a wardrobe designer to pay down the loans and put the idea of starting a business on hold.
But I really wanted to design my own line. It's what I've wanted to do since I was four years old and why I took out the student loans in the first place.
I knew the only way I could justify the startup costs -- buying materials and tools to make leather bags by hand -- was to sell everything made-to-order, one bag at a time.
Two weeks later, I got my first official boutique order, and DEBIL began.
It's been about a year since I launched, and the response has been extremely positive. I sell at a few high-end boutiques in New York, Philadelphia, and on my online shop.
But as demand increases, so does the struggle. Because of my student debt, I haven't been able to secure a business loan or a line of credit to turn a legitimate product into a full-scale production.
When an order comes in, I buy materials with whatever cash I have, then find time after my day job to make every bag by hand. The bigger the order, the less chance I have of filling it. And after the cash is spent and the order is filled, I still have to wait up to three months for the buyer to pay the invoice.
Earlier in the year, a team headed by Davis Guggenheim heard my story and asked if I would take part in his latest documentary, Spent: Looking for Change. For Davis and his team, the balance of having a dream, starting a business and being held back by debt served a broader story of 70 million people who are struggling inside and out of America's broken financial system. The full film is here -- and the short version of my story is here.
Thanks to this documentary and all the encouragement I received, I was inspired to launch my first KickStarter campaign and finally give DEBIL a chance to grow into what I know it could be.
The funds raised through this campaign will help maintain the integrity of my work, secure the highest quality materials, and keep the manufacturing here in the United States.
A lot has changed since that day I grabbed my first needle and thread, but my heart remains true to my passion. And if this campaign is successful I may finally be a step closer to fulfilling the dream of a lifetime.