I have a confession to make: I'm a football fanatic. Want proof? On a recent Sunday, I took in all 3 hours of NFL Countdown, 2 playoff games, and NFL Prime Time. If there had been another game, I would have watched it.
My psychiatrist/psychoanalyst husband just rolls his eyes. He may be the only man in America whose wife becomes annoyed when he talks over Steve Young's commentary. Fortunately, he's an accepting kind of guy.
I'm revealing this secret so that you'll appreciate the importance of the annual Super Bowl party in my household. It's right up there with Thanksgiving as a joyous trans-generational gathering preceded by days of planning and cooking. My son, who used to work for the New England Patriots, rounds up the 20-somethings. I'm in charge of the boomers and the menu. Our goals: a great game and great food.
We have no control over what happens on the field, of course, but the food is another story--and I bring everything I've got to the table. That said, I don't do health-to-the-wind eating events. Why would I offer Pro Bowl artery-cloggers to people I love--or to anyone else for that matter? I'm a physician-hostess after all, and--even in the kitchen--my rule is "First, do no harm."
So, what do I serve? In the finger-food category, you'll find crunchy roasted chickpeas and an array of low-fat dips (curried cannellini, sweet potato and saffron, and Roquefort) with crisp, colorful cut veggies and whole grain pita chips. For the main course, my son insists on chili, but it's made with ground buffalo instead of beef or pork. (If we're expecting vegetarians, I also make a beany one for them.) I pair it with a salad of greens, cukes, radishes, and red onion dressed with a creamy buttermilk ranch. Instead of traditional cold cuts, slices of roasted turkey breast go into make-your-own sandwiches slathered with Chipotle Russian Dressing. Sandwich-builders can mound a spoonful of Cole Slaw with Peppers on top of the turkey or eat it on the side.
My game plan looks like this:
5 days ahead - Cook cannellini beans and chickpeas. (You can use canned, but home-cooked beans look and taste better, and they're healthier too.)
4 days ahead - Roast chickpeas.
3 days ahead - Roast sweet potatoes. Make dips.
2 days ahead- Make chili and dressings.
1 day ahead- Roast turkey breast. Prep veggies, including all ingredients for salad and slaw. Wash and dry salad greens and lettuce for sandwiches. Store all in zip-lock bags.
Super Bowl Sunday - Heat chili. Slice turkey breast. Slice tomatoes for sandwiches. Throw salad together. Toss slaw with dressing.
These dishes have kept me and my crew happy through dozens of championship games without making us feel like offensive linemen when the party's over. After Super Bowl XLVI, the only regrets will be on the losing side. Go Pats!!
★★★★Prepare your own healthy game plan with my Trufflehead iPhone/iPad app. The first 50 people to email talk@trufflehead.com with HuffPost in the subject line will receive a free Trufflehead download. To help you even more, trufflehead.com will sponsor a Super Bowl cooking hot-line from 1 to 5 PM EST on both Saturday, February 4th and Sunday, February 5th. Tweet your questions to @trufflehead or post them on the Trufflehead FB wall. ★★★★
The following recipes are excerpted from Trufflehead, which has been featured on Apple's New and Noteworthy, Top 25 Lifestyle, and What's Hot iPhone app lists.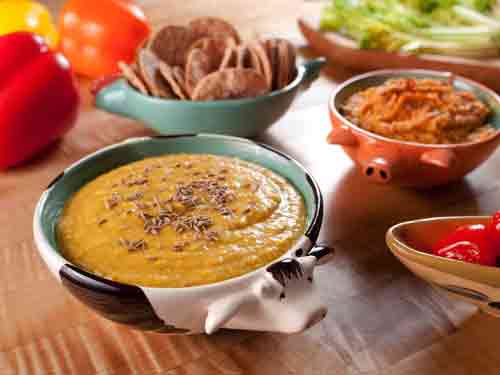 Curried Cannellini Dip

Servings: 24 (2-tablespoon)
Time: < 30 minutes
Difficulty: Easy
½ teaspoon ground turmeric
½ teaspoon ground coriander
½ teaspoon cayenne pepper
1 tablespoon canola oil, preferably organic, or macadamia nut oil
½ teaspoon cumin seeds
1 yellow onion, chopped (1 cup)
3 garlic cloves, minced (1 tablespoon)
3 cups cooked cannellini beans, cooking liquid reserved, or 2 (15-ounce) cans, rinsed and drained
¼ to ½ cup bean cooking liquid or vegetable broth, if needed
½ teaspoon garam masala
salt to taste
1 tablespoon fresh or bottled lemon juice, optional
In a small bowl or measuring cup, combine the turmeric, coriander, and cayenne. Whisk to blend. Set aside.
Place a medium nonstick skillet over medium-high heat. When hot, add the oil. When hot, add the cumin seeds. Cook briefly, stirring, until slightly darkened. Add the onion. Cook, stirring often, about 2 minutes, until starting to brown. Reduce heat to medium and cook, stirring occasionally, until nicely browned, 2 to 3 minutes longer. Add garlic and spice mixture. Cook, stirring, 1 minute. Remove from heat and cool 5 minutes.
Reserving the cooking liquid, drain the beans and transfer to a blender or food processor. Add the onion mixture and process until smooth, scraping down the sides as needed. If too thick, add cooking liquid or broth 1 tablespoon at a time, just until a smooth paste is formed. (Too much liquid will make the dip runny.) Stir in the garam masala, salt to taste, and lemon juice, if using. Serve warm, at room temperature, or chilled.
Per serving: 34 calories, trace total fat, trace saturated fat, 0 mg cholesterol, 6 g total carbohydrate, 2 g dietary fiber, 2 g protein, 46 mg sodium.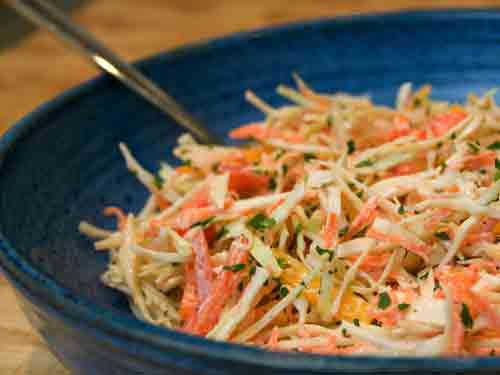 Cole Slaw with Peppers
Servings: 6
Time: < 30 minutes
Difficulty: Easy
¼ cup light or low-fat mayonnaise, preferably Hellmann's Light
¼ cup low-fat or nonfat plain yogurt
2 teaspoons apple cider vinegar, preferably organic
2 teaspoons sugar
1 teaspoon kosher salt
Large pinch celery seed, preferably organic
Freshly ground black pepper to taste
1 small green cabbage, shredded (4 cups)
1 large carrot, grated (1 cup)
1 small red bell pepper, preferably organic, thinly sliced (½ cup)
1 small yellow bell pepper, preferably organic, thinly sliced (½ cup)
2 tablespoons minced flat-leaf parsley, optional
In a small bowl or measuring cup, combine the mayonnaise, yogurt, vinegar, sugar, kosher salt, celery seed, and pepper. Whisk to blend. (May be prepared up to 2 days in advance and refrigerated in a covered container.)
In a large bowl, combine the cabbage, carrot, and peppers. Toss. Add the dressing and toss to coat. Let stand 10 to 15 minutes and toss again. (Do not add dressing more than 10 to 15 minutes in advance or slaw will become watery.) Serve, sprinkled with parsley, if desired.
Per serving: 59 calories, 2 g total fat, trace saturated fat, 4 mg cholesterol, 9 g total carbohydrate, 2 g dietary fiber, 2 g protein, 386 mg sodium.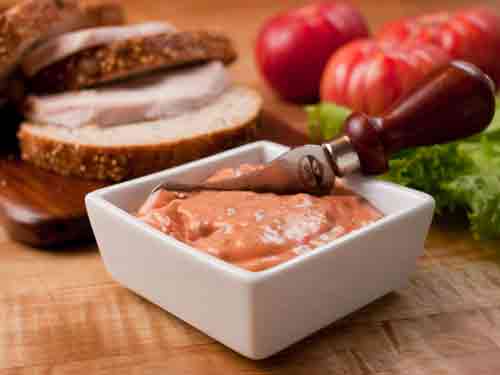 Chipotle Russian Dressing
Servings: 16 (2-tablespoon)
Time: < 30 minutes
Difficulty: Moderate
1 cup light or low-fat mayonnaise, preferably Hellmann's
1 cup ketchup, preferably Heinz
3 to 4 tablespoons minced canned chipotle peppers in adobo sauce, seeds and membranes removed, or 1 to 1½ teaspoons chipotle powder
Combine all ingredients in a medium bowl or measuring cup and whisk to blend. Refrigerate until ready to serve. (May be refrigerated in a covered container up to 1 week.)
Per serving: 51 calories, 3 g total fat, trace saturated fat, 6 mg cholesterol, 7 g total carbohydrate, trace dietary fiber, 1 g protein, 275 mg sodium.