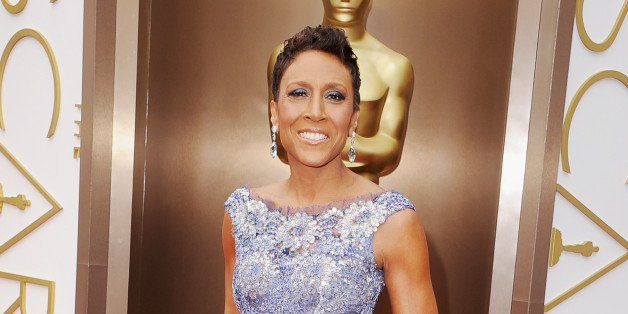 When I saw this month's People magazine cover photo of Joan Lunden, the former Good Morning America co-host, I gasped. Not because she was bald, but because she was so cheerful. Of course, Joan is a beautiful woman, and she was fully made up. She also had eyebrows, which I'm guessing were photoshopped on and was posed in a jaunty, carefree gesture flipping up the collar of her crisp white blouse. Picture perfect.
Just to be clear, Joan Lunden, and everyone else, has the right to manage and live their cancer experience in any way they damn well choose! I admire her warrior attitude and determination to help others. But, that People cover kicking off the annual pinkwashing of breast cancer awareness month has prompted me to reflect on the ways in which women, particularly women with breast cancer are portrayed.
Let me back up just a little. I was diagnosed with Stage II, Her2 (aggressive) breast cancer in 2007. It was at the exact time Robin Roberts of Good Morning America was diagnosed with the very same type and condition. At one point in the midst of my chemo -- which included Adriamycin, "the red death" as described in the People article -- my mother was lovingly keeping me company at home during a particularly low point for me in my treatment. We watched Robin Roberts appear on her morning television show as usual. I was lying down on the living room couch in my pajamas; bald, grey-faced, weak, sick. My mother turned from what we were viewing and with furrowed brow asked me, "Are you sure you're not just giving in to it?" I knew what her unspoken words were, "Look at her, why can't you be more like Robin Roberts?" Her question and the hidden meaning behind it hurt. Part of me felt that my mother's concern may have been valid. I replied, unconvincingly even to myself, "Some people think I'm brave." It was true that I did not cry when diagnosed, but went directly to an appointment - business as usual as a real estate broker - and, afterall, some friends and family had expressed those sentiments to me. I did not have a poor me, why me attitude, but felt that I was in a battle for my life and would do anything it took to raise my chances for survival. I asked for a mastectomy, but was talked out of it by doctors who told me it would not raise my chances of survival. I was in a "dose dense" chemo regimen, of ACT (Adriamycin, Cytoxan and Taxol) every two weeeks, which would be followed by six weeks of daily radiation and a year of IV Herceptin. I'd had a total of 4 surgeries and had been in and out of the hospital with dangerously low blood counts (no white blood cells, only half of red) and fever, symptoms so severe, my oncologist suggested we lower the chemo dosage. I'd refused. I turned to my mother that morning, finally and said, "I haven't seen one person in the chemo room that looks like they could get up and anchor a morning tv show." I don't know how Robin Roberts did it. Was she more brave? Stronger willed? She always looked really, really good. Not sick at all. Positive. And cheerful.
The face of breast cancer, it turns out, is the face required of all women presented in media: photoshopped, gussied up, and fake. When I think of the face of other serious diseases, none are dressed in bright, happy colors, and advocates are not compelled to be cheerleaders. During the dawning of the AIDS epidemic, I remember the militant, angry men marching for attention and funding for a cure, and the wasted, ravaged, hollow-eyed victims covered in sores . I vividly recall the desperate sadness of so many young men cut down, and the horrible fear that gripped and then galvanized the nation towards research and treatment.
Breast cancer is an epidemic. But, especially in October, it's all pink and balloons, women smiling in sneakers walking and walking, companies slapping breast cancer logos onto every bit of merchandise under the sun to make an extra buck, and money poured into raising awareness of a disease that one would have to be living under a giant, really deep rock to not be aware of. Money that would be better spent on research for finding a cause, working on prevention -- finding a cure.
All the women we see this month will be pretty-in-pink, rosy cheeked and glowing with, if not health, the determination to paint an attractive, pallatable portrait. Just once, in this month geared toward awareness, I would like to see the real face of breast cancer stripped bare: pallid, desperate, weak but determined, battle scarred and brave, hopeful but suffering, raw. The kind of unaltered, honest face Robin Roberts finally showed us as she battled a secondary cancer caused by chemo and endured a bone marrow transplant. The picture that is seared into my memory as she sat in her hospital room holding her bent, scarfed head in her hands, her face gaunt, the overwhelming effort of staying alive another day, wrenching and palpable, is the truth. Thank you, Robin. No pink necessary. The real face of breast cancer. Be aware.