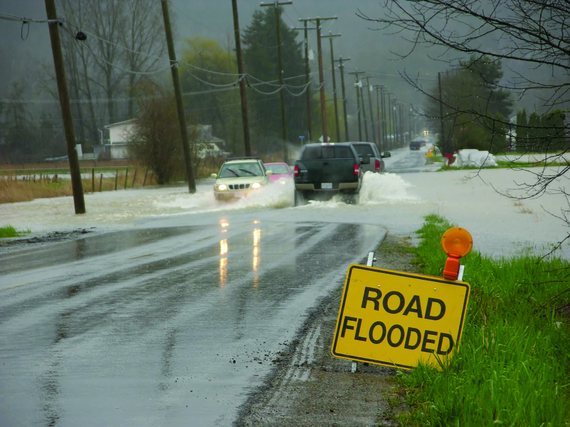 I watch the news with my family every evening and this month we have seen cars swept away in flash floods in Utah and forest fires threatening the ancient Sequoias and destroying thousands of acres of forest and scores of homes in California. These scenes are devastating for those affected, but a reminder to each of us that preparing for an unthinkable emergency could save your life or the life of someone you love.
September is National Preparedness Month, and now is the time to refresh your family's existing emergency plan or map one out for the first time. Waiting to act until the emergency event is occurring is really too late. Having a plan everybody in your family knows and is able to follow can make all the difference when disaster strikes.
Depending on where you live, some hazards such as earthquakes, hurricanes and tornadoes, may be more prevalent and require special preparation, but floods are one of the most common disasters in the U.S. They can happen anywhere at any time.
Aside from causing massive property damage, flash floods are the number one weather-related cause of fatalities in the U.S. according to the American Red Cross. Because rushing water moves so quickly and often leaves little time for action, having a flood plan is essential. In the event you need to evacuate your home, keep the following tips in mind:
• Don't drive or walk through high water. Standing water can stall your car's engine and may be deeper than it seems. Just a foot of moving water is enough to sweep a car off the road, and only six inches of flowing water can knock you down.

• On foot or by car, exercise caution on roads and walkways where waters have receded. Floodwaters can erode roads and paths and leave debris behind.
• Be careful when returning home after a flood. Underground or downed power lines can electrically charge standing water.
Regardless of the emergency, there are some basic steps to keep in mind when crafting your plan:
• Identify a safe meeting place in advance. Make sure everyone in your family knows how to get there and ensure that it is accessible for all family members including the elderly and those with disabilities.
• Know where you need to go and how to get there on foot. Travel by car may not always be possible.
• Stay connected. Make sure you know how to reach everyone in your family whether they are at home, work or school. Say in contact with each other until everybody arrives at the designated meeting place. Have a plan for how you would you communicate without your cell phones.
• Listen for emergency alerts and instructions. Evacuate the area if you are directed to do so. If you cannot make it to your meeting place, communicate any new instructions to your family.
Finally, make sure you have essential items on hand. Every home and car should have an easily accessible emergency kit. Home kits should be ready to "grab and go" and car kits should be kept in the vehicle. Don't forget to keep both kits up-to-date, replacing expired items as necessary. NSC.org has a quick list of must-have items to include in your home and vehicle emergency kits.
September 30 is National PrepareAthon Day. Ready.gov has resources and activities to help you create a plan, no matter the scenario. This is also the day to pass on safety to others, --share your plan and encourage your friends or coworkers create their own.
Taking just a little bit of time to make sure you and your family are prepared can pay big dividends in the event of an emergency. Next time you find yourself watching the news covering a disaster, make sure you are ready for the unexpected -- invest in your own safety.
Deborah A.P. Hersman is president and CEO of the National Safety Council.