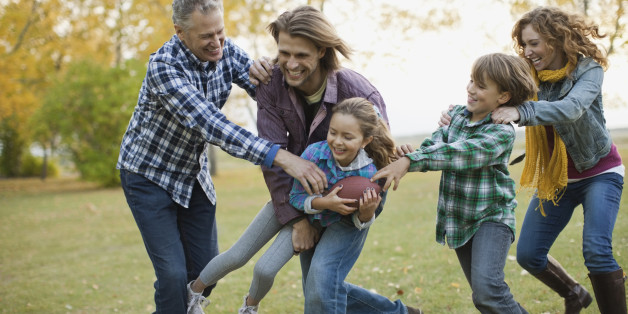 Every four minutes someone dies from unintentional injuries in the United States. That means more than 120,000 people -- mothers, fathers, sisters, brothers, people like you and me -- are needlessly taken away from our families each year.
For more than 100 years, the National Safety Council has been on a mission to end preventable injuries and deaths through leadership, research, education and advocacy. Unintentional deaths and injuries, caused not by illness but severe injuries, are the fifth leading cause of death in America, behind heart disease, cancer, chronic lower respiratory diseases and stroke. Heartbreakingly, these deaths are 100 percent preventable.
The cost to our nation in human suffering is incalculable. Many people will live with their injuries, or the memories of their lost loved ones, for the rest of their lives. The cost in dollars is also enormous. The National Safety Council estimates that injuries cost our nation $794 billion.
So what are causing all of these injuries? And more importantly, what can we do to stop them?
Since 1921, NSC has published a compilation of preventable injury and death statistics known as Injury Facts. By taking the data on the leading causes of unintentional death by age, a curious thing happens. Three peaks of heightened risk become apparent, helping us identify more dangerous times in our lives -- driving as a teen, poisoning in middle age and falling as an older adult.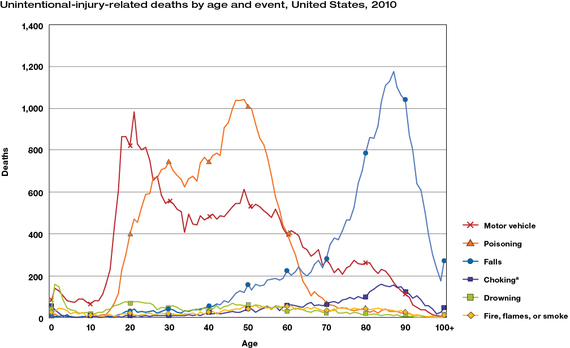 Keeping teens safe on our roads
In 2002, more than 9,200 people died in crashes involving young drivers ages 15-20. Ten years later, that number had been cut nearly in half. This is remarkable progress. However, motor vehicle crashes still remain the number one cause of death for U.S. teens. According to the National Center for Health Statistics, more than 1 in every 4 deaths among 16-20 year olds is caused by a crash.
According to the Insurance Institute for Highway Safety, teen drivers have high rates of both fatal and nonfatal crashes compared with adult drivers. Teens drive less than other age groups, yet their number of crashes is disproportionately high. Teen drivers are three times more likely than drivers aged 20 and older to be in a fatal crash.
Teen drivers are not the only ones dying; their passengers, other drivers sharing the roads, pedestrians and cyclists are also affected. Nearly three out of four of those killed in crashes involving teen drivers were people other than the teen drivers.
Research has shown that an effective way to decrease teen driver crashes is to reduce exposure to the greatest risks -- nighttime driving, having passengers, using a cell phone, drinking alcohol and not wearing a seatbelt.
Overdosing in middle age
For the first time since World War II, poisoning rivals motor vehicle crashes as the leading cause of unintentional death in America. Once associated with children who drank cleaning agents from under the kitchen sink, poisonings are now largely attributed to America's addiction to prescription painkillers.
Opioids have been widely prescribed for many patients suffering from terminal illness, chronic pain and other generative conditions. However, the benefits of pain relief come with significant risk for misuse, injury and possibly death.
Prescription opioids are easily obtained. More than 70 percent of those who abuse prescription painkillers report getting them from friends and family. Prescription drugs are also joining marijuana as a "gateway" drug. As already reported on The Huffington Post, prescription painkillers are fueling America's heroin resurgence.
The most important thing you can do to protect your family from opioid abuse is to reduce its risk factors. At the point of prescribing, talk to your doctor about non-opioid alternatives. Many times, Tylenol, Ibuprofen and other over-the-counter relief is all that is needed. Also, discuss with your doctor dosage and duration of prescription. You likely don't need 100 pills to get you through the acute pain immediately after an injury.
No one sets out to become addicted to prescription painkillers. But by knowing the risks and the associated dangers, you can make an informed decision on whether the painkiller is worth the price.
Safeguarding seniors in homes and communities
Americans today are safer at work or in their cars than at home. In the past 10 years, unintentional deaths in homes and communities increased over 40 percent, while deaths on our roads and workplaces have both experienced a decrease.
Poisonings, as already discussed, are the number one cause of death in our homes and communities. However, falls are another leading cause of death that shouldn't be ignored. According to Injury Facts, there was a 61 percent increase in falls over the last ten years.
Falls are common among the entire population, but each year, one in three older adults experiences a serious fall. When falls occur to older adults, they can lead to critical and sometimes life-threatening injuries. Adults' risk of being injured in a fall significantly increases with age.
Most falls are preventable, but they present a significant impact on the medical system due to the total number of patients treated each year and the accompanying healthcare expenses.
Fall-proofing your home can include putting on a night-light, creating clear pathways around furniture, keeping electrical cords out of walkways, placing slip-resistant rugs next to the bathtub, cleaning up liquids spilled on the floor, keeping objects off the stairways and using - or installing - handrails.
Lives can change in an instant. One fall or car crash forever changes the lives of countless others. None of us have a reset button to push when something unintended happens. But what we can do is work together to recognize hazards, create policies and promote safe behaviors so we don't have to wish for a reset button ever again.