If your work involves reaching people beyond the four walls of a brick-and-mortar office, successfully communicating with your audience -- whether it's 50 staff members working remotely or the entire millennial demographic -- is crucial to achieving your goals. As a director of marketing and communications at Teach For All, I'm part of a small team responsible for not only ensuring that our organization is spreading our key messages to the appropriate audiences, but also helping to enable the members of our global network to connect with each other and our wider community through various communications channels, including our website, digital newsletters, and -- of course -- social media. One of those channels that we have found to be particularly effective in engaging our community is Twitter, which we have recently been experimenting with as a way to interact with our audience beyond our daily tweets.
Around the world, the 34 organizations in our network share an approach to addressing educational inequity: Each partner recruits and develops diverse leaders to commit two years to teach in their nation's high-need classrooms and to work throughout their lives to increase opportunity for children. As the organization at the center of the network, Teach For All works to accelerate our partners' progress and increase their impact in a number of ways -- one of which is to facilitate connections between partners so that they are continually learning from each other's innovations and best practices. This focus on knowledge-sharing is at the core of our network, and enables our partners to move further faster in their efforts to ensure more students in their countries are receiving an equitable, high-quality education.
The majority of alumni of Teach For All programs continue to work to improve education or take on the challenges of related issues that impact under-resourced communities. Many stay on as teachers, while others become school and district leaders, policy-makers, and social entrepreneurs founding non-profits and launching ed-tech start-ups. Providing a variety of avenues for these innovative, inspiring individuals around the world to engage with each other and the broader Teach For All community is an exciting challenge, as there are often literally oceans between them. Our most recent effort, a Twitter chat titled "Beyond Two Years: Alumni Changemakers," was a great success. The following are a few things we learned from the experience that will inform how we leverage Twitter to connect with our global network going forward, and that are relevant to any organization or company interested in building out its communications toolbox:
1. Diverse experiences = richer discussions
We invited alumni from programs in countries as diverse as India, Chile, Malaysia, Spain and the United States (among others) to be featured "guests" in the chat and respond to a series of questions about their career pathways and ideological evolutions. Their broad range of experiences and insights made for a more thought-provoking, nuanced conversation than a narrower panel of opinion might have.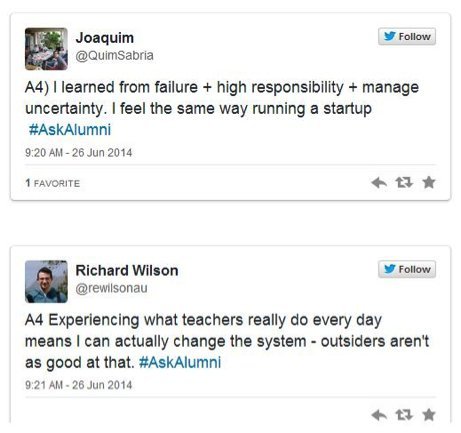 2. Consider your target audience
While our Twitter chat was open to anyone with an interest in Teach For All or global education in general, we targeted its promotion to new and incoming teachers of our partner programs. Each summer, Teach For All organizations hold pre-service training institutes for their incoming teaching cohort. With training currently in progress -- for our Northern Hemisphere partners, at least -- we focused on the interests and perspectives of these soon-to-be classroom leaders when developing our list of questions for our guests. Our goal was for the chat to be engaging to all, but particularly compelling and informative to the target audience we identified as having the most to learn from the discussion.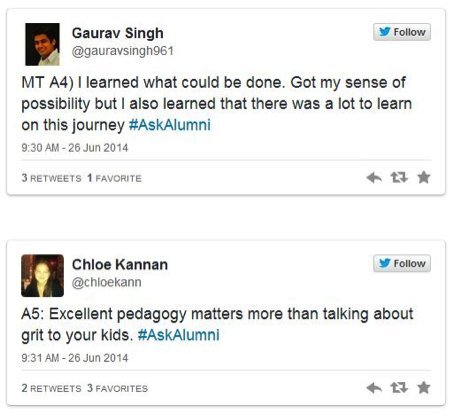 3. Build your audience by archiving and sharing post-event
Even in the best of circumstances, only a fraction of your target audience will have the time, interest, or capacity to participate in a live digital event like a Twitter chat -- and when your audience lives in every time zone on earth, that fraction gets a whole lot smaller. Thanks to hashtags and sites like Storify that enable users to turn social media events into narratives, a Twitter chat can be curated, archived, and shared with a wider audience almost immediately. Like individual tweets, Storify "stories" can be embedded anywhere, enabling you to share the event with interested members of your community on your own website. You can view the curated Storify version of our "Beyond 2 Years: Alumni Changemakers" Twitter chat here.
4. Continue the conversation, both on- and offline
The alumni we invited to be guests in our Twitter chat are inspiring people doing incredible things, so we weren't surprised that our audience had many questions for them. What we didn't expect, however, was how much engagement there would be among the panel of guests themselves. Numerous compelling side conversations between alumni emerged throughout the chat, many of which continued long after the hourlong event officially ended. Much of the feedback we've received from the alumni guests and the Teach For All partner organizations they're affiliated with has been around the desire to keep these cross-network discussions going both digitally and, ideally, in person. As a network we invite alumni to several conferences and learning trips throughout the year where many have the opportunity to meet face-to-face, and we will continue to explore new ways to facilitate connections between them via Twitter and other social media channels.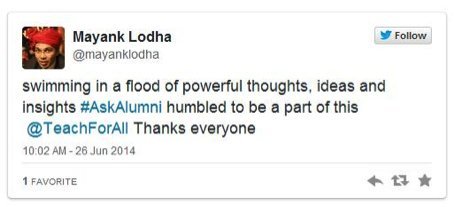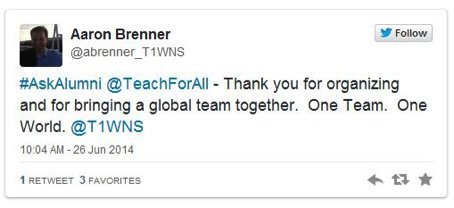 This recent Twitter chat reinforced the idea that providing forums for the members of our diverse network to exchange ideas is one of the essential ways Teach For All can achieve its aim of accelerating the network's progress toward its collective goals. Twitter Chats and similar social media events allow for the expression of multiple opinions as they both engage and inform a specific audience, such as first-year teachers, and our broader community of global education advocates. What tools does your organization use to help develop and maintain constructive communication and engagement? For more information about Teach For All and how to get involved with the network and its partner organizations, visit: http://www.teachforall.org/get-involved
Cisco telecommunications platform is helping Teach for All members in 23 countries share and collaborate across to expand educational opportunity. For more information regarding Cisco's commitment to education, please visit: http://csr.cisco.com/pages/education