We just attended a health care telephone town hall meeting with our Congresswoman, Anna Eshoo (San Jose, California). It was a more civilized process than a live meeting, controlled by a telephone moderator who, with a touch of a key pad, could turn questioners on and off and let Rep. Eshoo speak. Even so, it seems odd to have started these town hall meetings before the public has been clearly informed in writing, for all to read, on exactly what the various health care reform proposals actually are. Without clarity, misinformation, rumor and fear mongering go viral. We'd like to see something simple and linear like: Here's what's being considered in Proposal A, B, and C (or however many the President, House and Senate are discussing): what will be covered; what won't be covered; how prevention will be covered and incentivized; how physician incentives for quality care will be rewarded; how end of life procedures will be decided (since it's a big area of fear). We need a written statement covering these points and then a lot of PR to get it circulated, because those speaking the facts are being drowned out by all the noise.
Of all countries in the world, we spend more on health care than any other country, yet the World Health Organization (WHO) ranks us 37th in overall healthcare performance and 72nd in general level in health care--below many third world countries. Why do we stand for this? Because health care reform will affect the pocketbooks of special interest groups, lobbyists and politicians, so they stir disinformation campaigns to stop it. They don't care that the health care system is breaking the pocketbooks of hundreds of millions of Americans, just as Wall Street didn't care about Main Street in the housing bubble burst and ensuing economic crash. Main Street railed against Wall Street as one voice, Republican and Democrats, and at least the huge bonus check payouts diminished. But our health care is closer to us than our homes, jobs and wallets--and so it should be. But what about the health care of our brothers and sisters who can't get it? There is no responsible reason why all Americans shouldn't be able to get health care and spend less while getting more value as other countries do.
With that said, let's say we get health care reform. There's still a big elephant in the room that has to be addressed. The big elephant in the room is prevention. Some leaders are talking about it, but it's getting lost in all the noise. Arianna Huffington said, "One of the problems with the healthcare bill [is that] there isn't enough about prevention." Health care costs will keep going up, up, up, regardless of the plan adopted, unless incentives are provided for reducing lifestyle risk factors.
A 2008 Cost Benefit Analysis done at the University of Michigan, based on standard HRA (Health Risk Assessment), determined that even one psychological/ lifestyle risk factor has an associated medical cost factor of around $4,000 per year; and each additional psychological/ lifestyle risk adds an associated medical cost factor of $1,000-$1,500 per year. People with emotional stress had a significantly higher overall health/cost risk than any other group, and in fact the Cost Benefit Analysis found that the psychological risk factor may be the most important measure to determine health and correlated health costs. These findings were based on data derived from a study involving 47,500 employed individuals representing 22 companies and governments, who were followed for three years. The data showed the following increased adjusted annual health care expenditures from the following health risks, with depression and stress being the most costly: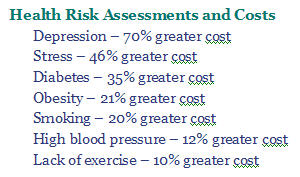 We haven't seen anything in the health insurance reform proposals that talks about incentives for reducing stress. People are afraid of the European state run health plans, but I bet they wouldn't mind the 30 days or more paid vacation that most Europeans are encouraged or mandated (as in France, Denmark and others) to take each year. Consider the following statistics supplied by the American Institute of Stress just last year (before the economic meltdown which has hugely increased stress levels for millions.) And we're expecting struggling small businesses to pay more for health insurance without incentivizing them to help their employees to reduce stress and other psychological risk factors?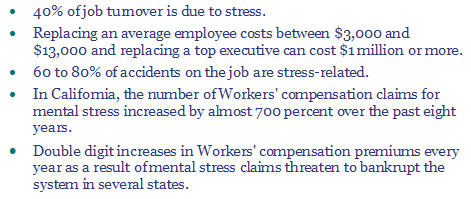 Of course, incentivizing lifestyle changes, i.e. behavior change, can be seen as messing with people's freedom. But financial incentives seem to be the most effective way to facilitate positive behavior change (which makes the individual healthier, happier and more productive anyway). Those of us who don't want to change are free not to. We just have to pay more, so others don't have to pay for us to overeat, be a couch potato, or stay stressed and depressed.
To us, this should be a focus of the health care reform debate. Where is individual responsibility in all the talk? Where is corporate responsibility? Until these issues are answered, no government plan can solve the problem of escalating health care costs.
There are ROI-driven wellness programs that work. For some very specific conditions, such as diabetes, metabolic syndrome, depression and a variety of heart conditions, studies show very quick dollar savings from wellness / disease management programs. For example, employers with diabetic employees enrolled in such programs have found a significant reduction in health care costs associated with their condition, due to fewer emergency room visits, less inpatient admissions to hospitals and lower pharmaceutical costs. They have also seen a significant reduction in absenteeism and increases in job alertness and performance.
One very important study was done by one of the largest health insurance companies HighMark, Inc. of their own employees. Between 2001-2005 they compared the health care costs of the 1,900 employees who participated in their wellness/disease management programs to an equal number of employees with the same health risks, but who had not enrolled in their programs. The analysis showed the company saved $1.3 million during the time of the study, mainly because its annual health care expenses for participating employees were $176 lower per employee.
HeartMath's ROI-driven programs could be an example of the kinds of programs that make a difference, providing benefits to individuals and employers. On an individual level, these programs have shown that they reduce emotional stress and improve job performance. Employers have reported a significant drop in turnover rates, higher employee satisfaction, and more productivity from HeartMath trained workers and a considerable increase in the company bottom line due to lower health care costs, less absenteeism, and greater presenteeism (being present and productive on the job).
For example, a California government agency saw significant reductions in overall psychological distress, anger, fatigue, hostility, anxiety, and Type-A behavior; accompanied by significant reductions in total cholesterol, glucose, diastolic and systolic blood pressure. In addition, they saw increases in productivity, motivation, goal clarity and perceived manager support. As a result, the agency projected reductions in both health care and absentee costs, yielding a total projected annual cost savings of $1179 per employee.
HeartMath prevention programs are based on physiology, science-based tools, technology and assessments, training employees to use simple, quick techniques on the job or at home to shift their physiology and regulate their emotional response when they feel stressed. Using a psychometric Personal and Organizational Quality Assessment (POQA), results achieved before and around 2 months after training show 44%-65% reduction in the number of employees reporting a chronic level of stress symptoms, including exhaustion, anxiety, depression, anger, inadequate sleep, headaches and rapid heartbeats. These symptom improvements have a direct impact on the workplace, resulting in reduced tension between management and staff, better time management, better listening to each other and cooperation. HeartMath"s ROI White Paper with data and references is available for free download.
It's not just patients who need new prevention models, it's also caregivers--nurses, doctors and health care staff need help to reduce emotional stress. The Watson Caring Science Institute (WCSI) has had excellent results. We are collaborating with WCSI to create a program that is transforming healthcare delivery models, called Caritas HeartMath National Pilot Program. This national program is designed to help restore the care in healthcare and help caregivers care for themselves.
The bottom line is that all this debate about health care reform is important to wake us up to our personal and social responsibility for health--our own and the health of our families, workplaces, caregivers and country. Something productive will come out of it as long as we don't stop the dialogue until we create a health care system that actually works.
Send us your comments, suggestions, and thoughts on this. Put them in the comments section below or send us an email at dr@heartmath.com.
###
You can find out more about Doc Childre, Deborah Rozman and HeartMath at www.heartmath.com. Doc is founder of the non-profit Institute of HeartMath co-author of HeartMath Solution and From Chaos to Coherence. Deborah is a psychologist and business executive, and co-author with Doc of Transforming Stress, Transforming Anger, Transforming Anxiety and Transforming Depression.
We invite you to join our Facebook and Twitter pages and YouTube channel where the latest stress relief resources are often announced and made available. We also offer a Stress & Well-Being Survey™, the most comprehensive and accurate assessment tool that's available free over the Internet. The survey takes five to ten minutes to complete, and will provide you with a comprehensive picture of how much stress you are experiencing, your energy level and what areas are most stressful in your life. Results are followed by tips for improving your scores.