It had been raining off and on as we made our way from Galway, along the Ring of Kerry, to charming Cahersiveen. The grey-blue sky and rolling mist gave the green fields the magical look that defines the west of Ireland. It's what the Irish affectionately call "a fine soft day."
As I finished my talk that evening in the Cahersiveen Library, a woman sitting in the front row quietly asked, "Have you heard the song The Fields of Athenry?" Without needing an answer, she began to sing from her seat:
By a lonely prison wall,
I heard a young girl calling
Michael they have taken you away,
For you stole Trevelyn's corn
So the young might see the morn,
Now a prison ship lies waiting in the bay
She was singing a haunting and familiar melody. First one voice, then several, and before long the entire audience of 50 or so was serenading me. Wow. This is why writers keep writing. Of course, the tears started to flow from this welcoming gesture of understanding and kinship. The Irish seem to carry deep in their souls the knowledge of what it means to overcome struggle and to emerge with compassion for those who suffer still.

I recently traveled to Ireland to give library talks about the women in my book, "The Tin Ticket: The Heroic Journey of Australia's Convict Women," which is about the 25,000 convict maids transported to Australia in the 19th century. The desperately poor were driven to steal small items to survive, particularly in the aftermath of An Gorta Mór, the Great Hunger. Irish women, men, and children received the harshest sentences for petty theft because of terrible discrimination by the British. Yet in a distant land down under, they helped found one of the most progressive societies of the time. Many of the people I met during my trip had some connection with Australia.
On this, my first visit to Ireland, I was delighted to meet history buffs everywhere I went. It's impossible not to feel connected to the past in a landscape dotted with castles and watch towers that seem to stretch out time before your very eyes. Following the panoramic Slea Head Drive on the Dingle Peninsula, I could feel the Stone Age under my feet as I walked toward a circle of standing stones that were unmarked and undisturbed in an open field.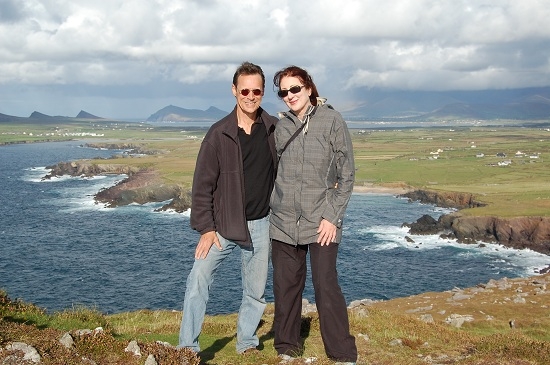 I began to understand why so many writers' hearts have opened up in this mystical land. Looking at Great Blasket Island with hills worn soft by nature's driving forces, I imagined the ways in which austere isolation fueled the renowned literature written from this tiny community. In a land of artists and storytellers, it came as no surprise that the person I stopped for directions in Oughterard turned out to be Tony Small, a well-known traditional musician. When I mentioned how much I was enjoying Ireland, Tony and his buddy Filly Dwyer responded in unison with an exuberant: "You're welcome!" Mischievous grins couldn't mask their genuine pride in being Irish.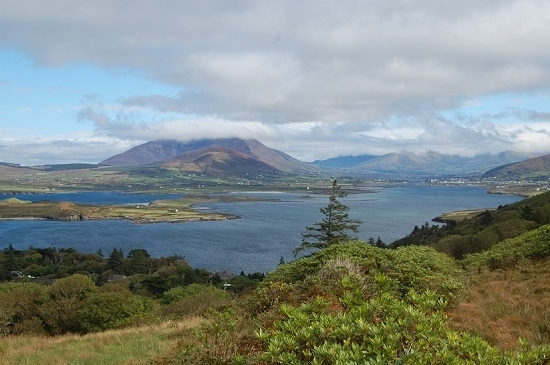 Even the livestock had a bit of fun with us. Heading out of the fishing village Roundstone on a narrow and winding country lane, we encountered a sheep napping soundly in the center of the road. It cast nary a glance as we carefully maneuvered around him. The pastoral pace of life reminded us to slow down and take it all in: rainbows painting mountains with vibrant purple and orange, wild rhododendrons marking the roads on the beyond beautiful Valentia Island, the whimsical statue of the Connemara giant Conn of the Sea built in 1999 "for no apparent reason."

In a tongue-in-cheek culture brimming with old and new folklore, everyone seems to have a story to tell. Our boatman Dux O'Donoghue sat at the helm of the Lord Brandon with his faithful dog Charlie and barely managed to keep a straight face while embellishing the tale of the "teesy weesies" whose echoes answer you back as you glide through the lakes in the Gap of Dunloe.
Ah, and I can't forget the splash of Bailey's that inn keeper Jimmy Bruic added to our breakfast porridge, causing us to scrape our bowls for every last morsel. Heading off the Dingle Peninsula with a bag of Jimmy's freshly-baked scones, we began another fine soft day in Ireland, gentle mist and intermittent rain showers. Anything less than a monsoon seems to merit this poetically optimistic take on what makes this lush land so many vibrant shades of green.
We spent our last night on the Emerald Isle in Limerick City. It's the home of King John's Castle. It's also where the legendary Ellen Scott had worked as a servant in the early 1800s. Like many among the working poor, Ellen didn't earn enough to survive and stole a watch chain which would have yielded a few coins at a pawn shop. She had been arrested once before on vagrancy charges so she received a life sentence to "lands beyond the seas." The 17-year-old rebel became the leader of the first female flash mob whose escapades were scandalously recorded by the Australian press throughout the 1840s. With nothing to lose, this fearless renegade took justice into her own hands at the Cascades Female Factory and protected other social outcasts exiled to Van Diemen's Land.
Even though I know the story, I can't help but get emotional when I describe what life was like for Ellen Scott and the other Irish girls who had so few avenues out of poverty yet were so easily deemed disposable by the British government. After my talk at the Limerick City Library, a woman gently took my hands into hers and said: "Standing there with the red in your hair and your soft brown eyes, talking about the girls who touched your heart, I could tell you have some Irish in you." I think of this special moment every time I pass the new plaque on our front door. It's an old Gaelic greeting: "Céad míle fáilte." It means "a hundred thousand welcomes" and couldn't ring more true about my fine soft days in Ireland.