Two hundred years ago, Elizabeth Gurney Fry dared to enter Newgate Prison, which was labeled as London's "prototype of hell." It was the start of 30 years of visionary reforms by one of history's most effective and hands-on social activists. Yet Fry is unknown to many. As we celebrate women's achievements on March 8th for International Women's Day, we honour fearless trailblazers like Fry. With all that needs to be done to advance women's rights, we can certainly find inspiration in history's victories.
Elizabeth Fry is more relevant today than ever: The first woman to testify before Parliament, a persuasive abolitionist and humanitarian lobbyist before world leaders, a pioneer in forging new roles for women. She herself was harshly criticized for being a mother who worked outside the home. Fry felt she had no choice but to answer her calling to help desperate women and children who teetered on the edge of survival. Like so many girls and women across the globe today, women who were poor in nineteenth century Britain were considered chattel and undeserving of basic human rights. Fry, however, saw humanity in the 6-year-olds who worked in London's streets gathering dung used in tanneries, in the mothers forced into prostitution as the only way to feed their children, and in the mentally ill who were carted away in chains to rot inside over-crowded prisons.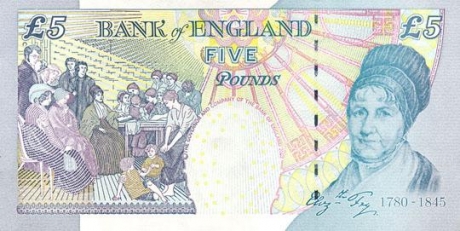 Although her image appears on the British five-pound note and portrays her work with the women at Newgate, I had never heard of Elizabeth Fry until I studied Australia's convict women. My introduction began when I asked the question: From 1788-1868, did anyone in the world care about the 25,000 lower class women who were targeted as "tamers and breeders," transported in shackles to Australia, and conscripted as free labor for Britain's imperial expansion? The answer is a definitive "yes," and her name is Elizabeth Fry.
Called "the Angel of the Prisons," Fry helped orphans and other "disposable" citizens. Among them were Agnes McMillan and Janet Houston who, like many others, had pilfered small items because they were starving. As was true for most girls in 1832, the slums offered meager opportunities for work and little hope of survival other than by prostitution or petty theft. As adolescents, Agnes and Janet awaited transport to Van Diemen's Land (present-day Tasmania) inside a communal Newgate cell with up to 300 others, including violent felons and the mentally ill. Amidst the muck and filth, Mrs. Fry extended dignity by teaching the women a skill and opening a schoolroom for the many children imprisoned with their mothers. She dared to break convention by offering hope to girls like Agnes and Janet and the assurance that they deserved a chance to thrive once they had served their sentences.
Over the course of three decades, Fry and her army of volunteers met nearly 12,000 of the 25,000 convict maids. Her influence crossed the world as she tenaciously worked to improve conditions for the convict lasses aboard the transport ships and in Australia. She arranged for matrons to supervise female prisoners in place of the all-male ships' crew, thereby reducing the high incidence of rape suffered by the girls and women.
The UN has declared International Women's Day 2013 a "time for action to end violence against women." Globally, seven of every ten women will experience physical or sexual violence. Tragically, history too often repeats itself. In Fry's time, unmarried convict maids were punished with six months hard labor for the "crime" of pregnancy, often the result of rape by their wardens or masters. Rather than blame the victim, Fry extended compassion to the mothers and to their infants.
Elizabeth Fry challenged her nation's moral compass. Understanding that poverty is neither a choice nor a crime, she tirelessly worked to educate women in low-paid jobs, in workhouses, in halfway houses and in prisons. A distant cousin of Florence Nightingale, Fry trudged through London's slums to vaccinate the poor against small pox. She set up clothing drives, soup kitchens and homeless shelters across her city. Fearless and determined, she argued for better treatment of the mentally ill. She spoke for those who had no voice and persuaded Queen Victoria to contribute to her causes -- most of which were considered radical for the nineteenth century. This Quaker minister and mother of eleven proved that one fearless person can monumentally change how a society responds to its problems.

Living in a world where so many are still struggling, it's sometimes hard to know where to begin. Sometimes it takes a wake-up call to remind us of the basic truth that one person can make a difference. For Elizabeth Fry, it started two hundred years ago in 1813, when she confronted head-on the cruelty of an empire. She was practical, she was vocal and she admitted when she was wrong. As Fry helped awaken her society's conscience, she offered hope to the hopeless and helped the convict maids survive abuse and injustice. These resilient survivors would become founding mothers of modern Australia. Their courage, grit, and resolve are truly a reason for celebration. They, too, were heroes and went on to forge one of the most progressive societies for women at the time. Australia was the second place in the world, after New Zealand, where women gained the right to vote.
On International Women's Day 2013, we celebrate women and men who reach across oceans and continents to end human rights violations, including violence and discrimination against women. "One Woman: A song for UN Women" will be launched on March 8. The opening verse rejoices in social action by courageous women who define the promise of our future, heroes like history's Elizabeth Fry and today's Malala Yousafzai:
We are One Woman,
You cry and I hear you.
We are One Woman,
You hurt, and I hurt, too.
We are One Woman,
Your hopes are mine.
We shall shine.