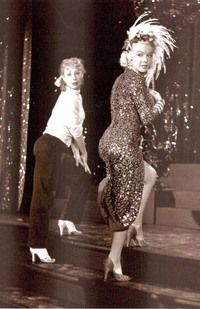 "Yes," answered Jane Russell the evening of Wednesday June 23, 2010, nodding emphatically when asked if choreographer Jack Cole had directed the dance sequences in Howard Hawks's Gentlemen Prefer Blondes (1953).
Russell's brown eyes flashed and she became animated on hearing Cole's name.

The brunette bombshell of the 1940/50's, appearing at a Hollywood Heritage event, chatted with arts•meme about Cole, the great Broadway/nightclub/cinema dance maker who choreographed the three song-and-dance numbers of Gentlemen.
Cole, a brilliant film and dance innovator who had a multi-picture relationship with Marilyn Monroe, died in Los Angeles in 1974.
[Cole, at right, wears cargo pants in 1960 -- the coolest man to ever work in Hollywood. Above, left, Cole's protegee and rehearsal director, Gwen Verdon, works with Monroe.]
"He [Cole] sat up on a big tall thing [camera dolly] running the whole thing ... where the dancing was concerned," Russell told me, indicating upward with her arm, and repeating, ... "directing everything."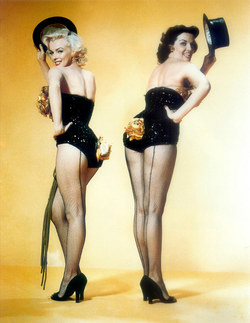 This revelation has been intimated in various written accounts over the years, but never reflected in the film's credits.
In his Hawks biography, The Grey Fox of Hollywood, Todd McCarthy quotes Gwen Verdon as saying that during the filming of Cole's sparkling dance sequences ["Two Little Girls from Little Rock, Ain't There Anyone Here for Love, Diamonds are a Girl's Best Friend], Hawks was "not even on the set."
Gentlemen -- an American masterpiece -- was a huge step up for Jane Russell from the pulpy fare in which studio owner Howard Hughes packaged her at RKO, and she's fantastic in the (Twentieth Century Fox) musical. Her eye-grabbing presence totally matches Monroe's; her arch line delivery, impeccable.
Always a big-boned woman with a booming voice, Russell still radiates charming grit and drive. "I have a terrible time hearing and seeing ... and with my brain!" she jovially told the Hollywood Heritage audience.
Cole and Verdon trained Russell and Monroe, both non-dancers (Jane famously said, "We were a couple of klutzes.") in their first musicals. By dint of innumerable after-hours rehearsal sessions, the hard-working creative gals morphed into song-and-dance mavens. The results have delighted generations of film goers since.
Debra Levine blogs about dance, film, music and urban culture on arts•meme.
Photos: arts•meme