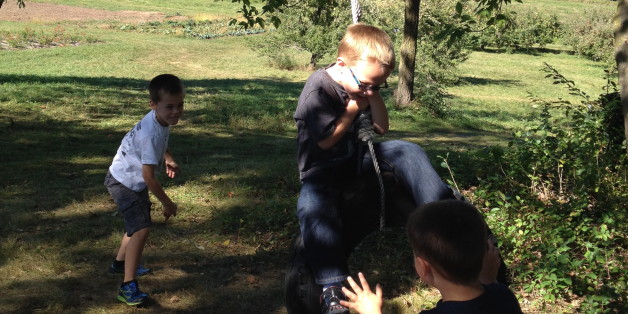 We are a bit like refugees -- shell-shocked, perhaps, but also wonderstruck and enchanted by the peaceful, privileged world where we now find ourselves.
Of course, the metaphor is not perfectly apt. Our life in Chicago was pretty richly privileged, too, by most standards.
But, for my family, moving to small-town Wisconsin was an escape. We wanted out of the Chicago Public Schools' drama and dysfunction.
That, though, we could have accomplished as so many middle class people like us have done: moving to the suburbs or putting our kids into private schools. We were after something else. We wanted a whole different life.
Because my husband and I each run our own businesses and can do much of our work "virtually," we could chose to live almost anywhere. He needed to be close enough to an airport to be able to fly out to his clients around the Midwest, and I needed to be close enough to Chicago that I could still have face-to-face meetings with my clients.
We made long lists of criteria and researched a number of "best places to live" indices. Ultimately, though, our primary focus was on the kind of life we wanted for our three young sons.
Being so incredibly fortunate as to have both resources and flexibility, we decided to use them both to find a place that would give our kids the best boyhoods we could imagine for them.
We found an extraordinary school district and centered our home search on finding a place within its boundaries.
Moving here and settling in has been everything we'd hoped it would be and more. Because, yes, the schools are phenomenal. (The state's "report cards" for its schools just came out and received our copies of them with little comment from the district superintendent: "exceeds expectations" doesn't need a lot of spin. What an amazingly affirming thing, as a parent, to have something in writing, telling you that you've chosen well for your kids. The relief I feel, after years of hand-wringing over whether we should "stick it out" in Chicago schools, is almost physical.)
But "quality," as measured by educational test scores and other quantitative evaluations, is only a small part of the story.
The bigger truth is that raising our children here feels easy.
And that is an unexpected gift.
I think about the language I've always used, how we've been struggling to make the right choices, stressing our values of community, working to find the opportunities.... And I realize it's just been hard.
Much, much harder than it needed to be.
There are things about the safe, rural community where we now live that could not, of course, be replicated in our hometown of Chicago.
But there are many, many that could. Quite easily.
"Back to School Night" at my older sons' elementary school ran in two, hour-long sessions, so, as a parent, you could pick the one that was best suited to your schedule and/or attend twice in order to spend time with two siblings' teachers. And, instead of the firm reminders we always got from CPS that these parent events were for "adults only," the children were happily invited and included. My 5-year-old was invited to take me on a scavenger hunt through the school to show me where things like the library and computer lab could be found. My first grader was invited to prepare a snack for the grown-ups, to be served following his teacher's presentation.
A similar program at my youngest son's preschool offered free child-care for students and siblings while parents attended a required meeting.
I think it's telling that in the years we had our kids in the Chicago Public Schools, we were asked to attend dozens of these kinds of events, always told that they were "adults only" and never offered any kind of assistance or arrangements for our kids. We were able to finesse work schedules and arrange babysitters, but, certainly, many families were not. CPS was always quick to cite a lack of parental involvement as a reason for students' poor performance, but somehow never managed to offer parents any help in actually becoming involved. It was as if they thought of kids and parents as two completely separate entities, not as families.
Here, in our small town, most everything seems to be organized around the assumption that people are organized into families. Every athletic field we've encountered, where our older boys play soccer or baseball, whether indoor or outdoor, also has playground equipment adjacent to it so our little guy has something to do while his brothers participate in organized sports.
The public pool has co-ed "family area" changing rooms, so that I can keep my boys with me, rather than either dragging them into a women's room or sending them alone into a men's room.
These are small things, perhaps, but the difference they have already made in our quality of life is unmistakable. We are happier, less stressed and feel closer to one another.
The challenges of reform facing large urban school districts, like the one we've left behind in Chicago, are, without doubt, enormous and complex. But, perhaps, they are also a bit simpler than they might seem. Perhaps they begin with a version of "family values" that involves truly putting families first.