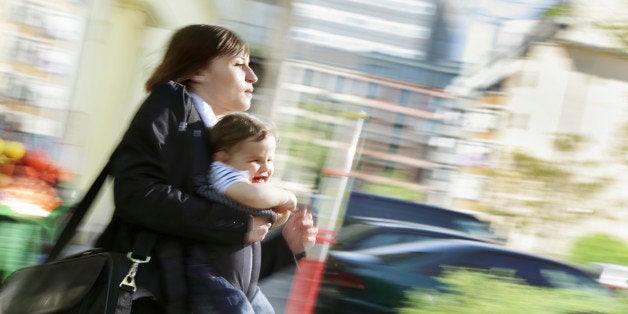 On Tuesday night, I came home exhausted. I almost always do. Though I am lucky enough to be able to work from my cozy home office most days, on Tuesdays, I commute about three hours each way into downtown Chicago for meetings and face time, leaving home at 5:30 a.m. and getting back around 9:00 p.m..
This particular Tuesday had gotten off to a rougher start than usual because my 5-year-old had woken up at 4:30, in need of cuddles and comfort, and I hadn't managed to get him settled back to sleep by the time I needed to shower and get ready for work. We had a difficult, tearful goodbye.
My work day was busy and productive, but draining, even still. Now that I'm a commuter, I pack a week's worth of meetings into a single day and, for an introvert like me, being so continuously "on" requires a tremendous amount of energy. Plus, my shoes were pinching.
I came home wanting nothing more than to kick off those damn shoes and crawl into bed. But there were school forms to be completed (my kids' homework and reading logs include a system of record-keeping once rejected by the VA as too bureaucratic), lunch containers to be washed in time for morning and backpacks, coats and boots to be laid out by the door in preparation for the daily scramble to make our 7:07 a.m. bus. There were also emails to be answered, in follow up to messages that had come in while I was driving home, and my gym bag to pack for the next day, and piles of laundry, generously washed and folded by our babysitter, waiting to be put away.
My husband, I griped to myself, will never know what this is like, coming home from one long work day only to start another.

We're a dual-career family and, while we're lucky enough to be able to afford some help at home, our lifestyle is made significantly more challenging by the fact that my husband travels frequently for his job. He's generally gone from Monday through Thursday or Friday each week, so he misses the brunt of the school day grind around here.
As it happens, he also makes most of -- and manages all of -- our money. So I might never know what that's like, bearing the stress of being the primary provider and planner for things like our retirement and our three kids' college educations.
Because we could, theoretically, get by without my income, I've struggled with finding the right balance of work and family commitments. I have the incredible luxury of thinking about my own personal and professional fulfillment as well as the immediate needs of my kids. Some days, I feel like I get it exactly right. Others? Not so much.
And the Wednesday morning that followed that Tuesday night started off as one of those not-so-much days. I was drag-a** tired. The boys were fighting about whose winter hat was... well, actually, I'm not totally clear what they were fighting over, but their winter hats were involved. And it was 11 degrees out.
My 6 and 8-year-olds barely made the school bus and the 5-year-old had to be pried out of the car at preschool drop-off.
The day's to-do list was a full page long, but any chance at jump-starting the morning was hampered by the fact that it was my "parent observation day" at school and I was scheduled to be back there at 9:00 a.m., 45 minutes after the drama-filled drop off. It was just enough time to drop off the dry cleaning, buy a coffee and catch up on the 37 emails waiting for me on my iPhone.
The previous night's complaint echoed again in my head. My husband, I griped to myself, will never know what this is like, trying to organize your day around all of this kid stuff.
My life -- growing this consulting business I started, trying to keep writing, managing our household -- seems, so often, like the living embodiment of "jack of all trades, master of none." Sometimes, everything I do just seems half-a**ed. And I wonder if I shouldn't take a lesson from my husband's laser focus on his career and our finances. Maybe I should just define a clear role for myself as caregiver, since that's clearly what our family needs, and devote myself fully to getting that right, giving up these other professional pursuits. Maybe I need focus and clarity (and a good night's sleep) more than I need balance.
All of this was rolling around in my head when I went to my "observation day," which is one of those goofy Montessori things that sounds like an absolutely terrible and unworkable idea until you actually do it. They set up a chair for the observing parent in a quiet corner of the room and you are supposed to sit there, silently, until your kid forgets you are around, so you can watch him as his "school self."
At first, my son just wanted to come hang out with me. And then, after his teacher gently guided him away to some work he found engaging, I found my own attention wandering. I wondered how that one kid's parents got him into those hipster skinny jeans when my boys refuse to wear anything other than baggy track pants. I mused on how it was that this other kid was freehand drawing, apparently from memory, the flags of all the nations of South America, while my own child seemed focused on less heady pursuits, like washing the classroom windows.
My observations, for the first 20 minutes or so, were mostly on the numerous ways I have failed to measure up as a parent. My kid, with his crummy hand me down clothes and his inability to locate Bolivia, was probably already doomed. As I sat and thought about it, I could not remember a single instance of ever sitting down with my third child and teaching him something -- anything. No wonder he was doing manual labor.
Then, he moved on from the rag and squeegee routine, over to another part of the classroom, where the kids sit on little rugs to count and sort beads as an introduction to math. I watched as my son and another little boy organized little groups of five beads in a line across the carpet. I couldn't tell if it really meant anything to them, but they did seem immersed in the work. I myself was starting to get bored and was wondering how long I needed to linger in order to at least look like a good mom.
Then my son's teacher walked over to my chair and leaned over to whisper to me about what my son was doing. He, who, in September could barely count past eleventeen, was teaching another kid how to count, by fives, to 100.
"He loves to help the younger kids," she said. "He's a really great and patient teacher."
I nearly fell off my silent observer seat.
Really? This temperamental boy, so easily frustrated and prone to fights and tantrums at home? My difficult child? He's a great and patient teacher?
That's when I began truly to observe. And I watched it for myself.
My boy was as amazing as I'd ever dared dream him to be. His "school self" was what I aspire to be on my best days. It was a joy to watch. I could have stayed forever in that moment.
But then it was time to go. I had a conference call to be on and a thousand other things that needed doing before the end of the day.
So I raced out the door, dialed the conference call on my car's speakerphone and thought to myself, once again, My husband will never know what this is like.

He'll probably never understand the mental chaos that underlies this working mom thing that I do. He doesn't keep track of things like school observation days or the kids' shoe sizes or when their next immunizations are due or what they want to buy at the book fair. He doesn't juggle all of that while also managing his company and getting dinner on the table.
"And, man," I think, as I drive on to the next obligation, "is he missing out."