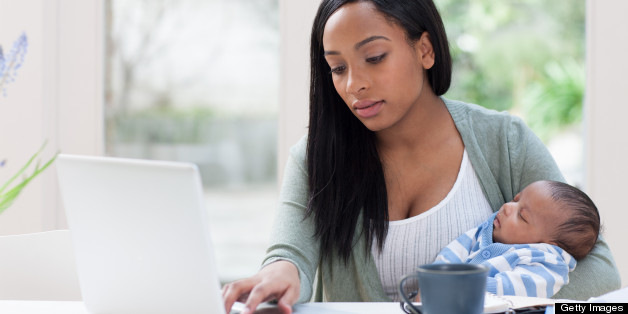 Sunday marks Mother's Day. All over the country, we will honor and celebrate our moms, take them to nice restaurants and shower them with gifts. But let's make sure to especially thank them for their economic sacrifices. On average it can cost around $176,890-$353,410 to raise a child from birth to 17. And that's not even including college!
And although considerable advances have been made in the workplace, many working mothers continue to reduce their full-time employment to combine work and motherhood, which in turn lowers their income, their ability to save, and access to wealth builders like 401(k) benefits and pensions.
And single mothers, who are responsible for a disproportionate share of child rearing, shoulder even more of these economic costs. So even in 2013, we still have a far way to go in addressing the economic inequities and institutional barriers mothers face in building their own economic security.
Yet, despite these challenges, moms continue to work tirelessly to provide us with the best life possible. And if your mom is like mine, they seize any opportunity to teach life lessons necessary for adulthood. So, I thought it was fitting to share some of my mother's, along with the NAACP Economic Department directors' mothers, best economic lessons, which I suspect they would be pleased to know, have informed our own financial practices.
Dedrick Muhammad Sr., Director of NAACP Economic Department:
"When I was younger, my mother was always honest about our economic circumstances. If she could not afford the expensive sneakers, she told me. This not only took away the shame that she (and unfortunately a lot of parents) experience when unable to make a certain purchase for their child. It also encouraged me to get a job so that I could contribute to the household and take some of the economic burden off of my mother. I learned at an early age the importance of living within your means and the importance of having an ongoing dialog around your personal economy."
Lillian Singh, NAACP Director of Economic Strategic Partnerships:
"My mother always told me to have money under my shoe! In other words, always have savings for an emergency. As an adult you realize at any moment you can have a financial emergency like a car issue or unexpected health-care cost. And those emergency funds become so important. I'm really glad my mother taught me that habit of saving at a young age."
Mjiba Frehiwot, Ph.D., NAACP Director of Economic Education:
"My mother always emphasized the importance of education. College was not only an option; it was expected. Education remains the best pathway to economic opportunity. But also, education leads to empowerment and the ability to make smart informed decisions to secure your future."
Charles Lowery, NAACP Director of Fair Lending:
"From a young age, since my first job as a paper boy, my mom instilled in me and my siblings a strong work ethic. Equally important were always presenting your best self and not doing anything to jeopardize your employment. I bring that attitude and professionalism to everything I do. In this economy, its more important than ever to not strive to be good but to be great to land that next job, promotion, etc."
So this Mother's Day, perhaps take a moment to reflect on your mother's teachable moments around money and if you are a mother, maybe think of a financial lesson to pass on. Financial education begins in the home and when it comes to advice, mom always knows best!