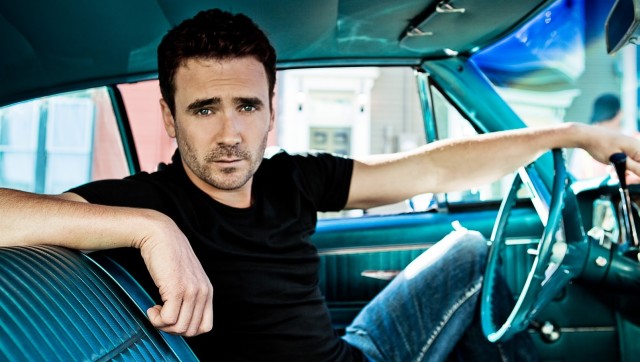 Can you believe it's almost winter? One of the telltale signs -- aside from the Christmas lights, holiday music and bitter, brutal cold -- is when networks begin to promote their midseason shows. That's what CBC did Tuesday at a special event on the set of "George Stroumboulopoulos Tonight." And so it begins...
Unlike the spectacle we saw at the public broadcaster's fall upfronts, the presentation for the midseason schedule was much more subdued, but that doesn't mean it was any less extravagant. The media milled around with the talent, and it was a little unnerving sitting behind Rick Mercer, new "Best Recipes Ever" host Christine Tizzard, beside the cast of "Mr. D," and across from David Sutcliffe (Rory's dad! Oh, and the star of the upcoming "Cracked") and Murdoch himself, Yannick Bisson. But that's CBC's charm, showcasing the best and brightest stars while making content key.
"I think it's a real testament to the fact that Canadians want to watch Canadian television," Kirstine Stewart, executive vice president of English Services, CBC, said at Tuesday's presentation. "We had so many popular shows on the CBC. It's great because it really proves -- not just to us and to Canadians, but the whole system -- that this is actually something that can work. That we can actually put together great Canadian programming and Canadians come to watch it."
Stewart added: "We find that what we're doing at CBC is actually resonating with people and what's important to us. As we go forward, as we face challenges year after year, in terms of reduced funding, reduced resources, we have been able to try and find ways to reach more Canadians than ever before and I think it's incredibly important, given that Canadians want Canadian programming, that they actually have the opportunity to connect with it whichever way they want."
For its midseason schedule, CBC moves "Republic of Doyle" to a new night, adds the much-anticipated crime-drama "Cracked" to its lineup, and brings a touch of the past to the network with "Murdoch Mysteries" (its freshman year on the CBC; it's sixth season overall).
We'll also see the returns of "Mr. D" and "Arctic Air," and new episodes of "Dragon's Den" and "Heartland." Canadians, if you thought CBC's fall schedule was huge, things just got a whole lot bigger.
PHOTO GALLERY
Our Favo(u)rite Canadians On TV
----
Here's CBC's midseason lineup, beginning Jan. 6 (all times in ET):
SUNDAYS
7 p.m. "Heartland"
8 p.m. "Dragons' Den"
9 p.m. "Republic of Doyle"
MONDAYS
8 p.m. "Mr. D"
8:30 p.m. "The Ron James Show"
9 p.m. "Murdoch Mysteries"
TUESDAYS
8 p.m. "The Rick Mercer Report"
9 p.m. "Cracked"
WEDNESDAYS
8 p.m. "March to the Top" (debuts Jan. 30)
9 p.m. "Arctic Air"
THURSDAYS
8 p.m. "The Nature of Things"
FRIDAYS
8 p.m. "Marketplace"
9 p.m. "the fifth estate"