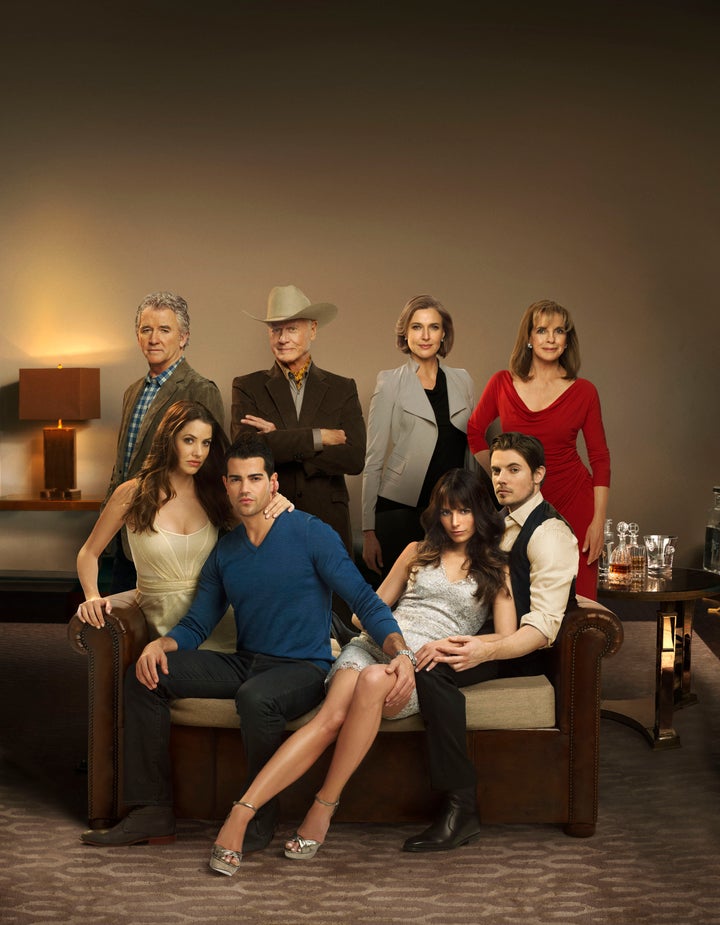 Back in the '80s, TV was a trip. Once I finished my mandatory 30 minutes of piano-practicing, I was one of those kids who plopped herself down in front of the TV until dinner time (of course, this was the days of yore when children weren't laden with bulky knapsacks or dragging those little suitcases to and from school, burdened by hours of homework -- but I digress).
So I've loved everything about TV for as long as I can remember. I learned to tell time with "Polka Dot Door," Balki Bartokomous was my favourite character, I had crushes on Face from "The A-Team" and Jeff Colby from "Dynasty" (side note: I wrote both actors, Dirk Benedict and John James, respectively, fan letters and only heard back from one of them -- complete with autographed picture. Squeee!), and my mother and I would catch up on the day's soaps ("Ryan's Hope," "Loving," "All My Children" and "One Life to Live," in case you're wondering) she recorded on our Betamax. Ahhh, the good old days.
I was a diehard soap lover, so needless to say, the state of daytime today is depressing since none of the shows I watched with my mom are no longer on the air. I was also a fan of primetime fare as well -- "Dynasty," "The Colbys" and "Knots Landing" were particularly faves. "Dallas," however, not so much. Sure, I caught the odd episode, and was aware of the Ewings and Southfork, but I didn't know it the way I knew the Carringtons and Colbys. Nevertheless, I was a little giddy for the "Dallas" remake, only because the '80s were such fantastic TV times. At the same time, however, I was wary thanks to other failed attempts at reboots (think "Charlie's Angels," "Knight Rider" and "Bionic Woman").
Surprisingly, though, "Dallas" is good. Actually, as far as maintaining the same feel as the wildly popular soap, it's great. TNT's reboot has been redone for our modern, more fickle eyes but keeps the main storyline all about family and heart, all told by a younger, prettier cast. Thankfully, though, they're not hair models. Rather, the new-to-"Dallas" portion of the cast -- Jordana Brewster, Josh Henderson, Jesse Metcalfe, Julie Gonzalo, Brenda Strong -- all have chops but it's the familiar faces of Patrick Duffy, Larry Hagman and Linda Gray that will have you bursting with fruit flavour. What makes it better is Bobby, J.R and Sue Ellen aren't relegated to the back burner, or merely making appearances -- the characters are integral to the current story.
But you don't need to be a fan of the old "Dallas" to keep up with what's going on now. Executive producer Cynthia Cidre ("Cane") and her team have provided many references for newbies who might not get what's going on.
Instead of brothers J.R. and Bobby butting heads, it's their sons, John Ross (Henderson) and Christopher (Metcalfe), who do most of the fighting. Naturally, J.R.'s kid is the villain, wanting to drill for oil on Southfork (despite Bobby's earlier promise to Miss Ellie that that would never happen again), while Christopher looks for alternative energy. Elena (Brewster), who was once engaged to Christopher, is now involved with John Ross. Of course. The only off-putting thing for me was how much Metcalfe and Brewster resemble each other. They could easily pass for siblings, which makes their characters' whole romantic past (and likely future) a little icky, but very much in the soapy realm.
Christopher and John Ross are just like their fathers; Chris is too trusting and sensitive, while John Ross will stop at nothing to get what he wants. During an argument, John Ross sneers to Christopher, "Bobby's not your dad. Everybody knows your daddy gave you away when you were a little baby. You'll never be a Ewing." "Dallas" fans will love that well-researched continuity, remembering that Bobby and then-wife Pam adopted the boy. That's right, no Victoria Principal here; Bobby's current wife, Ann, is played by Strong.
The best part for us sentimental folks is the beginning. In keeping with the 1978 series, the opening credits of 2012's "Dallas" is virtually identical to the original, using the same theme music, shots of the city and the actors' names (in alphabetical order), which not only makes for a fun ride down memory lane but is a smart move by producers. All those '80s theme songs were a big deal back then. Don't tell me you can't sing (or, at the very least, hum) the music of "Family Ties," "Growing Pains," or "Love Boat."
A show that's a reboot and takes place in Texas sounds like it doesn't stand a chance ("GCB" and "Lone Star" -- tear) but hopefully "Dallas" stands out like a beret on a shelf of 10-gallon Stetsons. TV has changed significantly since "Dallas" left the airwaves in 1991, networks have little to no patience on giving series a chance, and the audiences are not as easy to please as they once were. But overall, there's not much to hate with "Dallas." There's nothing subtle about it, and it has just the right amount of cheese -- whether it's Ann grabbing a shotgun from her gun rack to try and take down a burglar, or using the 50-yard line at Cowboys Stadium to end an episode (SPOILER ALERT: Anyone else expect John Ross to be meeting up with Gonzalo's Rebecca? What a waste!).
The only thing standing in the way of its success is whether or not viewers are willing to be pulled back into the age of the serialized drama. For all you people missing your soaps, get back into the 10-episode (so far) season of the new and improved "Dallas." It'll have you tuning in week after week, wanting more.
"Dallas" premieres on TNT (and Bravo in Canada) on Wednesday, June 13 at 9 p.m. ET.