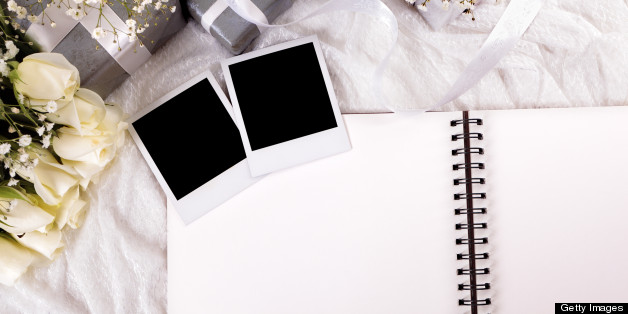 With so much advice flying around, sometimes a bride-to-be just needs someone to boil it down for her. Here are the top ten tips every newly engaged woman needs to read, inspired by the speakers at Bridal Rebellion, a workshop in New York City earlier this month that brought together close to 30 wedding experts from around the country.
1. Do not make any decisions before you have a clearly defined wedding budget. When you're on such a high following your engagement, you're probably not in the mood to have serious talks about finances with your fiancé and whoever else is helping pay for your wedding. But you must figure out what your total budget is, and you must decide which items you want to save on, and where you're willing to splurge. A rule of thumb for big savings is to be flexible about your wedding date, says Kim Forrest, an editor at WeddingWire. Venues are less expensive in the off-season months, and for non-Saturday night weddings. And think outside the box if you want to save on your venue. Historic homes, farms, and even schools and libraries can offer charming spaces at lower cost, according to Jessica Bishop of The Budget Savvy Bride. Forrest also recommends saving money by wearing borrowed jewelry. "Wearing something borrowed from a good friend or family member is more special anyway," she said. However, when it comes to looking out for your guests' comfort, go ahead and splurge. "Make sure you're choosing a venue that is large enough for everyone, and comfortable." Forrest said.
2. When inviting your bridesmaids, ask nicely! This may sound obvious, but lots of brides-to-be wrongly assume that their friends will obviously accept. "There are legitimate reasons why someone might have to decline," says Carrie Mantha, co-founder of Indira, who is about to be a bridesmaid for the 18th time. Another rule of thumb when it comes to bridesmaids is this: Be clear from the outset about your expectations, and make sure everyone is happy with their roles. "If you're all starting out on the same page, the entire process is more likely to be totally stress-free," Mantha advises. It's also important to include your bridesmaids in the fun parts of the planning process, like dress shopping and even cake tasting. Don't just stick them with the dirty work! And most of all, don't make everything about you all the time. "Continue to pay attention to their lives," Mantha said.
3. First, brand your wedding; second, pull your themes from that brand. What does it mean to "brand" your wedding? It means, "finding your common thread" as a couple, according to Tami Brooks, the founder of Tam Aura Designs. In other words, start your planning process by figuring out what it is you want your wedding to reveal about you as a couple. What is it that defines you? Is it your love of travel? Of golf? Of literature? From that core, or brand, you then pull your themes, Brooks advises. "You turn your story into color, texture, music, and food, so your guests begin to understand you as a couple, and to get to know something about you during the wedding," she said. An important note: Not every element of your wedding needs a theme; that is overkill. Brooks suggests finding at most five strong themes and developing them well.
4. If you're hiring a planner, date a little before you pick the one. "Schedule a date with your prospective planner, and get to know her first," advises Fallon Carter, founder of Fallon Carter Weddings. Avoid planners who talk about their own weddings all the time, and stick with the ones who show they're truly listening to you, Carter said. Let the planner choose where you're going to meet for your date; if the place is the complete opposite of your personality, even though you've already told her about yourself on the phone, then this is probably not the planner for you. "If your relationship doesn't start out well, it probably won't get better," Carter said.

5. When it comes to choosing your gown, be willing to push the envelope a little, but don't change who you are. "Look like you!" says Hayley Paige, the Head Designer at Haley Paige Bridal. Also, be honest with yourself about what you want, and don't feel constrained by tradition. "Give yourself exactly what you want in that moment. Being on trend with what you like is always fun and fresh," Paige said. And whatever you do, don't panic about not finding the right dress. Paige advises brides-to-be to have faith and patience in the process. "Just as you did with finding your groom. Your dress is out there looking for you as much as you are looking for it," she said.
6. Hiring your baker might not be the biggest decision you'll make, but an amazing cake can truly make your wedding, according to Amy Noelle, the founder of Sugar Flower Cake Shop. You can maximize your chances of getting a cake that looks amazing and tastes good by properly interviewing your prospective bakers. Noelle offers three essential questions every bride must ask. First, ask the baker how far in advance she will bake your cake, and if she'll freeze it then thaw it out. If she doesn't look absolutely horrified when you say that, move on to the next baker. Also ask about how she'll transport your cake to the wedding, and what precautions she'll take with it. And third, ask the baker to tell you his war stories. If he doesn't have any, either he's hiding something or he's not very experienced. "This is the most important question you can ask," Noelle said. "It will reveal what the baker is capable of."
7. Decide from the outset how "green" your wedding is going to be. A wedding in the United States produces on average 400 pounds of garbage, according to Kate Harrison, the founder of Green Bride Guide. And if every wedding in a given year used a disposable aisle runner, they would circle the globe twice, she added. "This doesn't mean you all must have a hippie, vegan, burlap wedding," Harrison said. You can choose even just one or two ways to show your concern for the environment. "Green is not a theme, green is an approach," Harrison said.
8. If you're hiring a DJ, make sure he speaks clearly, enunciates well, and above all, that he can pronounce your names correctly. "When meeting with a DJ, pay attention to how he speaks," said DJ Nick Ferrington, of Beat Train Productions. If your name is hard to pronounce, have him practice it in front of your.
9. Register for gifts you actually need and want. Are you already living together? Don't need dozens of towels? Get to know the alternative gift registries that are flourishing online, advises Brittany Hass, the founder of Happily Ever Borrowed and a wedding technology expert. From honeymoon registries to down payments on your home, there is something for everyone. Be careful, though, not to let the process become anonymous just because the registry is online. "You still need to individually thank all your guests, even if you're using an alternative registry," said Hana Abiza, the CEO and founder of Republic, Inc.
10. Have fun while you're engaged! Don't let the stress of planning a wedding control your life, and take note of all the wonderful things that are making you happy along the way. "Find your 'muchness'," says Tova Gold, the founder of Finding My Muchness. That is, tune in to all the things that make you tick and make you smile while you're planning your wedding, and make little notes to yourself. That way, you can go back and see that it wasn't all stress!