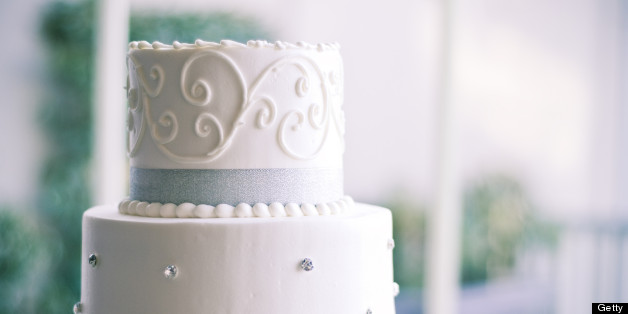 You've chosen your wedding venue, your caterer, and even your band. Now it's time to decide on your cake, and you start doing research and discover that you have tons of sweet options that don't look like a traditional wedding cake.
Is the era of the wedding cake over? What's going on? To help you figure this out, I sat down with dessert expert Billy Mayer, who is the owner of Bee's Knees Baking Co. in Manhattan, and a panelist at Have Your Cake & Eat It Too. Bee's Knees is known for its creative flagship dessert, the Cake-Cup.
Why are couples doing away with the traditional wedding cake?
I think that with the explosion of food TV, people are more conscious of what's out there. Couples now have access to so many sweet things that aren't necessarily covered in fondant, but still beautiful to look at.
I think some couples would like to do away with the cake, for financial or other reasons, but they feel really bound to tradition. What would you say to these couples?
There are plenty of traditions to consider incorporating into your event, don't get bogged down with all the minutiae. Your wedding should reflect each of you, not every wedding you've been to. Make a list of what is important to you, and find a way to incorporate those elements into your day.
If there's no cake, what are some other ways or traditions the couple can use to mark that moment in the reception that's typically when the cake is cut, a toast is made, and they smash cake into each other's face?
At Bee's Knees, for example, we offer champagne flute cake-cups for our couples to toast with. This ends up being a cute way of kicking off dessert. I think that as long as the couple is offering each other a bite, the moment is intact.
What are currently the biggest trends in wedding cake alternatives?
Macarons definitely had a moment, but I don't see them very often with our couples. We see a lot of chocolates and mini desserts alongside our cake-cup towers. Small bites are great, they make it very easy for your guests to indulge without missing out on the rest of the party.
If a couple chooses a dessert table, how many varieties do you recommend?
This depends on size and budget. I would say offering at least three options is a safe bet. If you have a huge wedding, maybe add a candy mixing station as a favor option. This won't cost much, and will add a fun touch to a sweet table.
Should you get all your desserts from a single baker, or does it work to mix and match from different vendors?
Variety is great! Bee's Knees is amazing at cake, so it would be silly to ask us to make you cookies. Sticking to bakers that have a focus and a reputation for something specific will ensure a special product. Create a table with curated sweets, and your guests will be very impressed.
When speaking with a potential baker, what are the top three questions an engaged couple should always ask?
They should ask to see photos of the baker's actual work; they should ask specifically about any 'hidden' costs, such as tasting or delivery fees; and they should ask when the cake is going to be baked in relation to the wedding date.
What do you recommend for summer wedding desserts?
Fruit is king in the summer. There are so many great things in season now. I favor berries and citrus. I love key lime pie. Bee's Knees just launched a key lime and cheesecake cake-cup. We took the tart creamy pie and layered it with a graham crumble and cheesecake.
How did Bee's Knees come up with the idea for the cake cup?
We wanted to create something that was as delicious as a slice of cake, but as portable as a cupcake. I am not a huge fan of buttercream, I like things like salted caramel and lemon curd, softer indulgences. It's hard to create that feel in a cupcake without loading it full of stabilizers and preservatives. The cup lets us experiment with so many more options while keeping the cake moist and delicious.
Check out these photos of a cute wedding cake alternative!